Introduction
The Instant Pot and air fryer use different methods of cooking. Instant Pots use pressure to cook food more quickly and easily, while air fryers use hot air to create healthier, oil-free meals. There is no doubt that you can prepare healthy, oil-free dishes in an Instant Pot, but you can also prepare junk food in it.
It is a good idea to ask yourself a couple of questions before purchasing a new kitchen gadget. What can I do with each of them? Which one will I be able to use the most? Which one is the most convenient to use?
This blog post will answer these questions about the well-known Instant Pot electric pressure cookers and Air Fryers. I'll begin my comparison by describing how each of these appliances works, as this will make it easier to determine the types of items they can prepare.
For example, air fryers make potatoes, chicken, eggs, and other foods crispy to perfection. On the other hand, an Instant Pot is more versatile because it can replace numerous other kitchen appliances and has a pressure cooking function.
So, if you're still not certain which appliance you should buy, keep reading to find out!
What is an air fryer, and why should you need one?
The air fryer seems like a miracle kitchen appliance as it cooks food without using any oil. To truly fry food, you must submerge it in oil, so air frying is not really frying at all. The air fryer works more like a miniature convection oven.
This appliance circulates hot air across the cooking chamber using a heating element and a fan. A perforated basket is used to hold food, and the air is swirled around it in a circular motion. These elements combine to provide ideal crisping for a wide range of foods, not only mozzarella sticks and chicken wings.
An air fryer can cook fried foods, such as french fries and fried chicken, for the same crisp texture as deep-fried foods. The difference is that they won't come out of the fryer dripping or shiny with excess oil if they're air-fried. Therefore, if you wish to eat healthier food with less oil, an air fryer is a good choice.
Because the air fryer functions as a convection oven, this is conceivable. A cooking element generates heat. The heated air is then circulated around the cooking chamber by a series of fans. Hot air cooks the food placed in a perforated basket in the center of the cooking chamber during the operation. Like an oven or a deep fryer, the hot air cooks the food from the outside in.
Each air fryer is equipped with a smart microprocessor, which regulates the cooking process—all you have to press a few buttons and wait for the timer to sound.
Pros
The settings are pre-programmed.
It's simple to use.
Budget-friendly and versatile.
Improves the nutritional value of fried foods.
Results that are both energy-efficient and quick.
It's simple to clean.
The design is small and compact.
Cons
If not used properly, foods might dry out.
Air fryers are not versatile.
They aren't suitable for large-scale cooking.
Some of the models are large and take up a lot of space.
The shape of the basket can be strange.
Related: How Does Air Fryer Work? A Complete Beginners Guide
What is an Instant Pot, and why should you need one?
Unlike the term "air fryer," the Instant Pot is not a sort of kitchen device. It's more of a brand name. Because Instant Pot has become such a dominant player in the market, it has become associated with what it is: an electric multicooker.
The most appealing feature of an Instant Pot multicooker is its versatility. You can use it as a slow cooker, a skillet, a rice cooker, a yogurt maker, and a steamer, among other things. Multicookers like the Instant Pot can perform a variety of functions based on the model.
An Instant Pot is a multi-functional pressure cooker that replaces the classic pressure cooker. It's an electric pressure cooker that uses pressure cooker steam cooking, slow cooking, and other cooking methods.
One of the best features of the Instant Pot is the Delay Start timer, which allows you to cook food automatically by setting the timer even if you are not present. Instead of cooking supper and praying it remains heated long enough to avoid burning, you may program it all to complete cooking at a specific time. To make cooking easier and eliminate guesswork, some models include recipes. You simply click the buttons to cook the recipe.
The Instant Pot comes in multiple variants, but they're all electric multicookers with many features. A slow cooker, steamer, rice cooker, sauté pan, and more may all be used with an Instant Pot. The electric pressure cooker feature, on the other hand, is the most popular.
Pros
Interior made of stainless steel (fairly non-stick without potentially unhealthy non-stick coatings).
Programmable/Automatic.
Saves time (pressure cooking is a very fast cooking method vs. some other traditional methods like a slow cooker or the oven — super handy for all of you meal preppers!).
Good capacity options.
Affordable.
Energy-efficient.
Plenty of Accessories.
Cons
A full chicken may not fit comfortably in a round cooking pot.
Learning curve (if you're not familiar with how pressure cooking works, it can be a little strange to learn to use it at first.
Read Also: The Ultimate Slow Cooker Guide For Beginners
The Main Differences Between an Air Fryer and an Instant Pot
One obvious difference between an instant pot and an air fryer is that you cannot deep-fry with an Instant Pot. The Air Cooker Fryer is the greatest alternative for frying your food. You may also use an Instant Pot to sauté your food, which is the closest you can get to deep frying.
Aside from that, both are distinct in their own ways. We've taken into account a variety of other factors and selected a winner for each.
Portability
Because of their proportions, an air fryer is more portable than an Instant Pot. It's simple to transport an air fryer on vacation. This isn't to say you can't travel with an instant pot, but it will be more difficult if you have a large one.
Time to Cook
In terms of cooking time, an air fryer takes 15 to 25 minutes to cook most items, while a conventional oven takes longer. Because the foods are different, an instant pot is also speedier. Cereals can be cooked in 25-30 minutes, depending on the recipe. Overall, because of the light meals it creates, the air fryer appears to be speedier.
Price Range
The majority of the appliances are around $100, making them accessible to a wide range of people. In light of some of the quick pot's advantages, I believe the instant pot is the most cost-effective option. Investing under $90 in an instant pot with several functions and the potential to prepare hundreds of dishes is a sensible decision.
Size
In comparison to the Instant pot, the air fryer is generally smaller. But it all depends on the appliance's model. The Instant Pot Duo Mini, for example, will take up far less room than the Philips XL Air Fryer.
Differences in Cooking Food
Because the instant pot is varied in the meals it can cook, the foods that can be prepared in the two machines are different. Each includes delicious cuisine that can be prepared quickly and easily. The latest Instant Pot models can cook yogurt and grains, something an air fryer cannot.
Versatility
Instant Pots are versatile, and you can use them for a variety of purposes. The ability to 'fry' food distinguishes an Instant Pot from an Air Fryer. While the Air Fryer has this capability, it is limited to frying. While an Instant Pot cannot fry food, it can easily cook soups, cheesecake, rice, yogurt, and other dishes that would be impossible to create in an Air Fryer.
Ease of Use
The majority of Air Fryer models on the market feature either one or two dials. You only need to set the temperature and the time; the rest is taken care of automatically. When it comes to Instant Pots, you'll need to learn how to use the device first, but it'll be much easier after you do.
Safety
People have complained about plastic odors, smoking, melting, overheating, and other difficulties since Air Fryers were introduced to the market. Because Instant Pots have been around for a while, you'll notice a variety of different safety mechanisms in use.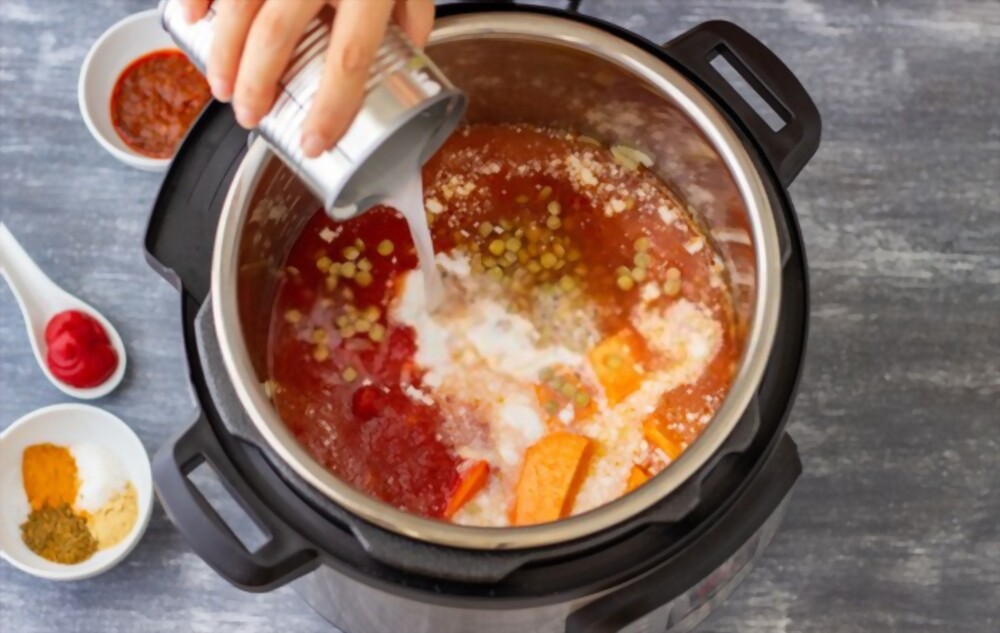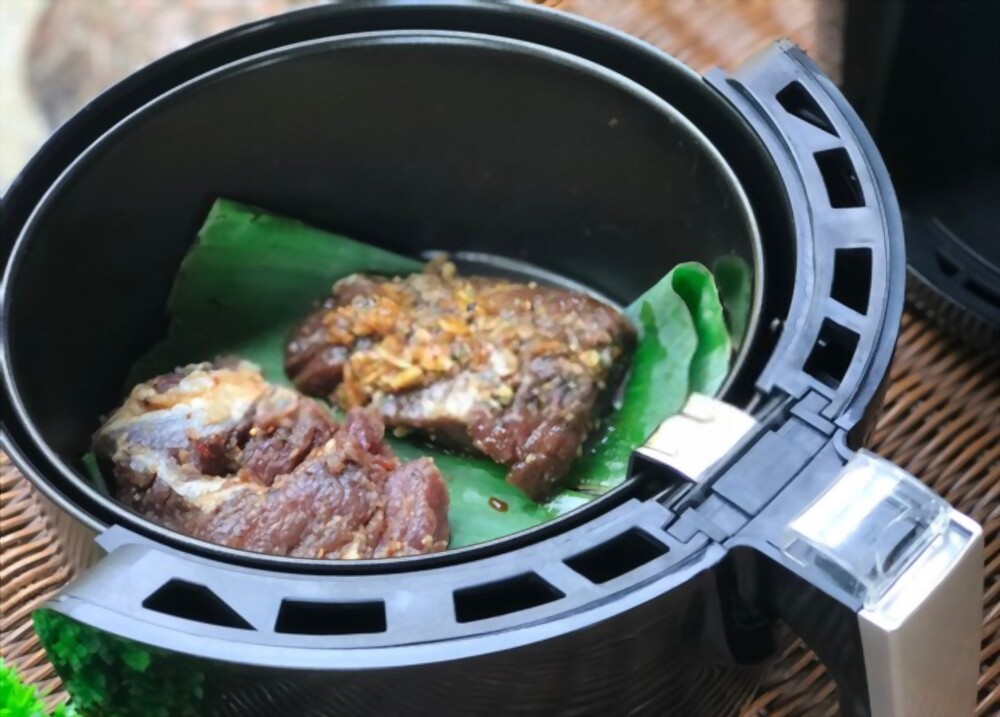 Frequently Asked Questions
Does the Instant Pot come with a built-in air fryer?

Although the Instant Pot Duo Crisp has an air fryer function, it is not a stand-alone air fryer. However, the Instant Vortex Plus 7-in-1 Air Fryer is one of the latest air fryer offerings from Instant Brands. However, as with other air fryer devices, you can do more than simply air fry; you can also bake, broil, roast, and so on.

Which one is the quickest?

This is determined by the type of meal you wish to prepare. However, because an air fryer only has one cycle, it is faster than an Instant Pot, which must first build up pressure before cooking can begin.

I'm not sure what size air fryer I'll need?

The size of an air fryer will be determined by the number of people for whom you are cooking. Air fryers come in various capacities, ranging from 3 to over 5 quarts, but the most popular is around 5 quarts. A 3-quart air fryer is perfect for one person, while a 5.8-quart air fryer is ideal for three to five people.

Which is the healthier option?

It all depends on the type of meal you're preparing and how much oil you're using. Both appliances are designed to make cooking easier in the kitchen by speeding up the process.
However, I'd have to put them on top compared with Instant Pot cookers since they cook the food with steam while retaining the nutrients. Heat and a dab of oil are used in air fryers to create crispy textures, but some nutrients are lost in the process.

Is it possible to use an Instant Pot as an air fryer?

Yes, in fact. You can buy an extra lid that effectively turns your Instant Pot into an air fryer, which may finally put an end to this discussion for many readers. It's also a more cost-effective alternative to improve your existing 6 qt Instant Pot rather than purchasing a completely new appliance to accomplish the same task. You won't be able to make rotisserie in the same way, but that's about the only thing you won't be able to do.

Which is the less expensive option?

The purchase price is largely the same, albeit it varies based on the accessories and features included. However, when it comes to power consumption and how often you expect to use each of these appliances, there are some differences.
For example, most consumers will use the Instant Pot more frequently than they will use the air fryer, resulting in this product consuming more electricity. Regardless, both let you spend less time in the kitchen, which is a great way to stay more productive.

Is it possible to use an air fryer in place of an Instant Pot?

No. Many air fryers, especially ones that resemble toaster ovens in appearance, can cook a wide range of dishes. However, unlike an Instant Pot, you won't be able to cook soups and stews in an air fryer, and you won't be able to prepare basic white rice for your homemade Chinese meal in 15 minutes or less.
Conclusion
Both air fryers and pressure cookers have distinct advantages, as you can see. Choosing between the air fryer and the Instant Pot shouldn't be too difficult. After all, their roles differ significantly.
If you don't have an Instant Pot or an air fryer, now is the time to get one. If you just have room in your kitchen for one appliance that can do almost everything, the Instant Pot Duo Crisp is your best bet. This Instant Pot model, in particular, is far more versatile, with numerous cooking settings that cover the majority of the most popular and well-liked items.
Both the Instant Pot (multifunction pressure cooker) and air fryer can enhance your cooking experience since they are different. A cheap air fryer is great for items like chips, and a well-priced Instant Pot is great for making great meals. Alternatively, you can get the Instant Pot Duo Crisp, which will meet both of these requirements while only requiring half the dishes to be washed (kind of).
However, in an ideal world, you should have both in your kitchen. Thankfully, now that there are so many multicooker/air fryer hybrids on the market, this is easier than ever. So choose a side or a hybrid; the choice is yours.
We hope you found our guide helpful in your hunt.
---