Best Industrial Dehumidifier
The issue of excessive moisture and humidity can be problematic in commercial facilities like warehouses and stadiums. Mold and mildew indications, musty odors, and discolored areas on walls are all indicators of a problem.
Damp can be harmful to employees and consumers, as well as damaging products and equipment. Paper, cards, and even electrical equipment can be damaged by dampness. Investing in the proper commercial dehumidifier, on the other hand, may considerably decrease these issues.
If you're looking for the best commercial dehumidifier, then this article is here to help! The market offers a lot of options, but not all are created equal. Some dehumidifiers work better than others and cost less, while others may be more expensive but offer added features or benefits. It can get overwhelming easily when making such an important decision; however, we've narrowed it down to the 10 best industrial dehumidifiers that will suit any personal preference, budget, and home/office size!
In a Hurry? Check out our top 3 picks for the best commercial dehumidifier.
How High Humidity Damages Industries:
Humidity levels above 50% pose a danger to the industry. It has a detrimental influence on product quality and manufacturing efficiency. Moisture in the air causes harm to raw materials, machinery, and final items when it surpasses optimum levels. These problems cause production downtime, waste labor effort, and are costly to fix and correct. Occasionally, the damage is irreversible, resulting in PERMANENT defacement.
Due to excessive humidity levels, commercial warehouses, manufacturing, distribution, and service industries confront various difficulties. Let's take a look at the most pressing issues.
Mold and hygiene issues:
Bacteria, mold, and mildew thrive in high humidity conditions. There is a risk of health and safety risks to consumers and staff. To keep bacteria, mold, and mildew at bay, it is important to regulate relative humidity between 30% and 50%.
Corrosion:
Corrosion is the unintended yet harmful deterioration of a material or substance caused by its surroundings. In manufacturing contexts, humidity is critical for corroding metallic goods and machinery.
Rusting and other kinds of corrosion occur when materials react to moisture and air, compromising the machine's integrity and function. Steel, for example, begins to corrode at merely 40 percent relative humidity and rapidly worsens, causing the entire device to fail.
Insect Infestation:
Insects and bugs flourish in wet environments. If your workplace is infested with cockroaches, silverfish, centipedes, earwigs, and mosquitoes, it negatively influences staff health and productivity.
Structural damage:
Increased moisture affects factories and warehouses' concrete, pipes, floors, and storage areas, causing structural damage. Wooden buildings expand, shrink, and even decay as humidity levels fluctuate.
Quality control:
High humidity significantly influences the quality of the finished goods because it absorbs the extra moisture in the air. Excess humidity, for example, can impair the strength and flavor of food and medications and can even cause toxicity in the food and pharmaceutical industries. The product's toxicity is due to viruses, bacteria, mold, fungus, and mites that flourish in humid environments.
Safety issues:
Condensation can form on manufacturing floors as a result of excessive humidity levels. As a result, the floors become slick, resulting in employee harm. Increased moisture in electric machinery can lower insulating resistance, resulting in short circuits and electric shock.
Damage to machinery:
Damage to equipment occurs as a result of a variety of reasons. The most significant of these is excessive wetness. High RH can quickly saturate electrical and electronic gear, posing a safety and quality concern.
The Only Solution:
The best commercial dehumidifier is the ultimate solution to these problems. Optimal industrial dehumidification provides appropriate humidity levels in enclosed spaces by combining moisture extraction with heat transfer and relative humidity at room temperature.
10 Best Commercial Dehumidifiers To Buy In 2022
| Image | Product | Feature | Price |
| --- | --- | --- | --- |
| Editor's Choice | Dri-Eaz LGR 2800i Commercial Dehumidifier with Pump | Remove up to 130 pints. Automatic humidistat control, built-in thermo-hygrometer, Resists dents and scratches, HygroTrac-ready track. | Check On Amazon |
| Runner Up | Aprilaire E130 Pro Energy Star Commercial Dehumidifier | 130 Pint 7,200 sq. ft. Aprilaire Dehumidifiers are designed and manufactured in the U.S.A. Energy Star Most Efficient Certified. | Check On Amazon |
| Budget Pick | COLZER 232 PPD Commercial Large Industrial Dehumidifier | Removal Up to 232 PPD, 29 Gallons/Day. Large capacity dehumidifier is ideal for restoring water damage quickly and drying out a structure. | Check On Amazon |
| Compact | ALORAIR LGR Compact Dehumidifier | 180 PPD (Saturation) Water Removal Per Day, 5 Years Warranty. Rare earth alloy tube evaporator to avoid freon leakage. Operating temperature range of 33-105 degrees F. | Check On Amazon |
| Premium Pick | COLZER 180 Pints Commercial Dehumidifier | 180 Pints with Pump and Drain Hose. Large spaces up to 7,000 sq ft. Internal heavy-duty condensate pump of 16 ft drain height connecting with a 10 ft long drain hose. | Check On Amazon |
| Heavy Duty | Dri-Eaz-F412 LGR 7000XLi Commercial & Portable Dehumidifier | Portable Dehumidifier with Pump, with auto-defrost. Draining hose length – 40 Ft. Up to 111 L water removal per day. The capacity of 29 gallons. | Check On Amazon |
| Best Quality | ALORAIR Sentinel HDi100 Commercial Dehumidifier with Pump | 220 Pints, for spaces up to 2,900 sq. ft. 5 Years Warranty. Automatic Defrost Feature. An optional remote control system, microchannel condenser technology. | Check On Amazon |
| Popular | hOmeLabs Commercial Grade 140 Pint Dehumidifier | 140 Pints, 4000 Square Feet, 265 Cfm dehumidifying capacity. Water Damage Restoration. 24-hours Dehumidifying Function. | Check On Amazon |
| New Arrival | ALORAIR 120 PPD Commercial Dehumidifier | 120 PPD at saturation condition. 5 Years Warranty, Robust Construction. Auto defrosting system, optional Remote control system, MERV-8 filter, Low-temperature operation. | Check On Amazon |
| Smart | Waykar Commercial Dehumidifier 296 Pints | Remove up 296 pints(37 Gallons) of water per day. Suitable to use in a large area, warehouse, grow room, basement, garage, cellar, workshop, library, laboratory, and small factory. | Check On Amazon |
Detailed Reviews for the best commercial dehumidifiers
01. Dri-Eaz LGR 2800i Commercial Dehumidifier with Pump
Under the Association of Home Appliance Manufacturers (AHAM) test parameters of 80 degrees F and 60% relative humidity, the Dri-Eaz LGR 2800i is a low grain refrigerant dehumidifier that can remove up to 130 pints of water per day (RH). On a 115V power source, this dehumidifier uses 8 amps and processes air at a rate of up to 400 cubic feet per minute (CFM). For usage in settings up to 125 degrees F, the machine can automatically detect the external temperature and change its working parameters.
This dehumidifier comes with a 25-foot detachable power connection for easy access to a power source in big areas. This dehumidifier's air output fits 12″ ducting (available separately) to better control air circulation and drying effectiveness. This dehumidifier's housing comprises rotomolded polyethylene, which provides uniform wall thicknesses and robust outer corners for damage and leak resistance. It can be stacked with other LGR 2800i models to save space.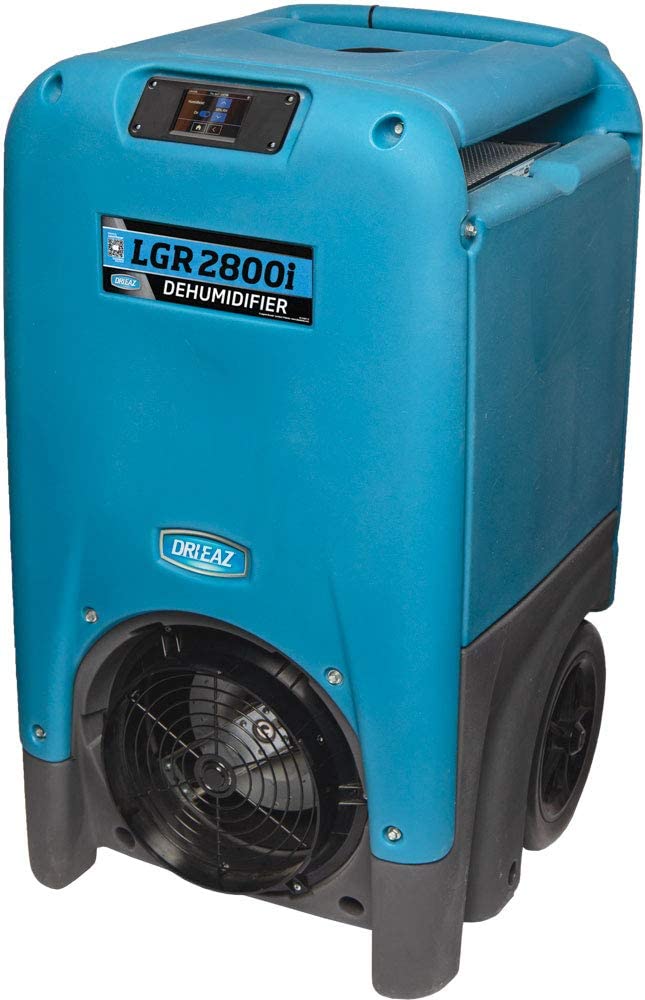 This dehumidifier features a built-in humidistat that keeps the RH at a pre-set level, as well as a thermo-hygrometer that monitors performance metrics and adjusts fan speeds automatically. The digital control panel shows sensor readings, settings, and faults in plain-language messages to reduce the requirement to decipher code status signals. Spanish, German, French, and English are among the display panel languages. The pump basin is connected to a 40-foot line that allows condensate to be removed from large areas.
Pros
Manual tank draining is not required
Temperature ranges from 33 to 100 degrees
There is a considerable improvement in the area's odor levels
The tube attachment can be used to set up continuous drainage
Cons
We'd want to see some smart features, like as WiFi connectivity, to make it easier for commercial property owners to monitor environmental information
It is also equipped with sensors that track a range of operating factors. It's particularly effective in warm, wet environments. Low grain refrigerant (LGR) dehumidifiers pre-cool the air to efficiently condense the water vapor, allowing them to function across a broader temperature and relative humidity range than normal refrigerant dehumidifiers.
02. Aprilaire E130 Pro 130 Pint Dehumidifier
Aprilaire's E130 model can drain up to 130 pints of water each day, dehumidifying up to 7,200 square feet of commercial space. A 110V to 120V AC power supply, single-phase, 60 Hz, can be used in restricted places such as basements and crawl spaces.
When it detects high humidity, it's set it and forget it' control begins moisture removal automatically. It may be ducted to your heating, ventilation, and air conditioning (HVAC) system for extra convenience. The control panel may be positioned on the top or front of the device for even easier access. Its leveling feet make moving across business environments a breeze.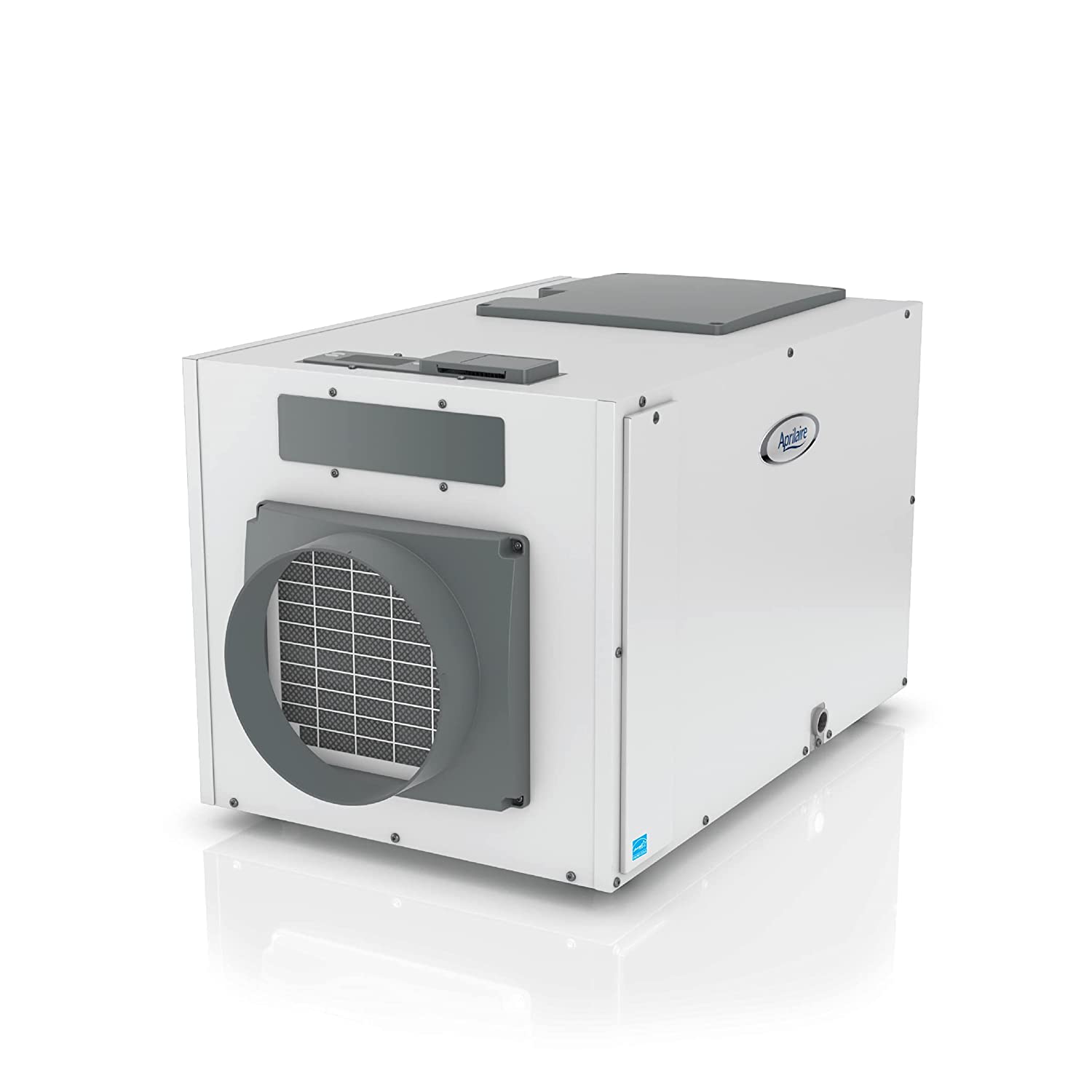 By maintaining relative humidity below 60%, it lowers the chances of airborne particles surviving. This device is made of corrosion-resistant aluminum coils and is both durable and efficient. It has a built-in digital control display, two inlet/outlet ducts, a washable MERV 8 filter, and threaded, barbed drain connectors.
Pros
AHAM capacity and highest maximum (250 Pints and 130 Pint, respectively)
The ideal airflow-to-noise ratio has been found (powerful 310 CFM airflow with only 50 dB noise levels)
The Most powerful commercial dehumidifier of 2022
It is the most energy-efficient industrial dehumidifier, with an energy factor of 2.9 L/kWh
Made in the United States of America using high-grade aluminum coils
Cons
A portion of the cost is paid only for the Aprilaire brand, not for performance
The higher price reflects the higher quality
The Aprilaire E130 dehumidifier is a low-maintenance machine that doesn't require you to empty any trays. It's straightforward, requiring only filter cleaning and replacement once a year. It has a five-year warranty.
03. COLZER 232 PPD Commercial Dehumidifier
The Colzer 232 model is the greatest business dehumidifier, having a high capacity unit that can dry approximately 8,000 square feet of industrial area. It can remove up to 232 pints of moisture each day. It's ideal for jobs that require fast structure drying and urgent water damage repair.
The digital control panel, intuitive LCD screen, auto error detector, auto defrost, auto diagnostic, and auto on/off timer make operating simple. This type includes a continuous drainage system with a 6.56-foot drain line for extra convenience.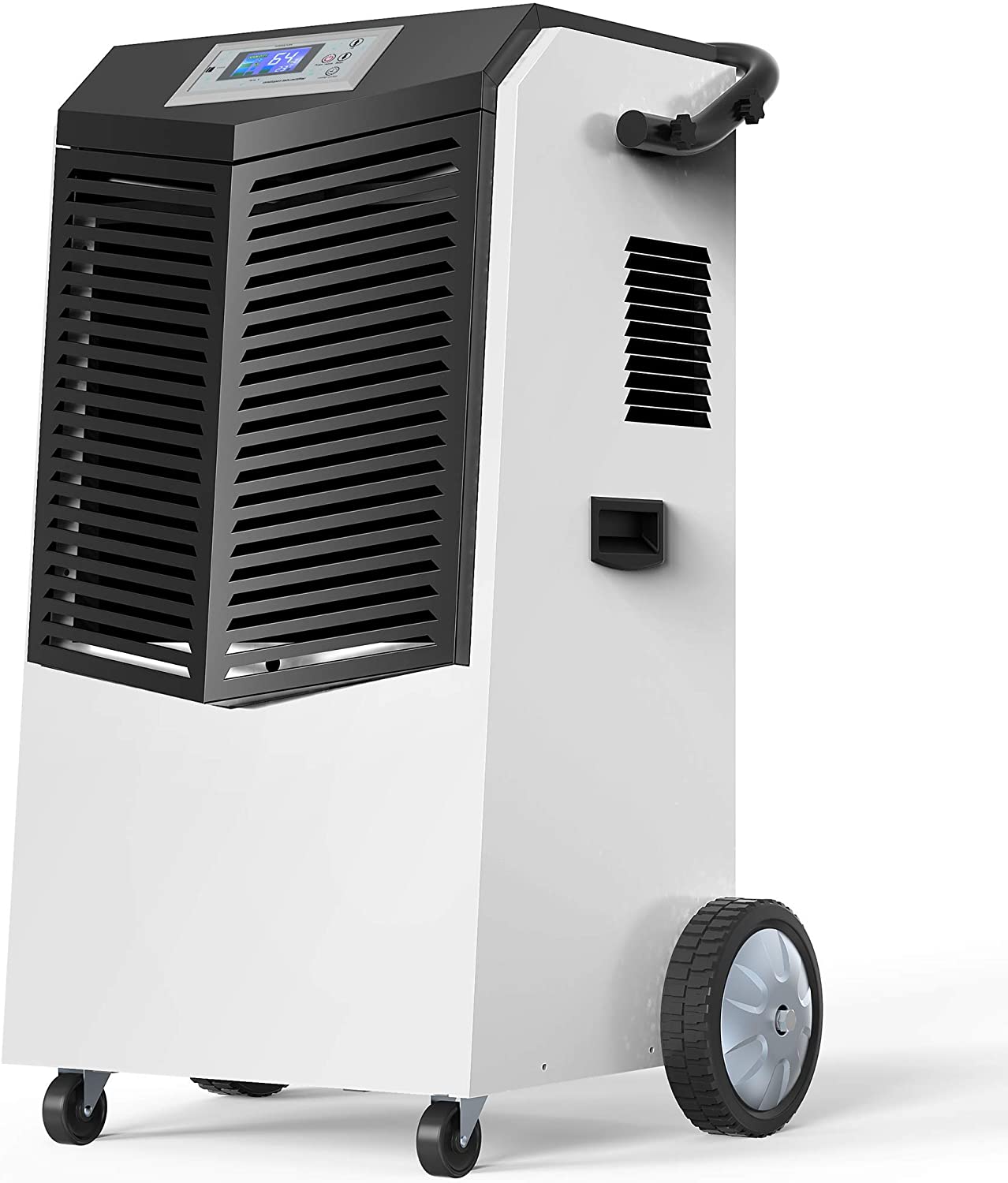 The motorized impeller and air filter can dry the industrial floor in 10 minutes with a 353 Cubic Feet per Minute (CFM) high airflow rate. The high-density air filter must be replaced every three months. It has an automated built-in humidistat and auto-restart feature that helps you keep track of moisture levels and conserve electricity.
Pros
It has a large 232 PPD capacity at saturation settings and can cover up to 8,000 sq ft
The airflow is powerful at 353 CFM
For such a large machine, the pricing is inexpensive (around $1,100)
Dehumidifier for Commercial Use 1,400 watts of power (Most Powerful Unit)
Cons
It consumes a lot of power; it runs on 12 amps
It's rather loud
This dehumidifier has big semi-pneumatic back wheels, flexible caster front wheels, and a strong bar handle that makes it easy to carry and operate. Its anti-collision and anti-corrosion characteristics on the exterior metal casing ensure long-term use and easy maintenance. A two-year seller guarantee is included with the Colzer dehumidifier.
04. ALORAIR LGR Compact Dehumidifier
The AlorAir Commercial Dehumidifier is designed to remove moisture from the air daily, and it can handle up to 1,200 square feet of space. The machine is made of metal and has a metal shell so that it can withstand severe circumstances. The dehumidifier removes moisture and eliminates odors, and makes the space seem cleaner simply by operating.
It continues to operate smoothly and perform correctly during the defrosting process, resulting in improved air quality all around. The dehumidifier is even more hands-free, as the tank empties on its own, eliminating the need to remove and empty the tank manually.
The MERV-8 Filter's high density protects internal components from dust and other particles while maintaining maximum airflow throughout the operation, resulting in efficient operation and long-term use.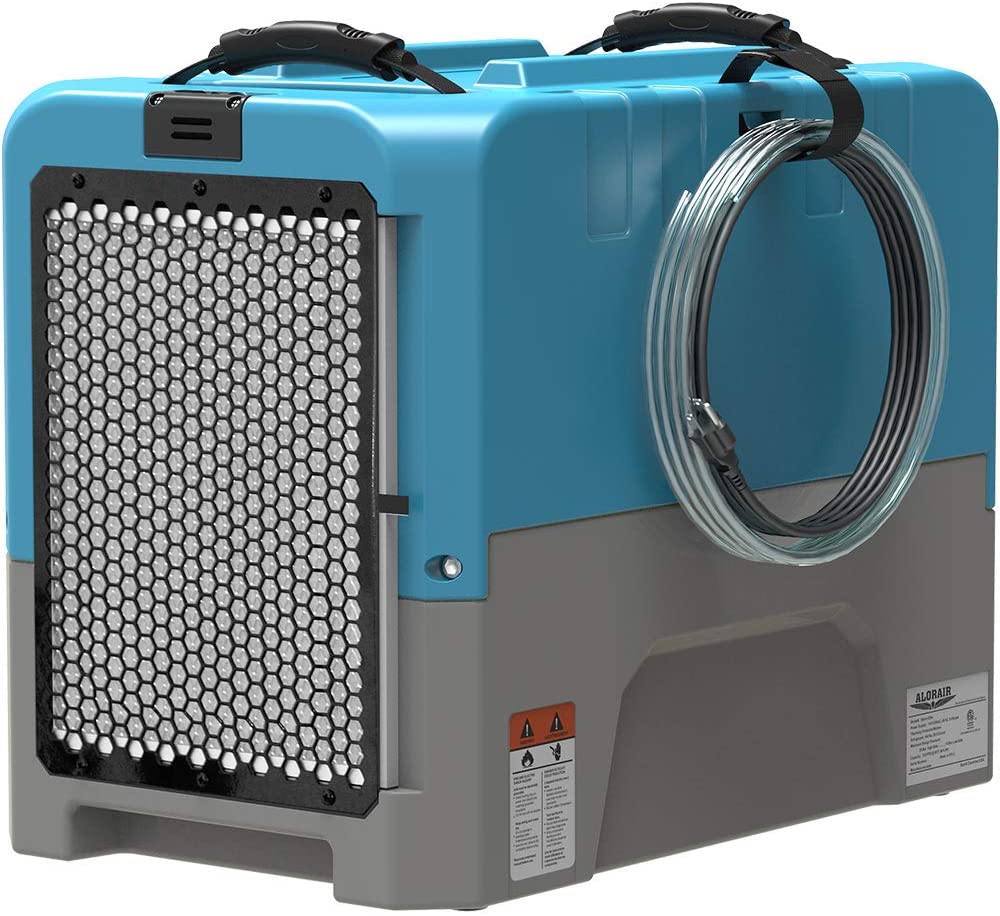 The dehumidifier's internal mechanics are also equipped for tough circumstances. An auto-defrost function prevents ice from forming on the coils within, allowing it to operate in temperatures as low as 36 degrees Fahrenheit.
Pros
It's suitable for even the tiniest of locations, such as crawl spaces
Internal components are protected from dust accumulation with a MERV-8 filter
It's small and has a handle for convenient traveling
Remote control is available
Cons
Cleaning the filter takes some time
It produces some fan speed noise, so it is not suitable for designated quiet spaces
05. hOmeLabs Commercial Grade 140 Pint Dehumidifier
The hOmeLabs 140 PPD is the commercial dehumidifier to beat. It is solely concerned with pricing performance. hOmelabs has a maximum design pressure of 240psig (1.65MPa) on the low side and 522psig (3.6MPa) on the high side, with an RLA: 6.4A LRA: 38A compressor input. This results in excellent dehumidification performance at significant savings.
The air circulation is excellent. At less than 60 decibels of noise, the hOmeLabs 140 PPD can produce 265 CFM of maximum airflow. Furthermore, this device includes a built-in pump. This is especially handy when draining the dehumidifier against gravity; it's the one feature that everyone appreciates. This is a small and capable dehumidifier in terms of performance.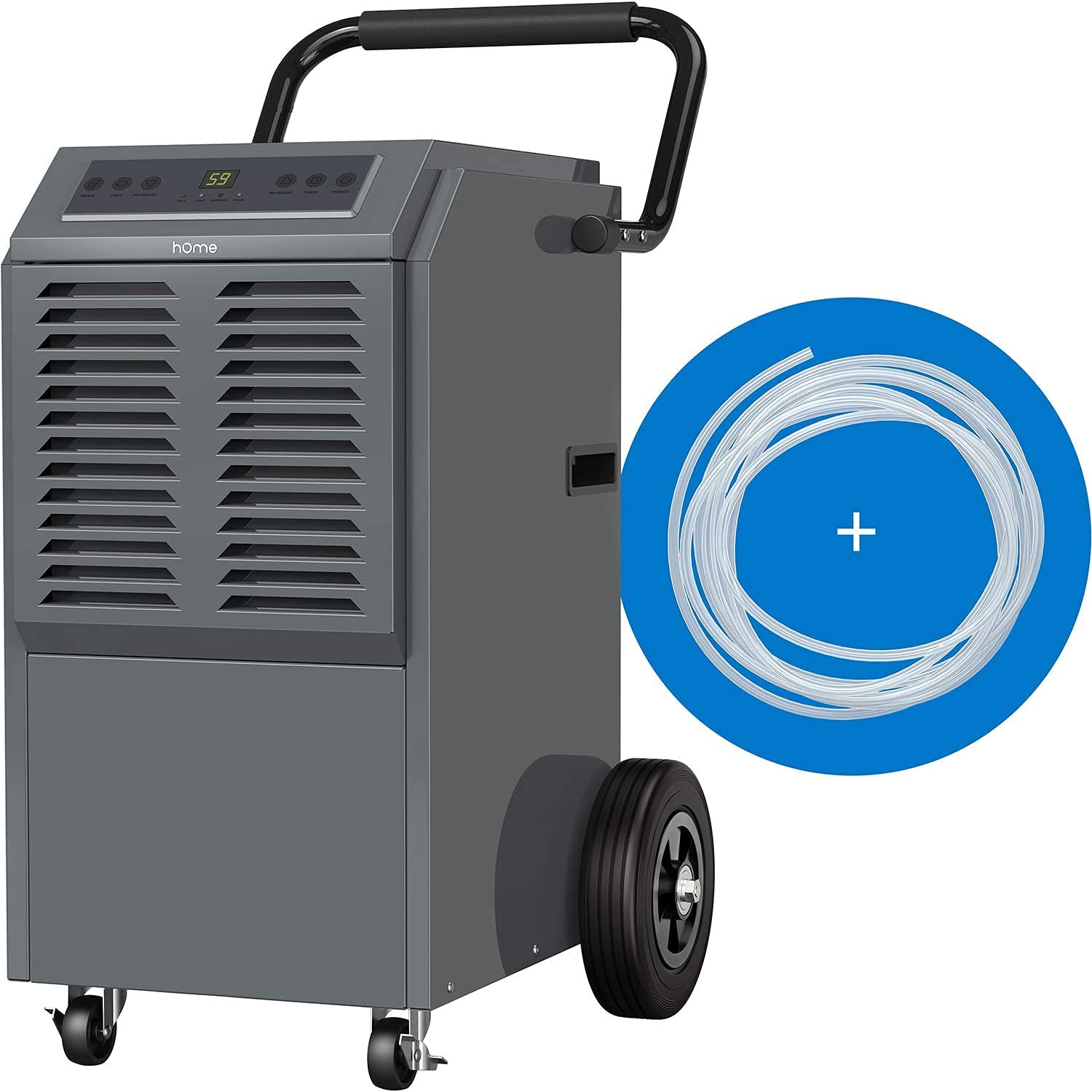 The hOmeLabs has a 140 PPD capacity in 90% relative humidity. At 60-80 percent relative humidity, the AHAM capacity is 70 PPD. With just 635W or 6 amp input, this device can achieve such a high dehumidification rate. As a result, the energy factor is 2.17 L/kWh. It's one of the most energy-efficient commercial dehumidifiers on the market because of this.
Pros
The built-in pump aids in the dehumidification process in every place where the device is installed
Best value for money (140 PPD for less than $1,000)
Low energy demand and great energy efficiency (2.17 L/kWh) (635 Watts, minimum current of power supply is 15A)
A powerful 0.1 HP fan motor produces a maximum airflow of 265 CFM
The cheapest commercial dehumidifier with excellent specifications
Cons
You'll need many of these for larger warehouses (at least 3 for 10,000 sq ft room).
Up to 60 dB noise levels
The inexpensive pricing of hOmeLabs 140 PPD is one of the reasons for its popularity. Most commercial dehumidifiers are extremely expensive; a 140 PPD unit can easily set you back over $1,000. By selling the hOmeLabs 140 PPD below $1,000, hOmeLabs has chosen to undercut the entire commercial dehumidification industry. When you look at the pricing, you'll see that this is the cheapest commercial dehumidifier with good specs.
06. Waykar Commercial Dehumidifier 296 Pints
With a capacity of 296 pints (37 gallons) per day, this commercial dehumidifier is perfect for large areas such as warehouses, storage facilities, basements, garages, cellars, workshops, libraries, laboratories, and small factories.
This is a sleek and modern-looking portable industrial dehumidifier. You can simply move this dehumidifier about your home with four universal wheels and two ergonomically positioned grips. The drain pipe and other supplies are stored within the back casing, which may be opened like a door.
Simply choose your preferred humidity level, and it will intelligently sense room humidity and control dehumidification to keep humidity levels at predetermined settings.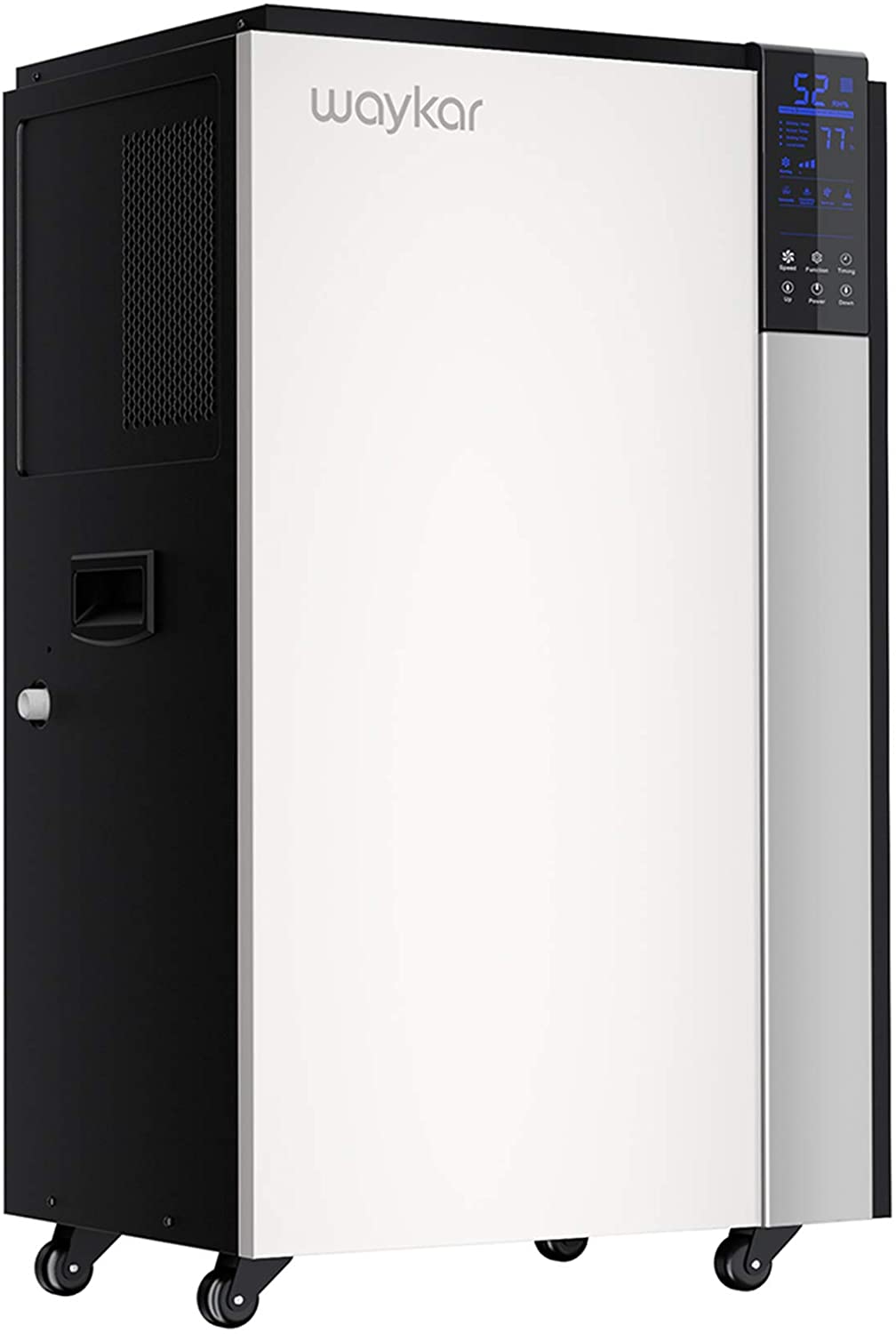 A 40-inch drain pipe is included with this dehumidifier. You no longer need to pour water from a bucket; simply choose your desired humidity (10-90 percent RH), and it will switch off automatically once it reaches that level.
Pros
The outside is made of heavy-duty metal, which will help the machine last longer
It will not only keep mold at bay but will also get rid of it
It has a 24-hour timer that allows you to save energy throughout the day
Runs gently, letting the surrounding noise drift away
Cons
When filling or determining settings, the beeping noises are a little louder than necessary
The control panel is always illuminated; it would be more energy-efficient if it just turned on when a button was touched
When the humidity level in the room reaches a predetermined level, it automatically turns off and turns back on. In a power outage, the system will automatically resume as soon as the power is restored.
If you are unhappy with it, you can return it within 30 days for a full refund. It also comes with a one-year warranty, a two-year warranty extension, and lifetime professional technical support.
How do I choose a commercial dehumidifier? [Buyer's Guide]
There are several variables to consider when selecting the best commercial dehumidifier for your office or business. Some of the most important aspects to consider are listed below.
Pump:
For added convenience, consider purchasing a commercial unit with a built-in pump. A built-in pump automatically pumps the collected water through a hose connected to a sink or nearby drainage hole. The moisture may be pushed out vertically because they're automated. It's almost illogical to buy an industrial dehumidifier without a built-in pump, given their customary enormous sizes and high weights, because you'd have to empty the water container manually. Thankfully, each item on this list includes a built-in pump.
Area of coverage:
The amount of space that a dehumidifier may cover is tremendous. These devices can cover regions of up to ten thousand cubic feet.
This is critical since the quantity of energy required to power your appliance will vary significantly depending on the product's energy efficiency and the amount of space it must cover. Keep in mind that this grade varies a lot across brands and even between different models within the same brand.
The Dri-Eaz F413 Revolution LGR Dehumidifier, appropriate for spaces up to 7,000 square feet, has one of the most remarkable coverage areas on our list.
Humidity Level:
When purchasing business dehumidifiers, the humidity range in the surroundings must be considered. Because humidity levels are affected by temperature and seasons, the dehumidifier must endure harsh circumstances and reduce excessive humidity levels.
Level of noise:
Appliances that make a lot of noise are a pain to live with. Most models have a decibel rating of 50 or higher on average. It may be rather distracting and unpleasant at higher levels, especially during meetings or late at night. We recommend buying a model with two-speed fans, which will provide smooth and silent operation regardless of the humidity level. Quiet units are also energy efficient.
Before buying an appliance, test its noise level to ensure that it meets the manufacturer's decibel specifications.
Pint capacity:
The pint capacity of a dehumidifier measures how much moisture it can remove. When a unit's pint capacity is 250 PPD, that implies it can remove 250 pints of water from the environment per day. For industries, the greater the pint capacity, the better.
Drainage System:
Industrial operators will appreciate the simplicity of dehumidifiers with continuous drainage and a connected drain hose. They don't have to constantly check to see if the water tank is full or empty. This feature prevents water leakage, puddles, and other safety concerns.
Temperature:
The interior temperature influences humidity level variations. Humidity is heavier in warmer temperatures than in cooler, dry conditions. In both cases, the commercial dehumidifier must be able to function effectively.
Material:
The material used in dehumidifiers is crucial to the unit's longevity. When purchasing a dehumidifying system, businesses must ensure that the housing is built of high-quality steel and molded polyethylene.
Sensor for frost:
The frost sensor detects frost development in coils and switches off the dehumidifier, allowing the ice-covered coils to thaw and defrost. The machine automatically resumes when the defrost procedure is completed. So keep an eye out for a commercial model with a frost sensor and a hot gas bypass system.
Humidistat:
Humidistats integrated inside the device detect moisture levels in the air and assist in restoring and maintaining ideal humidity levels. As a result, make sure your industrial dehumidifier has a humidistat.
Timers:
A timer may be used to operate and maintain the humidity range without requiring significant input from the workers. If your industrial grade dehumidifier has a timer, it will undoubtedly save you time and work.
Filters:
The washable filter helps eliminate microorganisms, mold, and mildew at a low cost by reducing the expense of buying and replacing air filters.
Warranty:
Purchasing electrical equipment without a warranty is like flying without a parachute. While neither scenario is equally deadly, they are analogous in several ways. One of the first things to consider when purchasing a commercial dehumidifier for your office or business is the warranty that comes with the equipment. That way, you can rest easy knowing that if anything goes wrong with your equipment within the specified time frame, the business will be there to help you.
Additional features:
You may want to think about adding a defrost system and an inbuilt humidistat to your refrigerator. The defrost mechanism is very beneficial since it lets the machine operate in extremely cold conditions by removing any ice build-up on the coil automatically. Also, look at the housing's quality and the materials it's made of, and see whether the package contains hoses and cables, so you don't have to spend extra money on accessories.
Frequently Asked Questions
What is the purpose of a commercial dehumidifier?

A commercial dehumidifier takes a dehumidifier's standard function of controlling humidity levels in a specific region and expands it up to a larger area, such as factories, warehouses, and retail. Unlike their domestic equivalents, commercial dehumidifiers can remove up to 150-250 pints of moisture from the air per day.
If left uncontrolled, the humidity in a warehouse may be disastrous, resulting in damaged products as well as the growth of mold and mildew. It is beneficial to remove it with a device such as a professional dehumidifier to maintain your area running as intended and free of health hazards.

Do commercial dehumidifiers last longer?

Commercial dehumidifiers are more expensive than household dehumidifiers because they are more durable materials and last longer. Poor insulation and a lack of a central air system can result in extreme temperatures, excessive humidity, mold, and mildew.

What Are the Uses of Commercial Dehumidifiers?

Huge spaces, such as warehouses, large basements, arenas, or any other large area that may be impacted by excess moisture, benefit from commercial dehumidifiers. Though they are more heavy-duty, they are also suitable for residential use, particularly if you have a basement, garage, or even a crawl area that needs moisture control to avoid concerns like mold or mildew. They are less appealing for residential usage since they are more heavy-duty, but buying one for a more inconspicuous location, such as an unfinished basement or garage, would be ideal for a commercial dehumidifier.

Are commercial dehumidifiers loud?

Single-room dehumidifiers are quieter than commercial-grade dehumidifiers. Fortunately, they're usually found in basements, crawl spaces, and industrial environments, where noise isn't an issue.

How long does it take for an industrial dehumidifier to work?

Commercial dehumidifiers, on average, take between 24 and 48 hours to dry out a room, depending on the size of the space. Consumer units might take anything from two days to a week to arrive. Test areas using a moisture meter to verify they are totally dry.

What does Aham stand for a dehumidifier?

AHAM and saturation determine the dehumidifier testing conditions. The American Home and Appliance Manufacturers Association (AHAM) is a trade association that represents home and appliance manufacturers in the United States. The abbreviation is frequently used because the organization suggests precise testing conditions of 60% humidity and 80 degrees Fahrenheit.
Final Words
As we finally come to an end, we are pleased to have provided you with the complete evaluation of the top commercial dehumidifiers available. Make certain you get the greatest commercial dehumidifier for your companies, factories, and job sites. Also, here are our most recent evaluations on the best dehumidifiers on the market for your individual needs.
In the end, the best choice is determined by your needs and finances. When it comes to commercial dehumidifiers, ALORAIR and COLZER 232 PPD are the best options if you have the money to spend. These give you the most value for money without spending a lot of money.
---