Which one is the best air fryer to buy in 2022?
An air fryer is a compact oven with a powerful fan to circulate hot air for crisping wings, fries, and vegetables with little (or no!) oil. They produce a wonderful "fried" finish that your oven range can't match, as well as reheating results that blow the conventional microwave out of the water. Additionally, air fryers use a minimal amount of oil, resulting in crisp results with far fewer calories and fat than traditional cooking methods such as deep-frying.
In a Hurry? Check out our top 3 picks for the best air fryer nowadays.
Air fryers have been around for a while, but now they come in such a wide range and sizes that it can be difficult to tell the difference between a coupe and a clunker.
We put several top models to the test to determine which ones stood out from the crowd. If you're looking for an air fryer, try this guide to determine which model is best for you.
What can you cook in an air fryer?
Frozen meals in an air fryer become extremely crispy. Any tiny frozen appetizers or snacks, especially for countertop air fryers, are great candidates: French fries, mozzarella sticks, potato or cauliflower tots, chicken wings, samosas, empanadas, egg rolls, and falafel are just a few of the dishes available.
Some vegetables, such as Brussels sprouts, eggplant medallions, okra, and beans, come out crispy and lose moisture in the process. From chicken breasts to salmon fillets to cookies, everything benefits from convection baking. It's only a matter of how many you can put into larger dishes like these.
List of 10 best air fryers of all times
| Image | Product | Feature | Price |
| --- | --- | --- | --- |
| Editor's Choice | Ninja Foodi Air Fryer DZ201 | XL 8-quart air fryer capacity. 6 customizable programs, 2 independent baskets that let you cook 2 foods. Two 4-quart zones have their own cooking baskets, cyclonic fans, and rapid heaters. | Check On Amazon |
| Runner Up | NUWAVE BRIO Digital Air Fryer | Air Fry, Broil, Roast, Grill, Bake, Reheat, and even Dehydrate. Select from a menu of 100 preprogrammed recipes. Vast temperature range, between 50°F and 400°F. Insert the probe, set the temperature, and then touch and go! | Check On Amazon |
| Premium Pick | Philips Premium Airfryer XXL | Fat removal technology that reduces and captures excess fat. Little or no added oil to fry. With a 3 pounds/4qt capacity, can make meals for up to 6 people. Cooking 4 times faster than a conventional oven. | Check On Amazon |
| For Family | Ninja DT251 Foodi 10-in-1 Smart XL Air Fry | 10X the convection power vs. a traditional full-size convection oven. 1800-watt appliance with 10 presets. Integrated Foodi Smart Thermometer – no guesswork required. | Check On Amazon |
| Highest Rated | COSORI Smart Air Fryer | Built-In Shake Reminder, 12 Cooking Functions, and free VeSync app to remotely monitor meals while cooking. Sync to voice assistants like Amazon Alexa or Google Assistant. | Check On Amazon |
| Stainless Steel | Instant Pot Vortex Plus 6-in-1 Air Fryer | Touchscreen shows each stage of cooking. Customizable one-touch programs for air frying, roasting, broiling, and more. Non-stick air fry basket and temperature: select from 95 to 400°F. | Check On Amazon |
| Best Combo | Cuisinart Convection Toaster Oven Air fryer | 1800-watt motor, fan, and heater deliver high-velocity, high-heat airflow. Wide range of toaster oven air fry functions. Wide temperature range: 80°f to 450°f; adjustable time with preset ranges for each function. | Check On Amazon |
| Best Personal | Philips Premium Digital Airfryer | Rapid Air technology. 2 pounds/3Qt capacity you can now make delicious meals for up to 4 people. Dishwasher-safe removable parts and a quick-clean basket. | Check On Amazon |
| Compact | Chefman TurboFry 2-Quart Air fryer | The personal-size air fryer saves space on your counter and in your cabinet, perfect for any small kitchen, dorm, office, RV trip. Temperature ranges from 200°F – 400°F. | Check On Amazon |
| Newest Arrival | GoWISE USA 7-Quart Air Fryer & Dehydrator | Large full touchscreen control panel with an ergonomic design. Single basket and crisper tray give you 7 quarts of cooking space that easily fits a whole chicken or 4-5 burgers. | Check On Amazon |
Detailed Reviews of top picked air fryers:
01. Ninja FoodNinja DZ201 Foodi 6-in-1 2-Basket Air Fryer
Although air fryers are fast, you must usually wait until one dish has completed frying before adding the next. On the other hand, this Ninja air fryer has two baskets that may be used at the same time. You can set each basket to a different temperature and have each component of your dinner ready at the same time, thanks to DualZone technology and a SmartFinish function.
There is also a "Match Cook" option to transfer the settings to the other basket if required. Each 4-quart basket can contain four pounds of French fries or chicken wings, for example.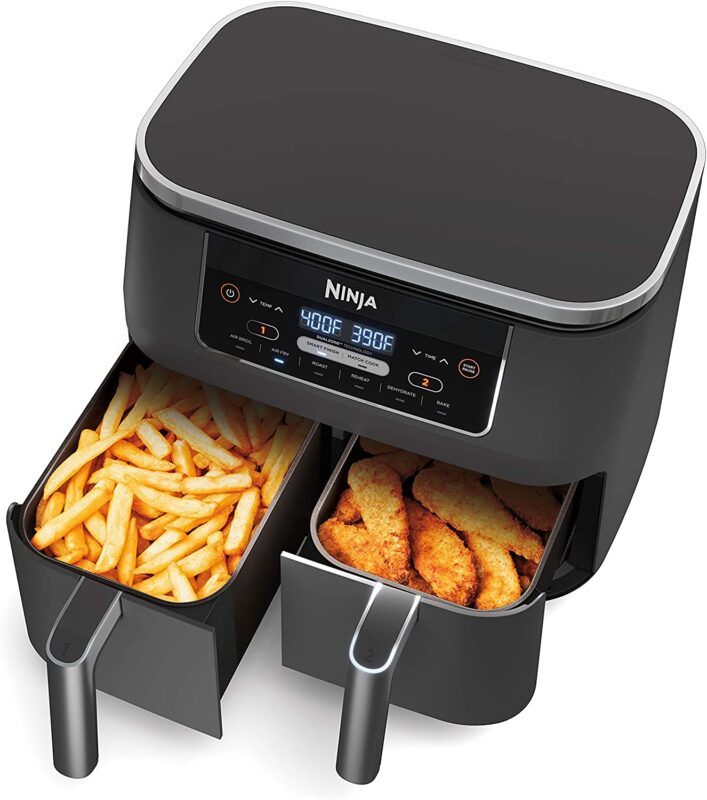 The six adjustable programs (air fry, air broil, roast, bake, heat, and dry) give various possibilities for cooking a variety of meals in a single device. The temperature varies from 105 to 450 degrees Fahrenheit on this air fryer. When you're through cooking, toss the crisper plates in the dishwasher to make cleanup a breeze.
It has an 8-quart capacity. Easy-to-operate control panel, nonstick crisper plates, and DualZone Technology are among the features. Air fry, air broil, roast, bake, heat, and dehydrate are other functionalities.
02. NUWAVE BRIO 6-Quart Digital Air Fryer
The Nuwave Brio air fryer has used super-heated air and a specifically constructed cooking chamber to swiftly and evenly fry all of your favorite fried dishes to soft, juicy perfection with little to no oil. Everything from fries to wings can be done with fewer calories and yet taste great.
Air fry, broil, roast, grill, bake, reheat, and dehydrate are all options. If you're ever confused about what to cook, just choose from a menu of 100 preprogrammed recipes. Wide temperature range of 50°F to 400°F to make it easier than ever to prepare just about everything you'd ever desire.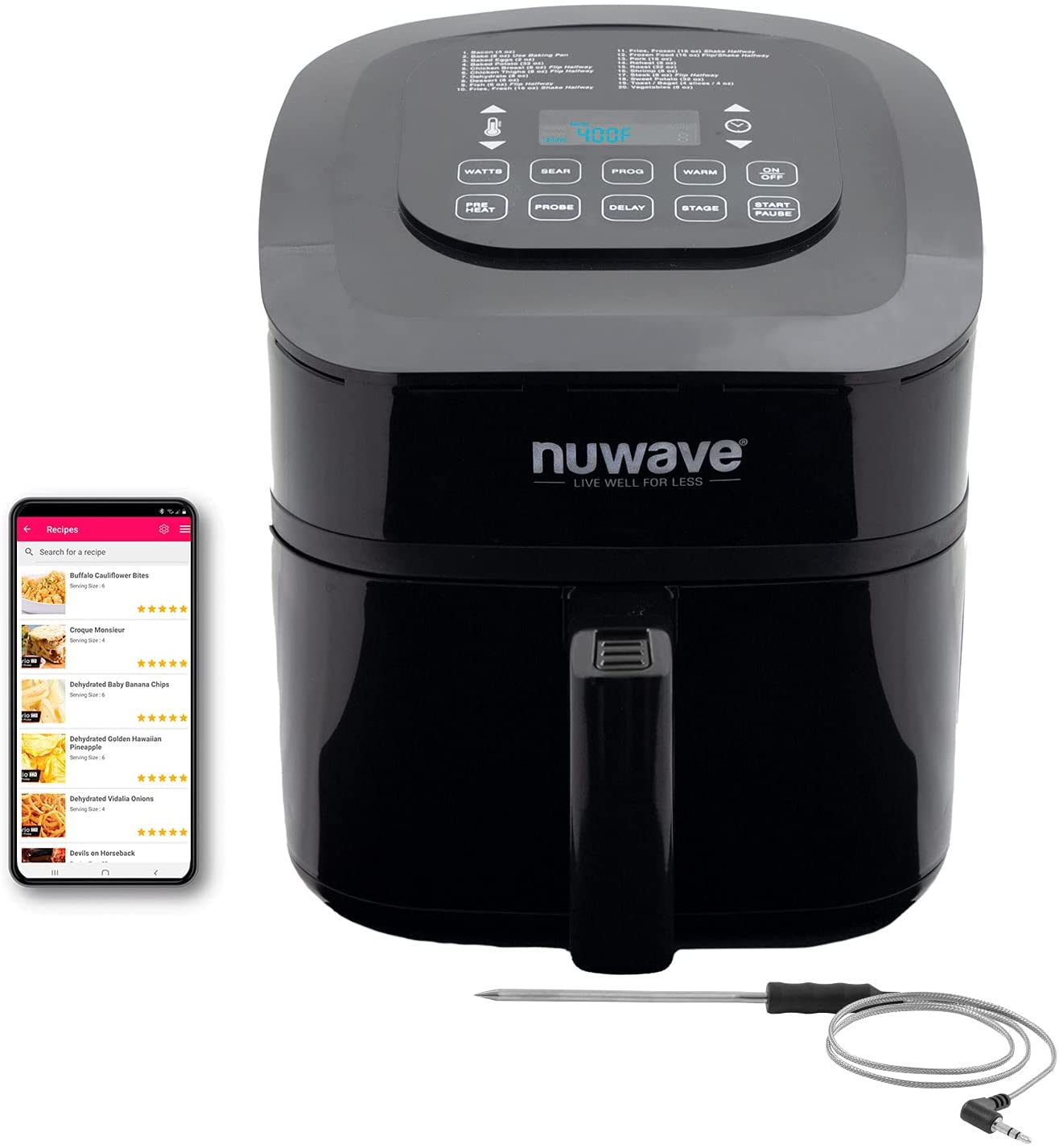 The Brio double-checks the temperature within the device 120 times per second to ensure that the temperature you select is the temperature you get. Other air fryers can cut off up to 20-40 times per hour, resulting in a temperature difference of up to 40°F from the desired temperature.
You'll never have to guess again when you use the Brio's inbuilt digital temperature probe! Set the temperature using the probe, then touch and go! The Brio cooks until your food is done to perfection and then turns off on its own, so you'll never have to worry about undercooking or overcooking again.
The 6-quart brio is perfect for cooking 2 pounds of fries, 4 chicken breasts, or a whopping 2 pounds of wings. Despite this, it's tiny enough to fit into modest flats, RVs, and even dorm dorms. You can also change the wattage between 900, 1,500, and 1,800 watts, allowing you to air fry almost anyplace with an electric outlet.
03. Philips Premium Airfryer XXL
The Philips Airfryer XXL HD9650/96 is one of the company's higher-end versions and a contender for our list of the best air fryers. The Philips Essential Airfryer HD9252/91 has a glossy black appearance that consistently produces evenly browned fries and chicken wings.
Philips is a well-known name in the kitchen appliance industry, and after spending the last decade developing air fryers, it's a go-to brand for making healthier versions of fatty foods like fries and chicken wings.
The HD9650/96 also has fat-removal technology, according to Philips. A starfish-shaped attachment goes between the frying basket and the air fryer drawer, separating and trapping oil released by the food during cooking, so you don't eat it.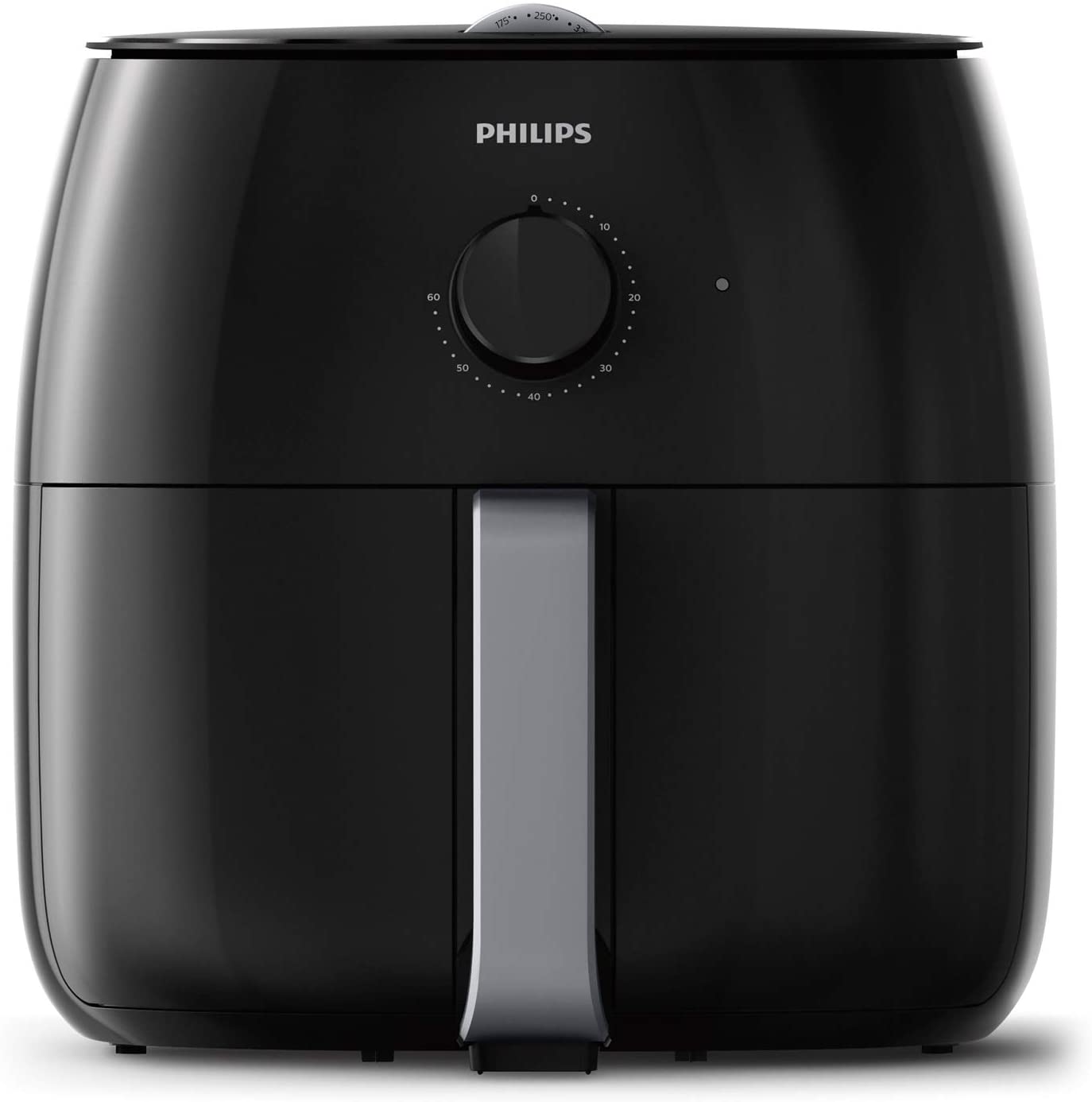 Air fryers crisp meals to put in a frying basket with hot air, using far less oil than deep-fried but without sacrificing flavor. In this example, Philips claims that using an air fryer saves 90 percent of the oil used in deep frying.
There are five settings for everything from frozen meals and poultry to fish and cake, with default temperatures. The cooking time must be specified manually, using the dial and buttons on each side of the LED panel, and you may set the temperature and time manually.
According to Philips, the 7.3-quart / 7-liter capacity of the Philips Airfryer XXL HD9650/99 is enough for six people. In addition to air frying, the device can roast, grill, bake, and reheat food.
04. Ninja DT251 Foodi 10-in-1 Smart XL Air Fry
The Ninja DT251 Foodi has up to 10X the convection power of a full-size convection oven for quicker, crispier, and more juicy results. Air Fry, Air Roast, Bake, Whole Roast, Broil, Toast, Bagel, Dehydrate, Reheat, and Pizza are all available in one powerful 1800-watt appliance.
It can fit a 5-pound chicken and a sheet pan of veggies, two 12-inch pizzas, or a 12-pound turkey; no turning is necessary. For entertaining or weekly meal prep, make two sheet pan dinners at once. By using Air Fry, you can save 75 percent on fat (*test against hand-cut, deep-fried French fries). In comparison with a typical convection oven, the results are up to 30% crispier.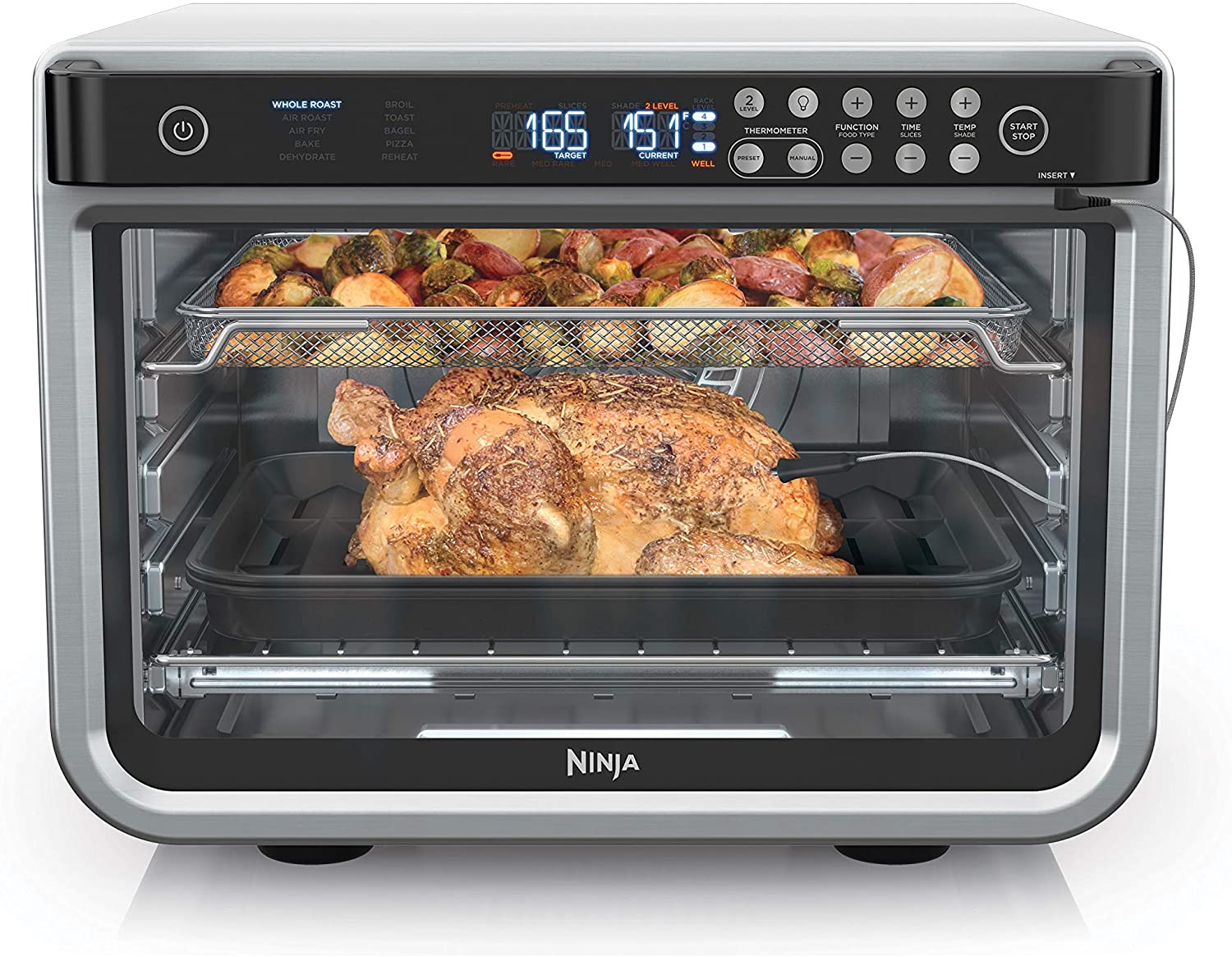 With the inbuilt Foodi Smart Thermometer, you can get the exact doneness from rare to well done at the press of a button – no guesswork necessary. It preheats in 90 seconds and cooks up to 30% quicker than a typical full-size convection oven.
What's included: Digital Air Fry Oven, (2) sheet pans, (2) wire racks, Air fry basket, Roast Tray, Crumb Tray, Foodi Smart Thermometer, and 15 Recipe Guide.
You'll get up to 50% more uniform baking outcomes than a leading countertop oven. Make two sheet pan meals at once for entertaining or weekly meal prep.
Depending on the function selected, the optimum oven rack locations will glow. When the door is open, the display settings freeze to prevent any changes to the cook cycle from being made accidentally.
Read Also: 10 Best Air Fryer Toaster Oven Combo.
05. COSORI Smart Air Fryer
The best-selling air fryer on Amazon also performed admirably in our testing. The Cosori features a textured surface and is available in black, white, and even red. It's well-thought-out, with options for fish, frozen foods, meat, vegetables, and even cake. You may adjust the knobs on each side or click the start button to begin cooking.
The fries made by this air fryer were delicious. They were crisp and uniformly cooked, and the cooking time was far less than normal, making them a hit for hungry households! In some settings, you'll be reminded to shake your meal halfway through.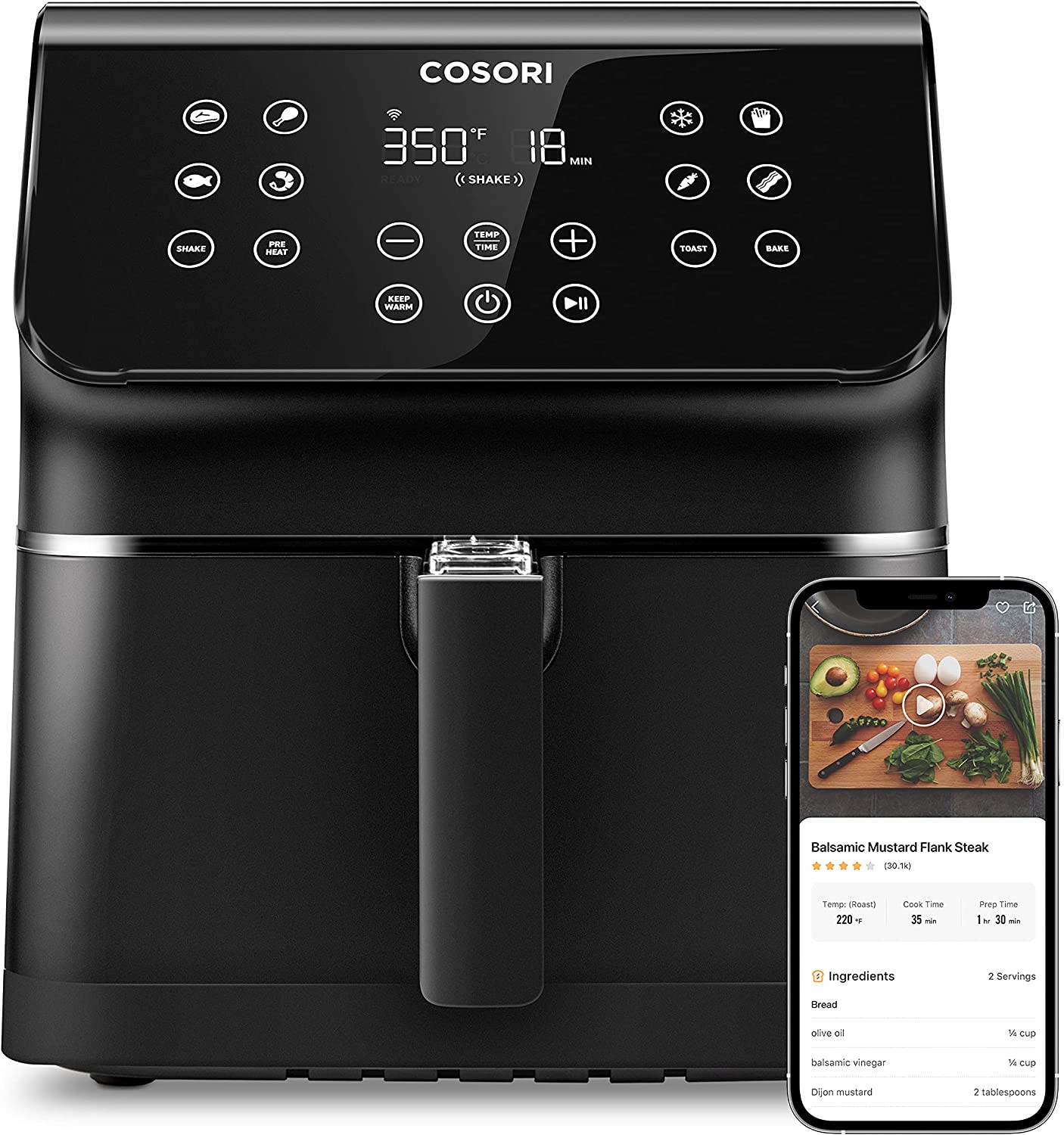 By utilizing the free VeSync app to remotely monitor meals during cooking, the COSORI Smart Air Fryer (CS358-AF) allows you to spend more time with friends and family.
You can choose from 10 configurable cooking presets and Preheat and Keep Warm settings. The Shake Reminder helps you shake your food for uniform cooking and crisp textures.
Use your phone to control your air fryer, or use the smart display to integrate with voice assistants like Amazon Alexa or Google Assistant.
Get culinary inspiration from the bundled 100-recipe cookbook, and check out new recipes on the VeSync app every month.
With nonstick, dishwasher-safe, PFOA- and BPA-free baskets that can be removed and detached, you can cut down on cleanup time.
06. Instant Pot Vortex Plus 6-in-1 Air Fryer
The performance of Instant Vortex Plus air fryer from the manufacturers of one of our favorite multi-cooker products pleased us. With its stainless steel front and big, easy-to-read controls, the Instant Vortex Plus from Instant Pot is stylish.
It has six cooking modes, including air fry, roast, broil, bake, reheat, and dehydrate, with temperature and duration settings that may be programmed. The dial enables quick selection, so you won't have to press a button 100 times to get the desired temperature.
The air fryer basket is big (6 quarts) and square, providing more cooking area than round competitors, making it a wise family investment. Its detachable tray features a small, hinged handle that enables simple removal while also laying flat so that the cooking surface is not disrupted.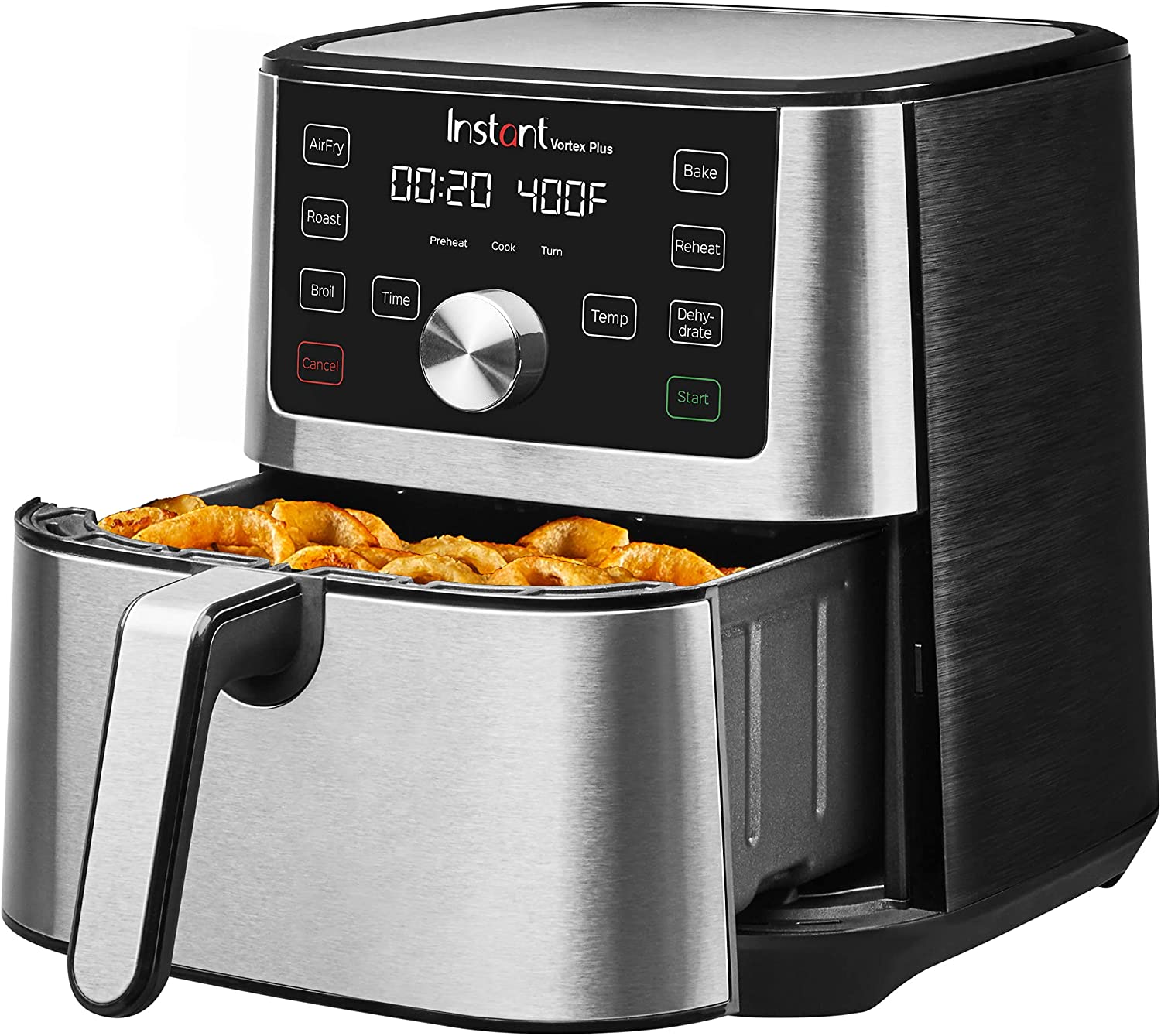 The Instant Pot Vortex Plus Air Fryer is big enough to feed a family but not so enormous that it takes up the entire counter. With a 6-quart capacity and a sleek, smudge-resistant stainless steel design, this air fryer will look great in your kitchen, especially if your other appliances have the same finish.
Air fry, roast, broil, bake, reheat, and dehydrate are among the six built-in modes on the Instant Pot Vortex Plus, which you can access via its easy-to-read LED screen. The size, according to buyers, is "excellent," and the device is suitable for frying chicken, fries, vegetables, and other necessities. You can also fit more food in each batch because the inner container is square.
07. Cuisinart Convection Toaster Oven Airfryer
The Cuisinart Air Fryer Toaster Oven isn't like other air fryers because it doesn't have a basket. This one-of-a-kind appliance is a full-size toaster oven with air frying capabilities.
This combination air fryer and a toaster oven has a temperature range of 80 to 450 degrees Fahrenheit and can hold up to three pounds of food at a time, including a 12-inch pizza.
You'll get an oven rack, baking pan, and air fryer basket with your purchase, and its whisper-quiet operation will leave you speechless. In addition, the sleek stainless steel appearance will complement your kitchen decor nicely.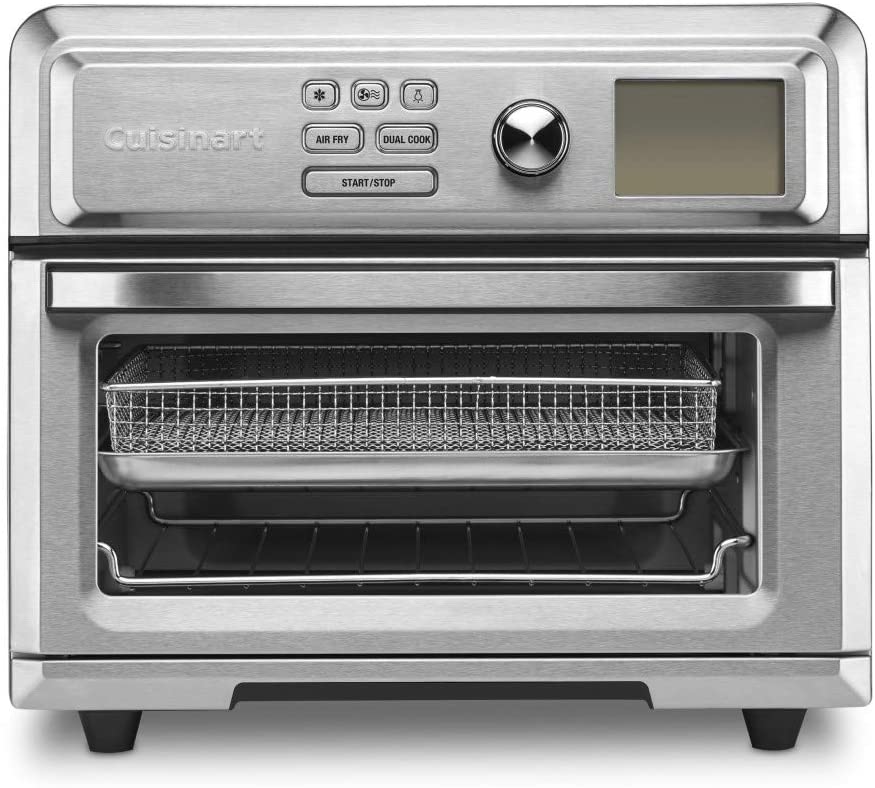 Cuisinart was one of the first companies to release a toaster oven air fryer that can toast, bake, convection bake, and air fry at the same time. We put the digital version to the test, and it produced the most evenly colored toast and the crispiest air-fried food in the least amount of time.
The 15.5 by 16-inch rectangular air fry rack has a big frying area and rests over a drip/crumb tray for simple cleanup. Cuisinart has released a smaller version of its toaster oven air fryers with the same features and outstanding performance.
An adjustable thermostat with a 60-minute timer, auto shut-off, and toast shade selector are prominent features. Bake, broil, convection bake, convection broil, toast, and warm are additional functions.
08. Chefman TurboFry 2-Quart Air fryer
The Chefman Compact TurboFryTM Air Fryer uses the latest developments in rapid-air technology to circulate hot air at high speed, frying your favorite food and delivering a crispy fried texture with little or no oil.
The detachable 2-quart frying basket and tray are dishwasher safe, making your dinner as easy to clean as it is nutritious and tasty.
You can air fry nearly any item that is typically baked in the oven! You can configure your fryer to produce great results without overcooking your food with the adjustable 60-minute timer and auto shut-off option.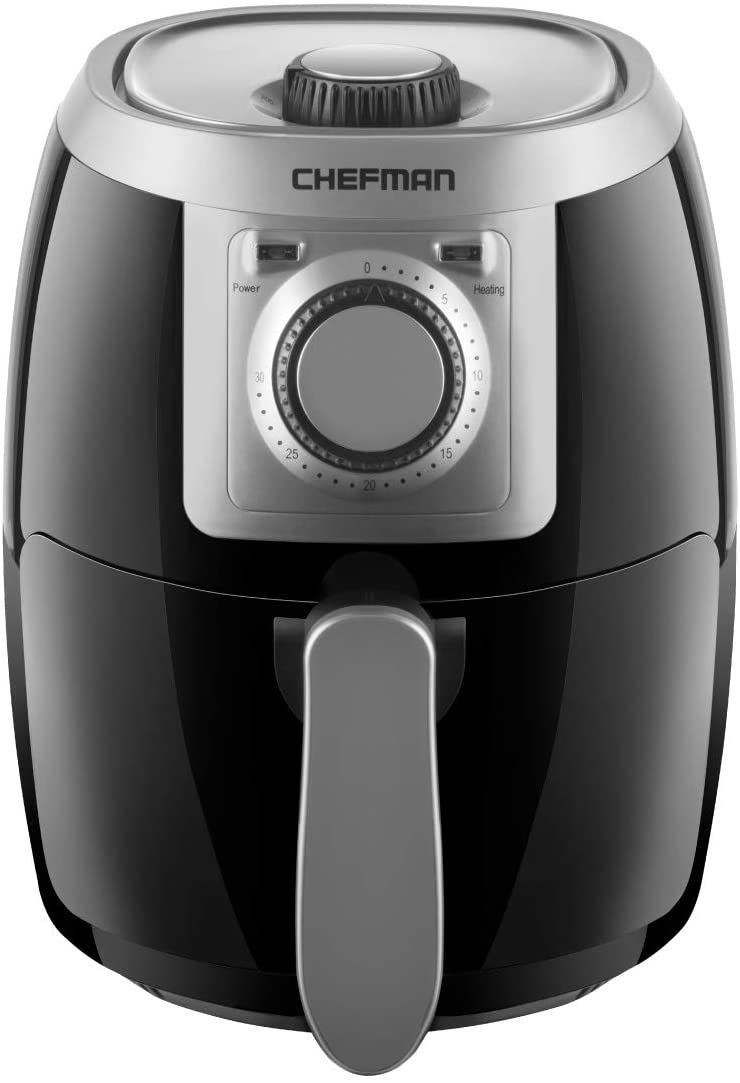 The tiny air fryer saves counter and cupboard space, making it ideal for any small kitchen, dorm, workplace, RV vacations, and more!
The small and compact air fryer saves counter and cupboard space, making it ideal for any small kitchen, dorm room, RV vacations, and more! One thousand watts, 120 volts.
With little or no oil, you may achieve excellent fried results! You can cook at any temperature between 200°F and 400°F, creating a healthy, crispy, fried finish while using at least 98 percent less oil than standard fryers.
The 2-quart fryer basket and tray are detachable and top-rack dishwasher safe, making your dinner as nutritious and tasty as it is easy to clean. Because the basket is nonstick, no cooking spray is needed!
You can air-fry everything from frozen vegetables to chicken and even reheat leftover desserts thanks to the manual temperature control and 60-minute inbuilt timer. The removable BPA-Free basket, cool-touch exterior, and auto-shutoff add to the safety and security of the product.
How to select the best air fryer for your needs?
There are different types, sizes, shapes, capacities, and prices of air fryers. The most expensive ones are well-made, but they aren't always the greatest for air frying or the most user-friendly.
Here are few things to consider when buying an air fryer:
Size and shape:
Most air fryers are huge and oddly shaped. Before you buy an air fryer, make sure you measure the space on your counter where you want to keep it as well as the machine itself. If you want to be able to move the fryer back and out of the way when you're not using it, measure the space between the countertop and the bottom of your cabinets. Consider how hefty the appliance is to see if it will be convenient to lift it in and out of a cupboard or closet if you don't plan on using it frequently.
Air fryers come in a variety of capacities, ranging from two quarts to eight quarts. However, the advertised capacity is not always a fair indicator of how much food you can cook at once. It's not a good idea to pile food to the top of the basket for optimal results. Few models can prepare more than a pound of food at a time, such as French fries or vegetables. You're limited in how many pieces of chicken or hamburgers you can fit in the bottom of the basket when preparing them. It's more crucial to look at the basket's diameter than its volume.
Control Types:
Dial controls are simple to use but provide less precision. To set the time, simply crank a mechanical timer that chimes when the timer expires. While digital controls are more difficult to master, they are precise and allow for customized settings for different sorts of food, eliminating the need to guess what temperature to use or how long to cook.
Price:
An air fryer can cost anything from $50 to $400. While the best air fryers are more expensive, a good one may be had for under $100. If you're not sure you'll use your air fryer often, resist the need to spend a lot of money on it.
Air fryers featuring a safety lock feature that prevents the fryer from cooking if the lid is not locked are a big plus.
Fast Cooking Time:
Some air fryers aren't delivering on their promises, with some users reporting that the fryer's temperature is uneven throughout the cooking process. However, likely, a respected brand has already addressed this issue. After all, that's the whole point of quick air heating. It heats up evenly and thoroughly in a short amount of time.
Other features:
Some air fryers can be used as other appliances as well. This increases your adaptability while also reducing the number of things in your kitchen. However, it raises the air fryer price, so consider whether you really need the extra features.
This is also significant because it allows you to select your preferred cooking method. It's worth noting that certain air fryers aren't designed to do things like preheating, baking, roasting, or broiling.
Warranty Service:
If you discover a flaw in your air fryer weeks or months after purchase, or the buttons aren't operating as they once did, warranty service can assist you in replacing or repair it.
Frequently Asked Questions
What can you not cook in an air fryer?

Some foods should never be cooked in an air fryer. Food fried with a moist batter. Broccoli. Entire roasts or whole chicken. The majority of cheese. Hamburgers. Rice. Raw vegetables. Dry seasonings.

Are air fryers healthy?

That is correct. With an air fryer, you can cook healthily at home with less mess, less bother, and all of the amazing texture and taste of deep frying. The air fryer eliminates the need for oil while yet producing a crispy texture and flavor. At home, deep frying has always been a messy affair that I dislike.

Can I lose weight using an air fryer?

Replacing fried meals with air fryers can be healthier. There is no assurance that your entire diet will be balanced or healthy. Air fryers can help you lose weight, calculate calories, and keep track of fat consumption, but they won't always make you or your food healthier.

 Is Airfryer better than oven?

A fan circulates the hot air in both a convection oven and an air fryer, but the air fryer circulates the air more quickly inside a compact chamber, making the cooking process faster. Deep frying is unhealthy, and air fryers eliminate the possibility of an oily mess.

Can you put popcorn in an air fryer?

Yes. Put the popcorn in the air fryer basket that has been lined. Make sure the kernels aren't stacked on top of one another; a flat palette of single kernels is ideal. Place the basket in your air fryer and cook for 5 minutes at 400°F (205°C). Cook until the kernels have stopped popping.

Is an air fryer healthier than a microwave? 

Air fryers have the advantage of using very little power. They don't consume a lot of power. Because they don't produce much heat, the energy they do require is better spent cooking than heating the area.

What is the weight capacity of these chairs?

In general, air fryers are far superior to microwave ovens in terms of health. While microwaves may need a tiny quantity of oil, air fryers do not, like frying, baking, and any other activities that air fryers may not require oil.
Final Remarks
Now that you know which air fryers are the finest, we'd want to hear whether you've purchased and used any of the items on our list. We'd want to hear how well they've held up over time, as well as how the food tastes. Using an air fryer instead of a deep fryer can help you cut down on fat, calories, and possibly hazardous chemicals in your meals.
When cooked with oil, however, air-fried meals may be similar to traditionally fried foods, and eating them on a frequent basis may be linked to health problems. Although air fryers are a superior alternative to deep fryers, the best option for your health is to restrict your intake of fried foods entirely.
Please leave your feedback in the comments section below, and also let us know if there are any products that we may have overlooked.
---