Best Heavy Duty Folding Chairs for Sports
The best foldable chairs for those are the ones that have been designed and created to provide comfort. The materials, shape of the chair, size of armrests can all contribute to a person's level of discomfort or happiness on the sand. This article will explore the 10 best folding chairs for sports.
However, not all folding chairs are created using the most environmentally friendly or ethical processes, as is the case with many other consumer products. We understand that many buyers want to know that the things they're buying aren't harming the environment in any way.
Many companies are attempting to provide more environmentally friendly, sustainable products since many eco-conscious buyers are aware. We've reviewed some of the greatest eco-friendly folding chairs on the market to compile a list of the best seats for your game day experience. Take a peek at this list of our best-selling items.
In a Hurry? Check out our top 3 picks for the best folding chairs for sports parents.
Camping or Sports Chairs Pricing
$25-$50: Camp chairs in this price range provide basic amenities such as foldability and storage, such as a four-can cooler pouch and an easy-access side pocket. These chairs are usually composed of polyester fabric and are hence light. As a result, they are lightweight and ideal for backpacking.
$50-$100: Camp chairs in this range have a higher build quality and a few more amenities. For added strength, they're usually composed of powder-coated steel frames. They also have amenities such as an adjustable armrest, a cup holder, and larger side pockets. These chairs are best suited for camping vacations where you will stay at a single campground due to the added conveniences and medium weight.
$100-$200: At this price point, you can anticipate exceptional build quality with a plethora of extra amenities like an adjustable arm and backrests, cup holders, large storage pockets, and even a reclining design. These camp chairs are built of high-quality materials such as quilted 600D polyester, making them extremely durable. A storage bag is usually included. These camp chairs are designed for lounging and vehicle camping where transportation is not an issue due to their size and weight.
Different Types of Folding Chairs
1. Zero Gravity Chairs
NASA was the inspiration behind zero gravity, which allows for infinite recline options (of course, no hanging upside down like a bat within the chair). Zero gravity chairs do not rest flat since they are designed to relieve pressure on the spine and back. You'll need a chair for that small indulgence.
2. Chaise Lounges
If you want a full-body tan – or if you just have time for one sunny day – then a folding chair with a sofa is what you need. These lengthy loungers come in a variety of reclining settings, with the majority of them completely reclining so you can kick off your flip-flops and tan up or down. What are the drawbacks? Beach chairs are difficult to transport.
3. Classic Foldable Chairs
You can never go wrong with a classic beach chair. Classic in this context refers to brightly colored folding beach chairs with armrests and a weight capacity of 200 to 300 pounds or more. The other elements are up to you — and we'll get to them all in a second.
Read Also: 12 Best High Beach Chairs With Canopy
List of 10 best folding chairs for sports
| Image | Product | Feature | Price |
| --- | --- | --- | --- |
| Editor's Choice | Kijaro Dual Lock Portable Camping and Sports Chair | Dual Lock chair includes 2 cup holders, an organizer with zipping & mesh pockets, a carry strap attached to the chair, and a carry bag. Supports up to 300 pounds. | Check On Amazon |
| Highest Rated | GCI Outdoor Freestyle Rocker Folding Chair | Opens and closes safely and easily with patented EAZY-FOLD Technology; includes carry handle. Sturdy powder-coated steel frame supports up to 250 pounds includes padded armrests and built-in beverage holder. | Check On Amazon |
| Zero Gravity | Timber Ridge Zero Gravity Chair | Full padded seating, removable pillow for both head and lumbar support. Anti-gravity chair supports up to 350lbs. Sturdy steel tube frame, premium quality elastic cord, and durable polyester fabric. | Check On Amazon |
| Budget Pick | Coleman Camping Chair with Built-in 4 Can Cooler | 24 inches wide; 18.1 inches high, strong steel frame supports up to 325 pounds. The built-in cooler keeps up to 4 cans cold and easily accessible. Fully cushioned seat and back, side pockets, mesh cup holder, adjustable arm heights. | Check On Amazon |
| With Canopy | Quik Shade Adjustable Canopy Folding Camp Chair | Portable chair with canopy and 2 fabric and mesh cup holders. Durable steel frame supports weight up to 225 lbs. The sunshade can raise, lower, and tilt to either side to block the sun from any angle. Tough 600 denier polyester fabric is water and stain-resistant. | Check On Amazon |
| | CORE Equipment Folding Padded Hard Arm Chair | Polyester, Cozy quilted seat; padded hard arms provide extra support and comfort. Folding, durable steel frame; 600D Brushed polyester soft-touch seat. Built-in, oversized cup holder and gear pocket; Carry bag and carry strap for easy transport and storage. | Check On Amazon |
| | Timber Ridge High Back Folding Camping Chair | A deep cup holder, a special leaking hole design. Collapsible steel frame and durable fabric make the chair extra sturdy for sitting; it weighs only 12.57 LBS and heavy-duty supports up to 400 LBS. | Check On Amazon |
| | KingCamp Heavy Duty Camping Folding Director Chair | Easy to carry with handle; Open and Close in seconds. Rugged steel frame, supports up to 300 lbs; Seat height 18. 5", width 20. 5", weight 11. 9 lbs. 600D Oxford fabric, durable and wear-resistant. | Check On Amazon |
| | ALPHA CAMP Oversized Camping Director Chair | High back 19''. With Durable oxford fabric, & advanced breathable mesh. Anti- Rust Hammer Tone Powder Coating for Long Working Time, Prevent Corrosion and Fading. Support up to 300 lbs, more stable construction. | Check On Amazon |
| | GCI Outdoor Wilderness Reclining Portable Backpack Chair | Seat height is 11 inches; sturdy powder-coated aluminum/steel hybrid frame supports up to 250 pounds. Backpack carry straps, 4-position reclining backrest, and wooden armrests. | Check On Amazon |
Detailed Reviews for the most comfortable folding chair for sports
01. Kijaro Dual Lock Portable Camping and Sports Chair
The performance of this dual lock chair is enhanced by several new and modern technology. It has a dual lock system that makes transporting and using your chair safe and easy. This camping and sports chair has a built-in lock that prevents it from collapsing. It will be equipped with a little locking mechanism that will allow you to lock and unlock your chair in a matter of seconds.
When your chair is open and closed, you can use this locking system. It will make your chair more stable when locked open, and locking and unlocking it is simple. To unlock your chair, simply press the button rapidly; once locked closed, the chair becomes extremely tiny, making it easy to carry or move.
Kijaro Dual Lock Chair is made of a durable diamond ripstop polyester unrivaled in this format for strength and convenience. It is designed for easy use by someone who values a high-quality finish. It has proprietary technology, two cup holders, and mesh pockets to store personal goods and drinks, and it is comfy and robust with a nice backrest position.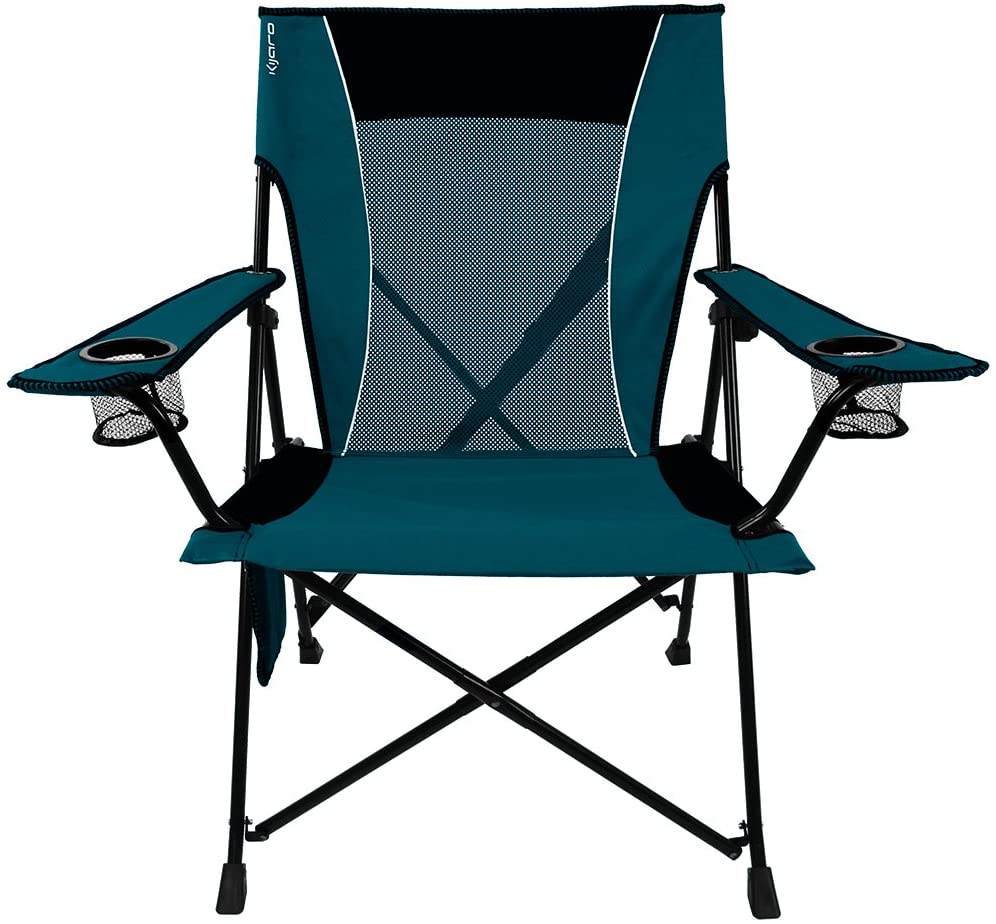 It's light, strong, portable, and foldable. It also offers adequate ventilation and is made for outdoor experiences and comfort while camping or doing other activities. It can satisfy your various interests pleasantly.
Its lower weight makes it easy to carry, making it one of the best dual camping chairs. It's a great choice for various activities, including your seating for the local baseball game, watching fireworks, tailgating, and hanging out on the beach, among others.
It's small enough to sling over your shoulder on your next outdoor expedition, and it's light enough to become your best camping partner.
02. GCI Outdoor Freestyle Rocker Portable Folding Rocking Chair
We believe that GCI offers a functional and pleasant folding chair that saves space. We found it simple to fold flat for easy storage and transport.
The GCI Rocker has a straightforward design that is both supportive and spacious. Although some individuals consider the cloth stiff, it stands up nicely for persons of all sizes. The breathability of the mesh back is enhanced by the 14.2-inch seat height, which makes getting in and out of this chair simple.
Despite the lack of a headrest, the back is lofty and upright enough to never feel like we were straining our necks to keep up with the talk. The GCI's armrests are a little narrow for our tastes, but they're padded and functional. The spring-loaded shocks produce a smooth, uncomplicated rocking motion that may be enjoyed on most outdoor surfaces.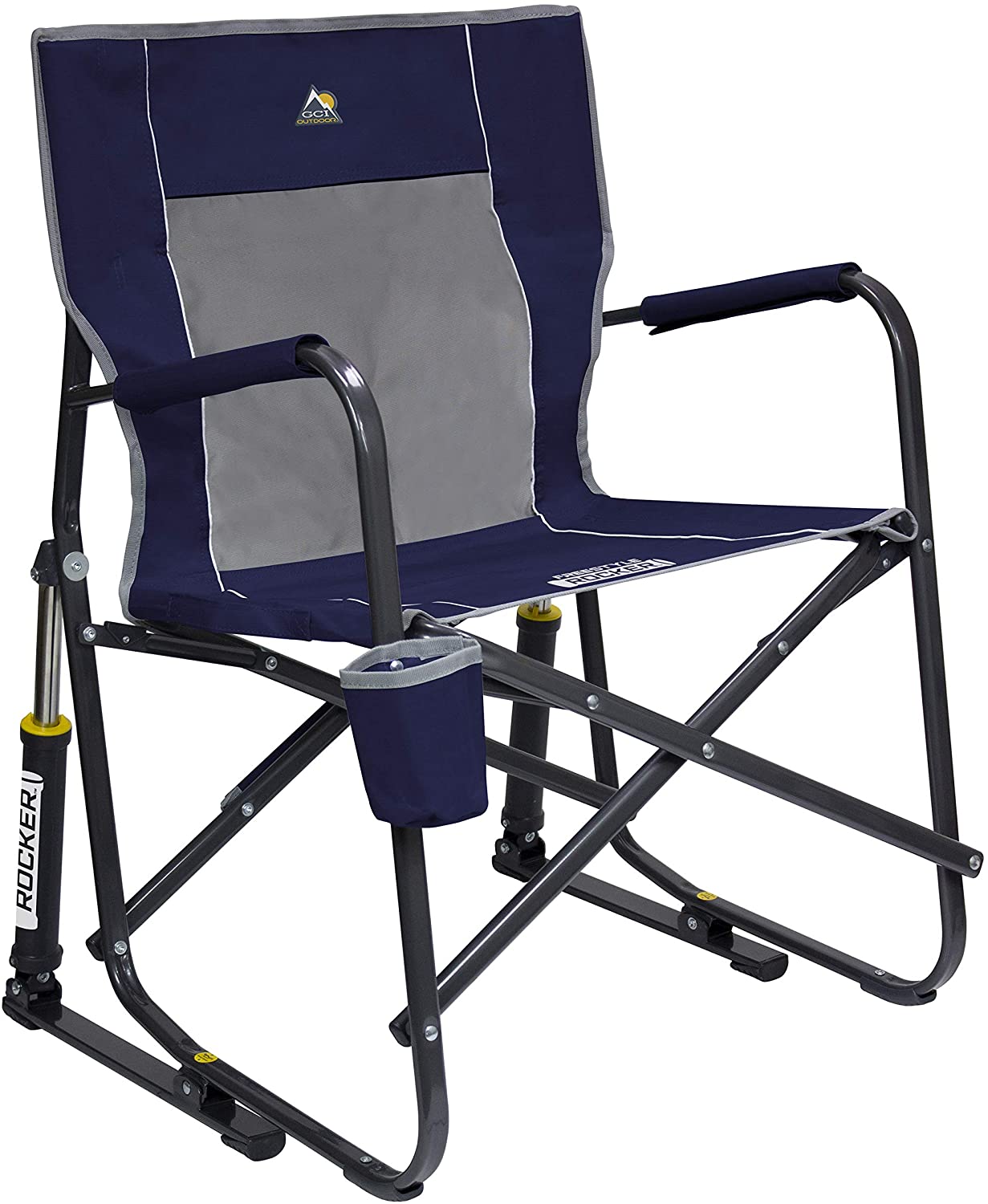 Because of its unusual design, we started with this chair. It does not have a curved base like the rest of the chairs on this list. Instead, two pistons on the back of the vehicle power the unusual hydraulic rocking system. This means that no matter how bumpy the ground is, you'll be able to rock back and forth effortlessly!
With strong armrests and padding along the back area, this GCI product is designed for comfort. The powder-coated steel frame is strong enough to support a person weighing up to 250 pounds.
The GCI Outdoor Folding Rocking Chair is an excellent choice for individuals looking for a chair that can be simply folded and stowed. It's built to last, and it can hold up to 250 pounds. It makes for a wonderful relaxing camping chair, despite the lack of a headrest.
03. Timber Ridge Zero Gravity Chair
The Timber Ridge Zero Gravity Chair is built to last. There's a removable headrest pillow, a wooden armrest, and a huge cup holder on the right side. Once you've got it in the position you want, simply spin the two little clamps on the sides to secure the position in place. It simply glides on and locks into place, and it can be removed if desired. It does not cause your body pain because of how it is made and how your body lays on it.
Timber Ridge anti-gravity chair can support up to 350 pounds. This heavy-duty zero gravity chair is built to last with a solid steel tube structure, top-grade elastic rope, and durable polyester fabric. This outdoor lounger has a patented locking mechanism. The enormous zero gravity chair can be adjusted and locked in any position, from upright to fully laid-back, using simple locking levers. The simplest locking mechanism available.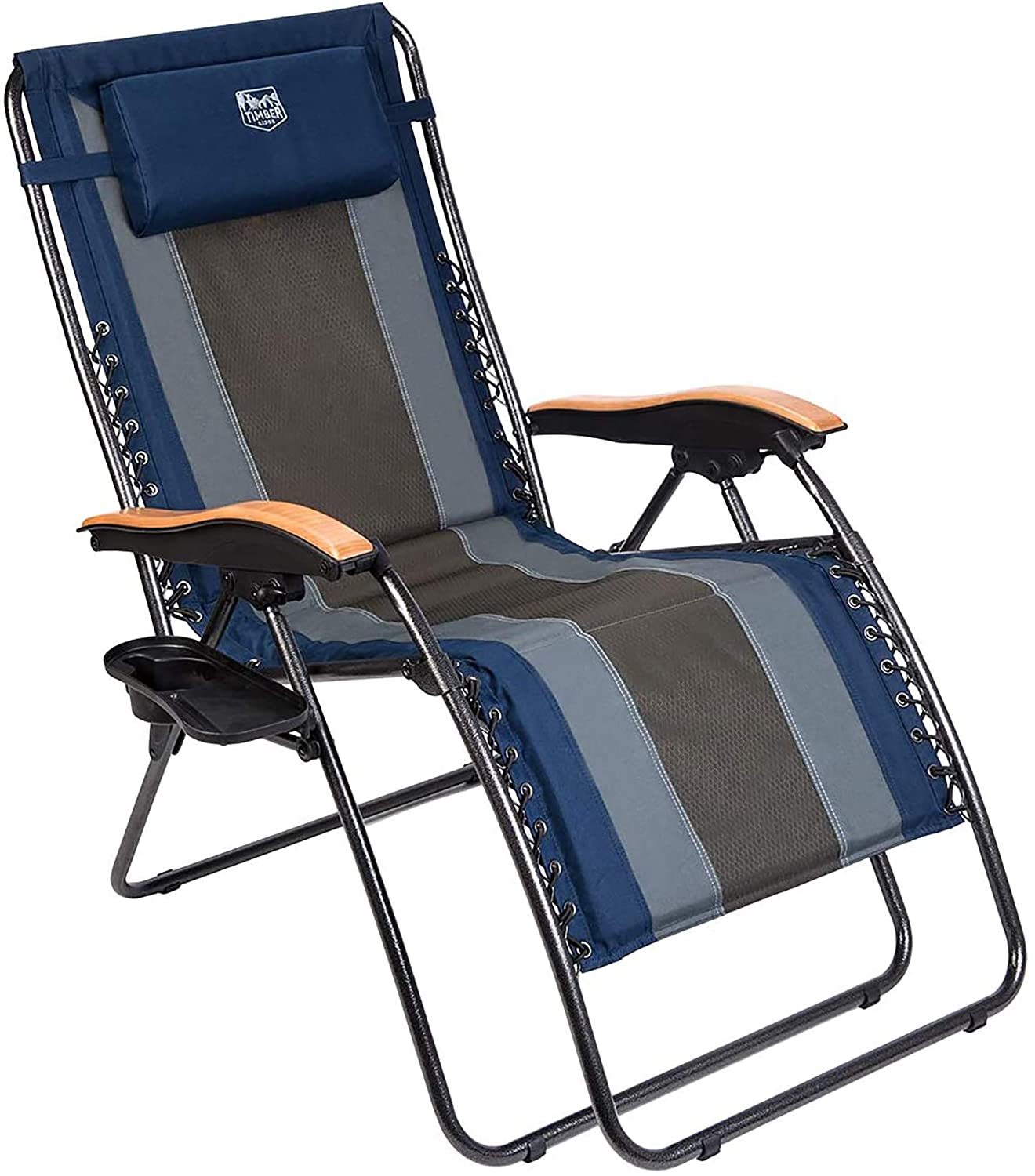 The reclining camping chair is 72 inches long when fully reclined. Our xl zero gravity chair gives you plenty of room to rest outside. Full-padded seats and a removable pillow for both head and lumbar support are included in this padded folding chair. This outdoor recliner's ergonomic design and natural wood armrest create a weightless experience.
This folding lawn chair folds and unfolds in a matter of seconds. The camping lounge chair is lightweight and portable. Patio, lawn, garden, yard, or balcony are all good options—a one-year manufacturer's guarantee.
04. Coleman Camping Chair with Built-in 4 Can Cooler
The Coleman Quad Chair is made out of robust steel frames that can support up to 300 pounds, more than the average person's weight. The chair is made of polyester, soft and smooth, and provides cushioning for a more comfortable sitting experience. It also makes cleaning much easier.
This is a fantastic chair on my list of the Best Camping Chairs and is well worth checking out. Polyester is lightweight and easy to clean, making it ideal for camping. Steel and polyester are robust and sturdy materials that will extend the life of your chair. You would only need to purchase the quad chair once, and it should last for many camping trips if used properly.
On the armrest of the quad chair is a built-in cooler that can hold up to four cans. You can have your phone and relax without worrying about where to put it. Large enough to serve as temporary storage for magazines or your favorite book, these pockets are extremely helpful. You fold your quad chair and place it in its storage bag when it's time to go moving.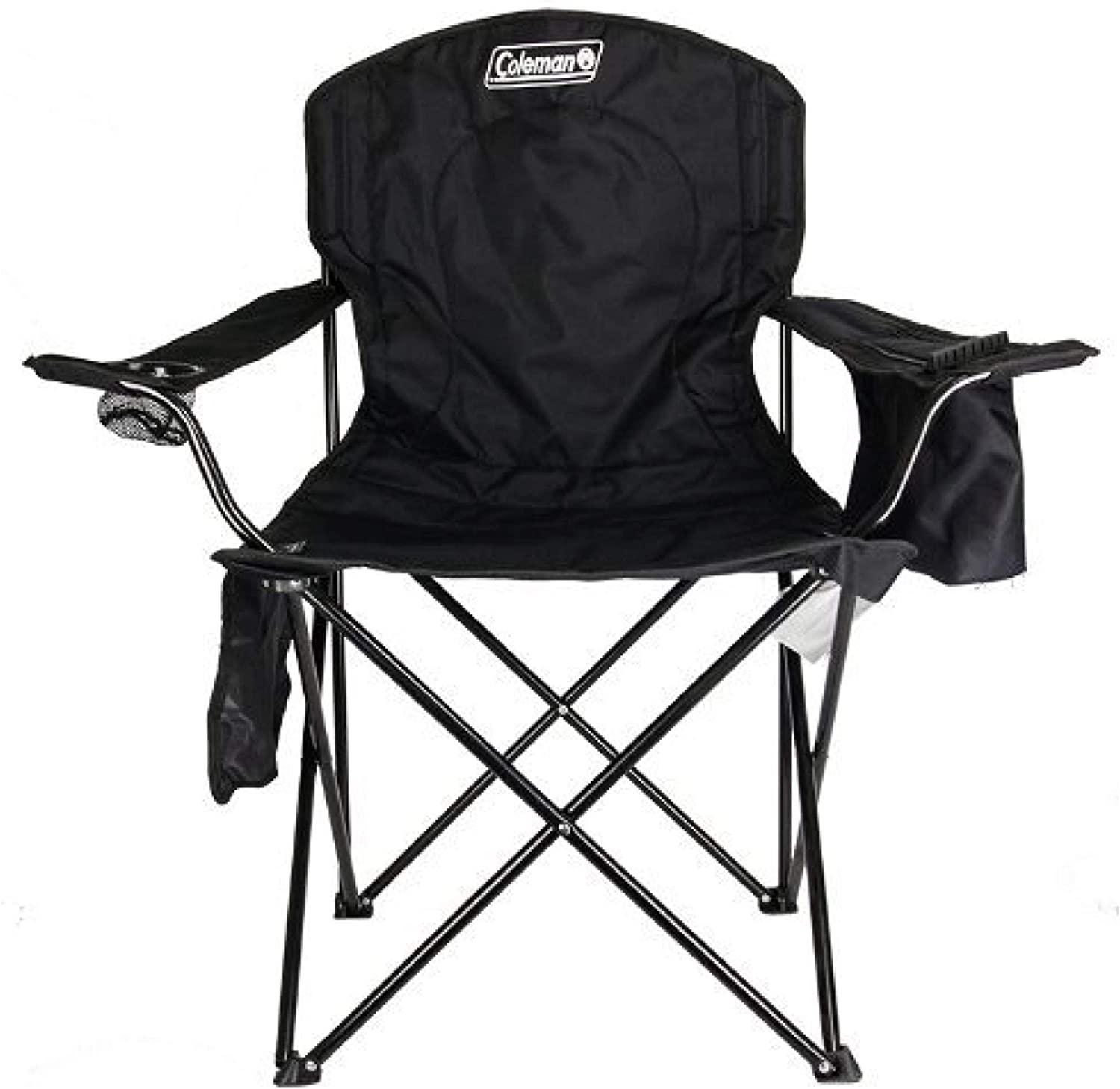 It's light and takes up little room, making it ideal for usage inside your Camping Tent. The back and seat of the chair have a soft padding, and you can drink or read while you relax. You won't have to be concerned because the Coleman Oversized Chair comes with numerous functions.
The chair also boasts a huge side pocket that can hold books, magazines, or even your phone. A soft cooler on the left armrest can contain four cans, three of which can stand comfortably in the cooler, and the fourth can recline on top. Always review the warranty when purchasing a product to determine what it covers and, more critically, what it does not cover. Manufacturers will cover bad workmanship in the manufacturing process.
However, there is a slew of other scenarios that differ from device to product and manufacturer to manufacturer, so double-check your warranty.
05. Quik Shade Adjustable Canopy Folding Camp Chair
This Quik Shade Heavy-Duty Folding Camp Chair is great for outdoor enthusiasts with larger body frames, particularly those who have found other beach chairs too frail or unstable. It is made of a 600 x 300 denier polyester fabric that is extra-durable and long-lasting. It also has a steel frame that resists rust and corrosion, adding to its sturdiness and endurance.
Aside from these fantastic qualities, this Heavy-Duty Folding Camp Chair also includes Quik Shade's innovative shade system, allowing the canopy to give continuous UV protection throughout the day. It can also be elevated, lowered, and tilted in any direction, allowing you to entirely modify this chair to your preferences.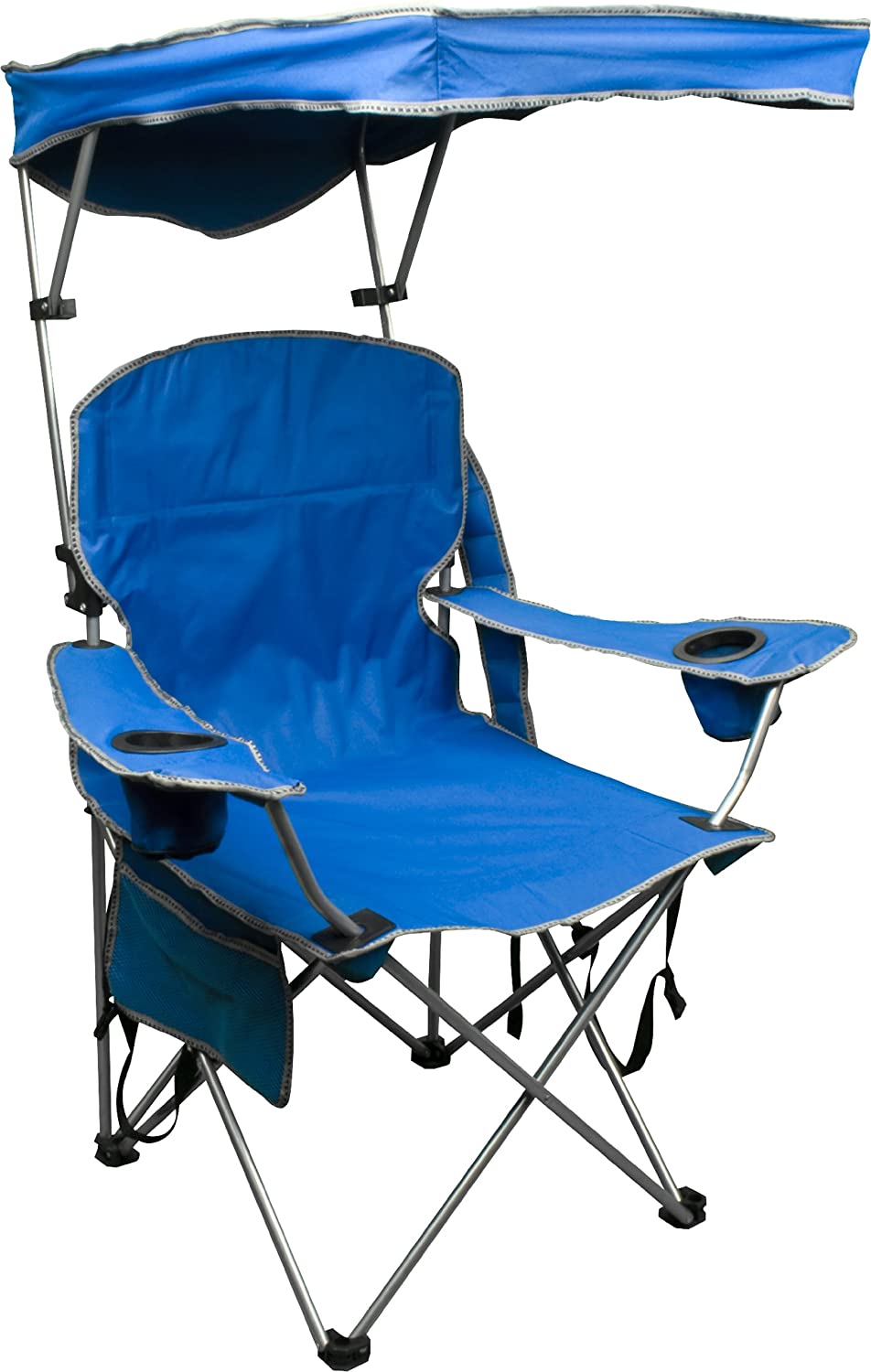 The comfort provided by this chair is unrivaled, thanks to its higher arched back and exceptionally broad seat. You won't have to worry about rain or washing it up after a particularly messy camping trip because the fabric is both water and stain-resistant.
While this chair is unquestionably sturdy, it comes at a cost: it isn't particularly light and is difficult to transport. More significantly, even when folded, it's quite bulky, making it impossible to store. Given the service it provides, these drawbacks are expected; yet, they may be deal-breakers for some consumers.
As we can see, it is necessary to hold beverages in one's hands when in a crowd. Cup holders made of mesh material are located on both arms of this chair. As a result, you may set your beverages down and enjoy the party. There are also side pouches.
06. CORE Equipment Folding Padded Hard Arm Chair
The CORE Equipment folding camp chair comes with a variety of functions to enhance your camping experience. It's simple to get up and go because of the lightweight steel frame.
The chair has a large gear pocket that allows you to grab things like your phone or sunglasses easily. It also has a large cup holder built-in. The steel frame is light but sturdy, with a weight capacity of 300 pounds. For simple transport and storage, the chair comes with a carry bag and strap.
While the frame is strong, the tubing connections can be flimsy, resulting in a chair that breaks too soon. A few customers have reported the padded component of the chair ripping after only a few uses.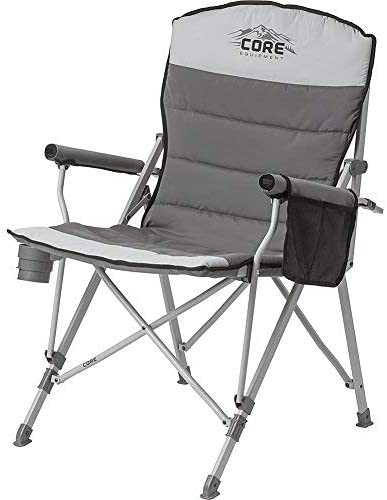 The hard armchair is ideal for people who suffer from back problems. This is the chair you should acquire if you want a very comfortable chair. It provides a terrific sensation and comfort to consumers due to its soft padding. It does not, however, maintain your posture upright!
This chair's armrest is quite strong and long-lasting. By pushing off the armrest, you can easily get up. This keeps you from stooping and placing unnecessary strain on your back. It also contains a little pocket where you can store your essentials such as your phone, lighter, earphones, can opener, and so on.
This chair's seat is composed of 600D wear-resistant polyester fabric that is easy to clean and long-lasting. It will last for years once purchased. Even though it can support up to 300 pounds, users report that the chair is comfortable with 350 pounds.
Buying Guide
We understand that there are many options available on the market, so selecting the best folding chair for you may be a difficult chore for some. Still, with the following suggestions, you will certainly be able to choose the finest folding chair for you.
1. Maximum Carrying Capacity
Different types of chairs are designed to support various weights. If you're buying chairs for a family or a large group of people, be sure they have a lot of weight capacity. Always check this capacity before going out on a nice sporting or camping afternoon to avoid unforeseen incidents.
2. Chair Dimensions and Weight
Depending on the activity, the chair's size and weight are important considerations. If you're going camping or to a sporting event in a vehicle, the weight may not be an issue. However, if you need to travel around a lot and take the chair from place to place, a lighter and smaller chair might be ideal.
The majority of the time. Lighter chairs are not as comfy as those that are heavy. As a result, there is a trade-off between convenience and comfort. With the guidelines mentioned above in mind, it's also critical to understand the many varieties of folding chairs, as this will aid you in selecting the best chair for your needs.
3. Comfortability
When someone refers to a chair, they refer to any chair that you can fold up, put in your car, and watch football games with. If comfort is your primary concern, try choosing a somewhat larger chair with a larger, more sturdy back. These chairs are often a step higher off the ground, with tremendous benefits of having storage pockets, beverage holders, and adjustable head or armrests. The weight of the chair will affect, and larger chairs will be heavier and bulkier. Because soccer seats come in various sizes and shapes, you must receive as much comfort as possible.
4. Frame Material and Fabric of the Chair
The majority of folding chairs, as expected, are built of various materials. Due to the unpredictable nature of the weather, camping chairs must be built of a water-resistant material. As a result, nylon is the most popular fabric because it is both robust and weather resistant.
Some chairs have extra foam padding for added comfort. However, these seats are substantially heavier as a result of the enhanced comfort. Aluminum is the greatest material to use for the seat structure because it is inexpensive and lightweight.
5. Price
These folding chairs can be pricey. However, a good chair may be found in almost any price range. Before you go shopping, make a budget, this will give you a decent notion of which chairs you should avoid. However, don't expect a low-cost chair to survive long because manufacturers typically use less durable materials on their seats to justify the price range. It may be worth spending a little more money ahead of time to guarantee that you get a high-quality folding chair.
6. Height
Low chairs are ideal for musical events, park movies, and beach outings because they are more portable and don't obscure the view of individuals in front of you. High-seat chairs are easier to get in and out of (especially for individuals with damaged knees) and are usually more comfortable for long periods of time.
Frequently Asked Questions
What type of camping chair is the most comfortable?

A chair labeled as a "camping chair" rather than a "backpacking chair" or an "everyday chair" will provide the most conveniences and comfort of the popular chair models. Built-in coolers, cup holders, extra padding and back support, and the capacity to extend and become a loveseat are all options.

What is the best Zero Gravity in these folding chairs?

Amazon's Caravan Canopy Sports Infinity Zero Gravity Chair Lying in this chair feels like you are floating because your feet lie in a completely relaxing position above your heart.
Go back to the basics with these stackable, sturdy, durable, and very economical folding chairs.

Where do you store folding chairs?

Store them easily in your outdoor areas or your garages. However, you cannot easily store them in those areas under your beds or under your couch. Whatever room these mobile folding chairs can fit, you can be stored there easily.

What is the best type of camping chair for rugged conditions?

A backpacking chair is made to be light, easy to set up and break down, and tough enough to take a beating. It also commonly has aluminum instead of steel framing, which is lighter but stronger. Backpacking chairs are typically the most expensive ones available.

How to remove rust from a beach chair?

Rusting metal chairs that are continually exposed to the salty air of the ocean is quite common. So it's used here, too. If you have light rust on the chair, use lime juice to remove it. To prevent further degradation, you should apply a new layer of rust-resistant paint to the chair.

How do I know if a camping chair is a longevity designed?

Material composition is one of the essential considerations. Look for camping chairs with a powder-coated structure in addition to validating the weight rating before purchasing. These chairs are designed to prevent rust and endure longer than chairs that do not have this attribute.
Final Words
The right chair can make all the difference in a great game day experience! There are so many amazing products out there that provide comfort and offer eco-friendly practices as well! From our top choices for folding chairs to portable options, this list has you covered if you need a new outdoor chair.
Sadly, as much as we want to enjoy our favorite sporting event or even just a night out with friends for dinner and drinks, the seats are often not made for comfort. Luckily though, in today's market, there is no shortage of comfortable folding chairs on offer!
We hope that through reading this article, you'll be able to find all your needs met when it comes time to buy because, let's face it: Sports events can get long without some way of resting, so what better investment than something like an Aeron Chair?
---