Which is the best dehumidifier to buy?
The best dehumidifiers can quickly and effectively remove any extra moisture from the air. If you detect a humid atmosphere forming in your house, you should use a dehumidifier to combat it as soon as possible. Mold, mildew, and water stains can all be caused by too much humidity in your house. It can also leave a musty odor that is difficult to mask.
The environment in your house will improve and become easier to breathe by reducing the humidity. As a result, for individuals who suffer from allergies, a dehumidifier is a wise purchase. Dehumidifiers also have additional advantages, such as drying clothes faster and decreasing bugs and termites. With all of this in mind, it's difficult to disagree with the use of a dehumidifier.
Are you undecided on which to purchase? We've compiled a list of the top dehumidifiers on the market so you can be confident in your purchase.
In a Hurry? Check out our top 3 picks for the best dehumidifier to beat mould and dampness.
What Dehumidifier Size Do I Require?
When choosing the correct size dehumidifier, the size of your space and the humidity level are the two most important factors to consider. The size (or capacity) is determined by how many pints of moisture it can remove each day. Here's a basic rule of thumb for matching the size of your dehumidifier to the size of your room and the humidity level in it.
A dehumidifier with a 30-pint capacity is best for spaces ranging from 500 to 1,500 square feet.
A 50-pint dehumidifier is ideal for areas with higher humidity levels, ranging from 1,500 to 4,000 square feet.
A 70-pint dehumidifier is ideal for spaces with a high humidity level of over 4,500 square feet.
Keep in mind that if the humidity levels in your smaller rooms are really high, you may wish to upgrade to a larger unit. Furthermore, the room temperature is important because chilly air contains less moisture than warm air; thus, the dehumidifier must work harder to remove the same amount of moisture from cool air as from warm air. As a result, basements that are cold yet humid will require bigger units. If you're undecided, it's usually best to size up.
What is DOE Pint Rating System For Dehumidifiers :
In 2019, the Department of Energy (DOE) updated the dehumidifier rating requirements. Their performance was previously measured at 80 degrees, but it was subsequently lowered to 65 degrees to reflect better how they would function in a colder basement environment. This change does not affect the performance of any model, but according to the DOE, dehumidifiers evaluated using the new technique would have lower capacity. A dehumidifier that once removed 50 pints of moisture in an 80-degree environment may now only remove approximately 30 pints at 65 degrees. We reported on humidifier capacity based on the new rules, but bear this in mind if you notice different pint sizes for the same model. All of the models listed below are Energy Star certified.
List of 10 best dehumidifiers to buy in 2022
| Image | Product | Feature | Price |
| --- | --- | --- | --- |
| Editor's Choice | Midea Energy Star Certified Dehumidifier | 20 pint(1500 sq. ft.) to 50 pints (4500 sq. ft.) buying options. The auto-restart feature minimizes downtime caused by power failures by resuming your selected settings as soon as power is restored. | Check On Amazon |
| Runner Up | Frigidaire White Energy Star Dehumidifier | Custom humidity control and 3 fan speeds. Removes up to 50 pints of water per day, drying the air quickly and efficiently. Automatic shut-off and full tank alert when the 2-gallon capacity bucket needs emptying. | Check On Amazon |
| Highest Rated | hOmeLabs Energy Star Dehumidifier | 22 pint(1500 sq. ft.) to 50 pints (4500 sq. ft.) buying options. Drain hose outlet for continuous draining. Turbo mode that increases fan speed from Normal Air CFM 165 to High Air CFM 188 for maximum moisture removal. | Check On Amazon |
| Large Spaces | Kesnos Dehumidifier | 34 pint(2000 sq. ft.) to 70 pints (4500 sq. ft.) buying options. Adjust humidity from 30% to 85%, you can maintain a healthy 45%-55% humidity range. | Check On Amazon |
| Promising | Gree Dehumidifier | 21 pint(1500 sq. ft.) to 70 pints (4500 sq. ft.) buying options. The dehumidifier will power off after reaching the target you set. Sound Pressure Level down to 47 dB, Quieter than private normal conversation. | Check On Amazon |
| Unique Design | GE Energy Star Portable Dehumidifier | 35 pints (2500 sq. ft.) to 50 pints (4500 sq. ft.) buying options. The built-in pump with an included hose, allows water to be drained to any convenient location up to 16 feet away. | Check On Amazon |
| Popular | Honeywell TP50WK Energy Star Dehumidifier | 20 pint(1500 sq. ft.) to 50 pints (4500 sq. ft.) buy options. LED digital display indicates room temperature, humidity level, and timer settings. Smart digital humidistat control system. | Check On Amazon |
| Premium Quality | Waykar 2000 Sq. Ft Dehumidifier | Intelligent Control and Auto Drainage System. Dehumidifier for Space Up to 2000 Sq. Ft: Our dehumidifiers are able to remove up to 34 pints (under 95°F,90%RH condition) of moisture per day. | Check On Amazon |
| Super Quiet | TOSOT Dehumidifier Energy Star | 20 pint(1500 sq. ft.) to 50 pints (4500 sq. ft.) buying options. Save time with automatic drainage by hooking up a 3/4 inch dehumidifier drain hose. Removable water bucket (1.5-gallon capacity) to manually empty the dehumidifier | Check On Amazon |
| Commercial | Waykar Commercial Dehumidifier | This industrial, commercial dehumidifier can remove up to 296 pints(37 Gallons) of water per day. Adjust to your ideal moisture setting; it will smartly sense room humidity and control dehumidification. | Check On Amazon |
Read Also: 8 Best Dehumidifiers Under $100
Detailed Reviews for the Selected Dehumidifiers:
01. Midea 4,500 Sq. Ft. Energy Star Certified Dehumidifier
This dehumidifier can collect 50 pints of water per day (the 2012 DOE guideline is 70 pints) and maintain a humidity level of 35 to 85 percent, making it a good option for a basement, bathroom, or bathroom bedroom. It has never been easier to maintain a healthy humidity range of 45 percent to 55 percent! You may need a bigger unit in your room, depending on how warm it is in your location and how big it is.
The auto-restart feature minimizes downtime caused by power failures by resuming your selected settings as soon as power is restored. Meanwhile, the continual dehumidification mode is ideal for maintaining the correct humidity level in your house.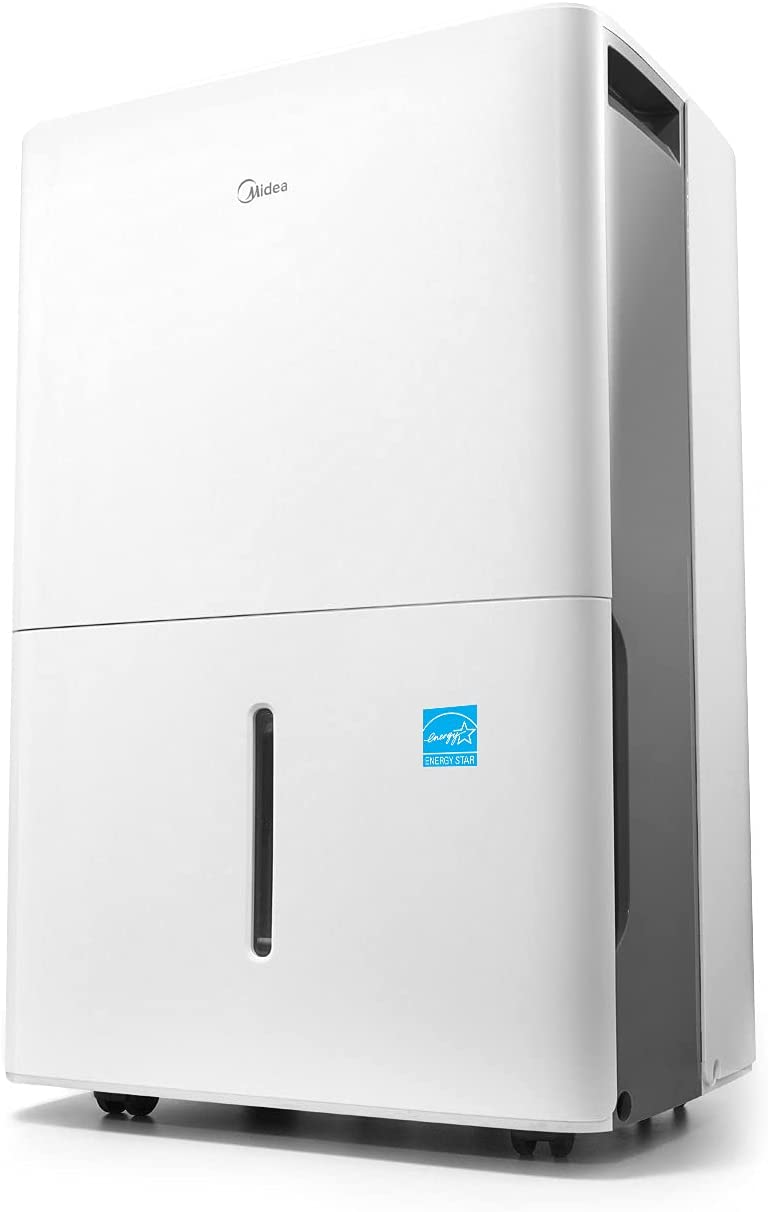 Quiet enough to be used in bedrooms while maintaining good air quality and a soothing atmosphere. Calm operation is possible thanks to a maximum level of 51 decibels, roughly the same as a quiet conversation.
When the supplied tank is full, empty it or attach a standard. Connect a 75-inch female garden hose (not supplied) to the built-in socket for gravity-fed continuous drainage. Meanwhile, a reusable filter helps to maintain air quality without the need for costly replacement parts.
Connect a 75-inch female garden hose (not supplied) to the built-in socket for gravity-fed continuous drainage. Meanwhile, a reusable filter helps to maintain air quality without the need for costly replacement parts. Continuous comfort mode maintains the 45 percent to 55 percent humidity threshold, while continuous dehumidification effectively eliminates moisture due to wet weather and other severe situations such as flooding.
02. Frigidaire Energy Star 50-Pint Portable Dehumidifier
A built-in pump of the Frigidaire dehumidifier FFAP5033W1 High-Efficiency has 50 Pint Dehumidifier suctions in a large amount of water at once and empties it into a sink or window through a connected hose (not included). Like several other Frigidaire humidifiers, it includes a built-in humidistat that allows you to customize the ideal humidity levels.
Frigidaire dehumidifier device has three fan settings, allowing you to choose how rapidly you wish to remove damp air from your interior environment. The reservoir holds 2 gallons, and the Full Tank Alert will alert you when it's time to empty it. When the tank is full, it includes an automated shut-off feature that turns the machine off. The dust is caught by the washable filter, which allows the device to run more efficiently.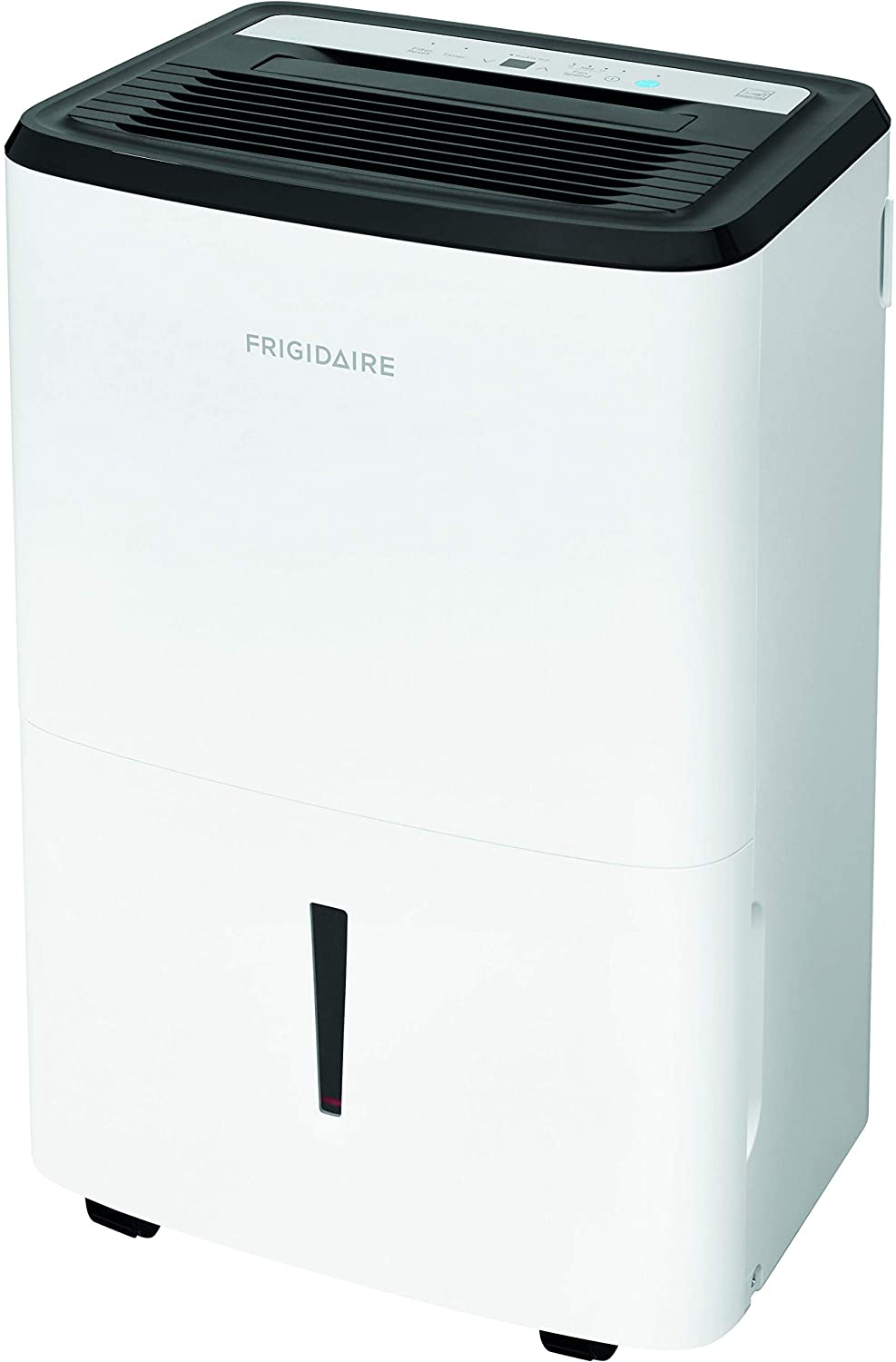 The Frigidaire Energy Star 50-pint dehumidifier with a built-in pump keeps attics, basements, bathrooms, and garages dry quickly and reliably in any wet environment. The unit's built-in pump allows moisture to be constantly discharged vertically, either into a sink or out a window, saving you time from manually emptying the water bucket.
The Ready-Select electronic controls include a digital humidity readout, 24-hour on/off timer, and control lock. You can adjust the exact amount of humidity in your space using Effortless Humidity Control. The large portable design has a top handle, integrated side handles, and caster wheels to make moving your unit from room to room a breeze.
03. hOmeLabs Energy Star Dehumidifier
This Homelabs dehumidifier is a flexible solution for medium to big rooms, intended for spaces up to 3,000 square feet and rated to remove 35 pints of water per day (50 pints according to 2012 DOE requirements). It has a built-in pump compressor and a continuous drain option (though the hose isn't included, so expect to pay extra), as well as auto-shutoff when the tank is full and turbo mode for maximum moisture removal. The dehumidifier is also evaluated for energy efficiency.
This dehumidifier is easy to use, and we don't think it should be. It will run continuously for 24 hours until the tank is full, at which point it will shut off. You don't have time for that? There is also a continuous drain hose outlet. The hose is not included; we recommend a 58″ diameter garden hose with an internally threaded end and, for added security, Teflon tape.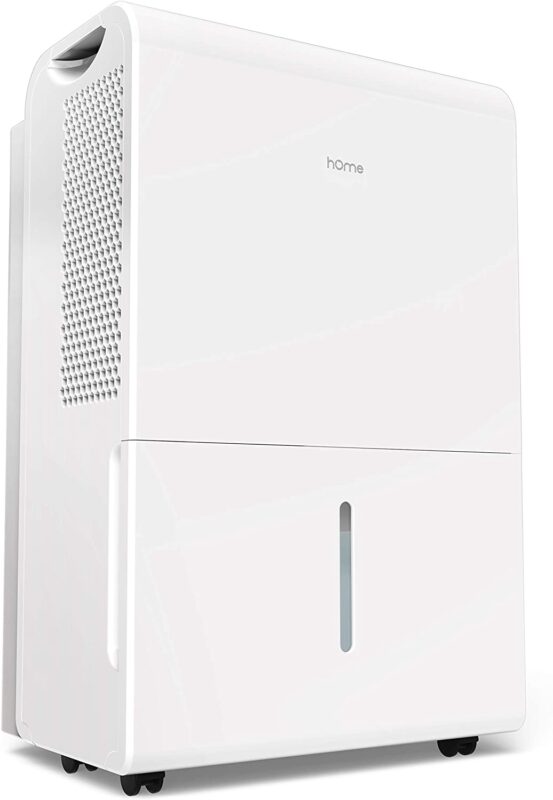 Negative connotations are attached to the word moist. This Portable dehumidifiers have built-in pump compressors that eliminate odors and moisture. In addition, it has a Turbo function for optimum moisture removal and odor elimination. It increases the fan speed from 165 CFM (cubic feet per minute) to 188 CFM (cubic feet per minute).
When dehumidifiers are in action, they produce heat (which is how they absorb moisture). This device isn't meant to be used in the same area as an evaporative cooler, and it's designed for rooms ranging from 1,500 to 3,000 square feet. It features a 1.8-gallon water tank and can remove up to 35 pints of moisture from the air each day, measuring 15.4 x 11 x 24.3 inches.
04. Kesnos 70 Pint Dehumidifiers
Kesnos dehumidifier eliminates up to 70 pints of moisture every 24 hours (under 95°F, 90% RH condition), is suitable for medium to big rooms in sizes up to 4,500 sq. ft., and can change humidity from 30% to 85%, allowing you to maintain a healthy 45 percent -55 percent humidity range effortlessly! A dehumidifier that removes humidity is ideal for the house, basements, office, bathroom, bedroom, kitchen, stockroom, living room, laundry room, cellars, and crawlspace.
The Kesnos dehumidifiers have a sleek and modern appearance. You can effortlessly move this dehumidifier around thanks to its 360° easy-roll concealed wheels and ergonomically recessed grips. There are options to change the fan settings so that you can sleep or work in silence. The dry clothes feature involves simply hanging wet clothes to dry naturally in a room where the dehumidifier is located.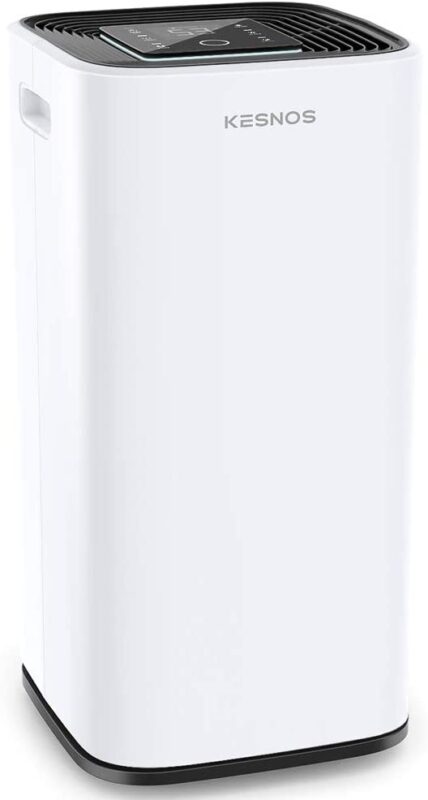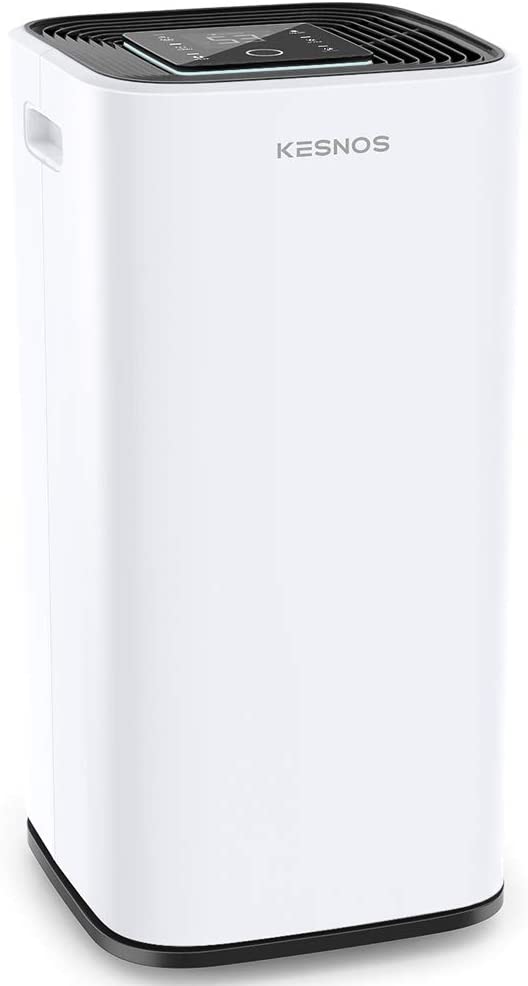 Simply adjust the moisture level to your preference, then let it run on a continuous 24-hour cycle until the tank is full, at which time it will shut off. There are two drainage solutions for your draining needs.
With the supplied 2m (6.56 ft) drain pipe, you may keep your dehumidifier running without having to empty the water bucket.
Kesnos dehumidifiers are backed by a 30-day money-back guarantee, a one-year warranty, a two-year warranty extension if you register your equipment, and lifetime technical assistance.
This digitally displayed dehumidifier provides a handy and precise humidity level readout, and it is simple to use. Simply select your preferred humidity level, and it will intelligently sense room humidity and control dehumidification. The bucket automatically shuts off when it is full and turns back on when it is empty.
05. Gree Dehumidifier
The Gree dehumidifier can eliminate up to 50 pints of water in a single day. Because it's simpler to adjust the temperature of dry air than moist, super-humid air, a lower humidity level helps your AC system to function more efficiently.
This dehumidifier is so quiet that you'll almost forget it's on. Quieter than a quiet suburban street or a regular discussion at home, with a sound pressure level of 47 dB.
This dehumidifier is Energy-Star certified, so it will swiftly remove moisture from the air without putting a dent in your wallet. Not only are Energy Star appliances better for the environment, but they also cost 30% less to operate than non-Energy Star appliances.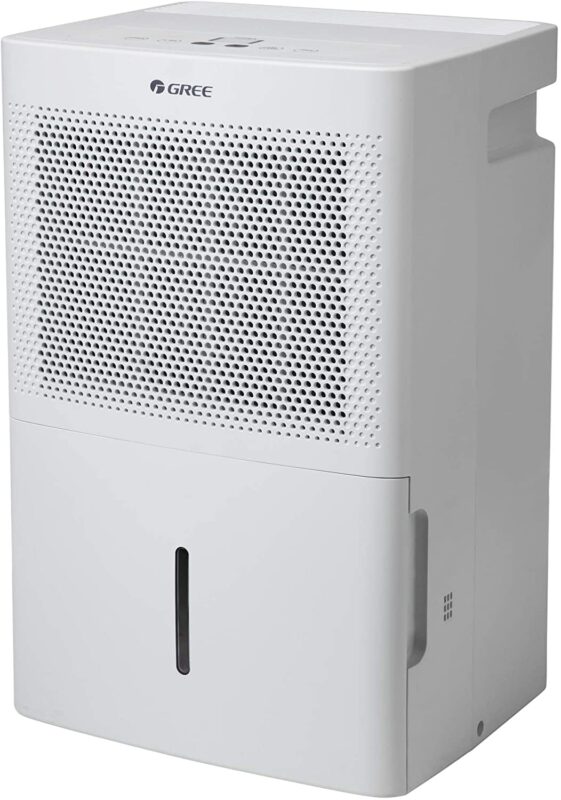 Gree dehumidifiers include Auto Shut Off and Auto Restart for a more pleasant user experience. An alert will ring if the bucket is full or missing for more than three minutes. When the bucket is full, removed, or not reinstalled in the appropriate position, the Water Level Control Switch will turn off the dehumidifier. This device will immediately resume when the power is restored after a power outage or interruption in the last settings used.
The control panel will display the current humidity level after selecting the desired humidity level. When the dehumidifier reaches the humidity level you choose, it will turn off. Press the minus button until the control panel shows "NS" to configure the unit for continuous operation. If you have the continuous drain set up, the dehumidifier will run until the drain bucket is full, which will never happen.
06. Honeywell, TP50WK Energy Star Dehumidifier
Professionals and customers praise Honeywell TP50AWKN, which replaces the similar Honeywell TP50WK but adds a Wi-Fi connection. If something goes wrong with the TP50AWKN, Honeywell's five-year guarantee will cover it. Most of the dehumidifiers we looked at had one-year or two-year warranties, so this extended coverage protects your investment.
One disadvantage is that the Honeywell TP50AWKN's water bucket only stores 7 pints (three-quarters of a gallon), which is a small fraction of the amount of water the machine can condense in a day. Suppose you don't have the option to drain continually. In that case, you'll find yourself emptying the water bucket more regularly or going without dehumidification once the tank reaches full if you don't have the Honeywell TP50AWKN.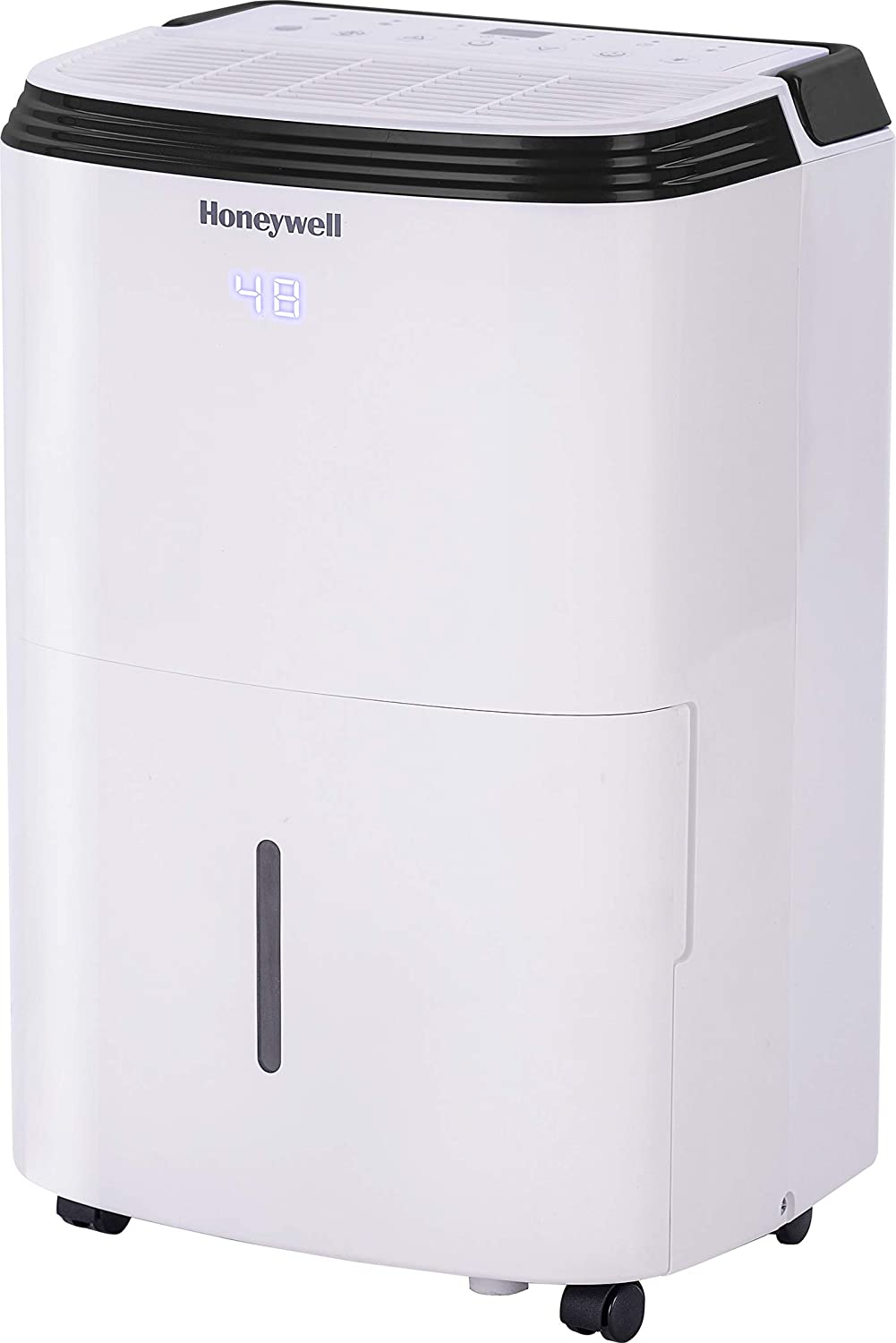 Honeywell's dehumidifiers are the recognized option for dependable, long-lasting moisture removal in your home, backed by our excellent guarantee. This Energy Star dehumidifier eliminates up to 30 pints of moisture per day while using less energy than other dehumidifiers, saving you money on power bills.
Honeywell dehumidifiers are built to be portable, with smooth-gliding caster wheels and handy top handles that make it simple to transfer the unit from room to room. In addition, the continuous drain option gives you more freedom by allowing you to constantly discharge the condensate water into a low-level drain, which ensures worry-free operation.
07. Waykar 2000 Sq. Ft Dehumidifier
Waykar has created a cutting-edge dehumidifier with a 112 CFM airflow system. This machine, fitted with a strong compressor, can remove 34 pints of moisture in a single day. It can work without your supervision 24 hours a day, 7 days a week. Its sophisticated sensors switch the machine on and off to keep the humidity level between 45 and 55 percent in the appropriate space.
To maintain an optimal atmosphere in your area, this dehumidifier employs an advanced humidity control system. If it is switched off due to a power interruption, it will immediately resume removing moisture from the air. To switch this machine on and off, you may adjust the fan speed and set a timer. When the storage tank is full, it sounds like a full water alert. To keep this machine running at its best, clean the filters regularly.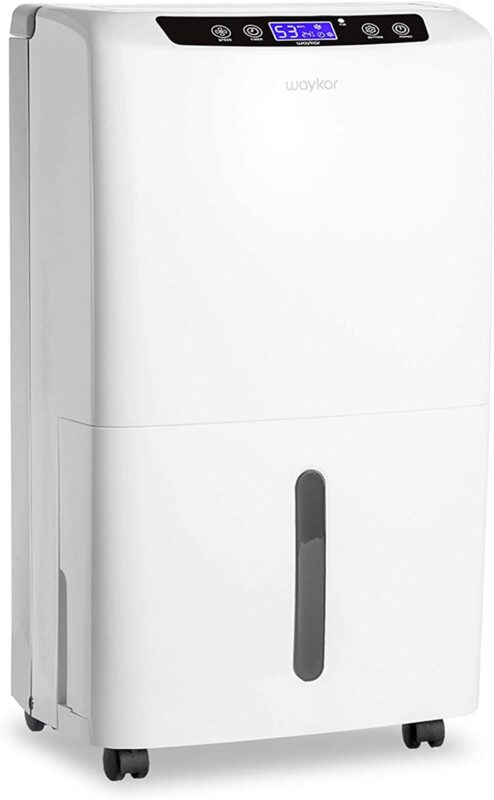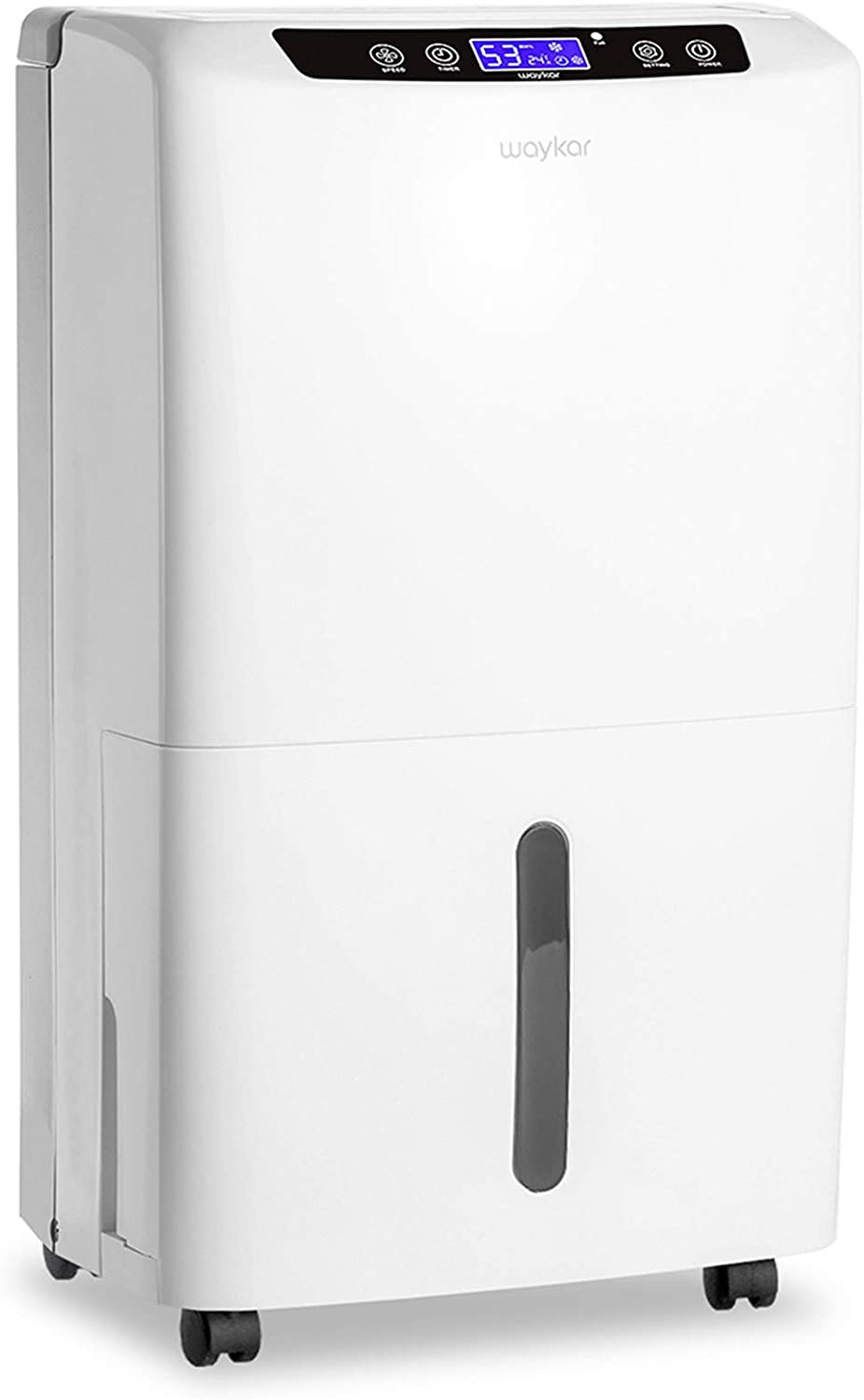 It uses less energy than other dehumidifiers, according to buyers. Furthermore, it switches off automatically whenever the appropriate humidity levels are met. As a result, it saves more energy and lowers your electricity bill.
Waykar dehumidifier is one of the quietest on the market. It has a strong compressor, yet it won't keep you awake at night. While watching your favorite show, place it in the living room. You won't even notice that a dehumidifier is operating nearby.
This dehumidifier is less expensive than similar-sized dehumidifiers. You'll get a one-year warranty to test and laud this device's functionality. Waykar will give lifetime technical assistance to ensure that this dehumidifier keeps your home pleasant for all members of your family.
What should I look for when buying a dehumidifier? (Buying Guide):
There are many different types of dehumidifiers to select from. When deciding which of the finest dehumidifiers is ideal for your house, consider the following aspects.
Type:
Dehumidifiers function in a variety of ways. The most popular technique involves drawing air over chilled coils and chilling it to the point where moisture condenses and falls into the machine's bucket.
Desiccant dehumidifiers (which utilize water-absorbing material) and thermoelectric dehumidifiers (which use charged plates) are also available. Both are less effective than a condensing dehumidifier, which is the only type we suggest.
Capacity:
Dehumidifiers are available in three sizes: big (45-50 pint capacity), medium (30-pint capacity), and tiny (less than 30-pint capacity) (20-22-pint capacity).
These sizes used to be 70, 50, and 30 pints, respectively, and you can see these figures on three earlier versions above.
The dehumidifier's capacity in pints refers to how much moisture it claims to absorb each day. The larger and more damper the space it can manage, the higher the capacity.
Bucket Dimensions:
Pint capacity, on the other hand, should not be confused with bucket size. This specification specifies the maximum capacity of the internal bucket before it must be emptied. The bigger the bucket, the less frequently you'll have to empty it.
Type of drainage:
There are two types of drainage on this list: passive and pump drainage. Passive kinds allow you to drain the water passively through a hose, or you may physically carry and empty the bucket. Pump drainage kinds, on the other hand, will automatically pump the water out. Pumps are favored because they eliminate the need for gravity to drain the water, allowing you to direct the hose into a sink or out the window. These models, however, are more expensive than those without.
Certification by the Energy Star Program:
It's always good to search for Energy Star Certification since it ensures energy and money savings.
Sensor for humidity:
Your dehumidifier will detect important changes in the environment and automatically switch on and, in certain circumstances, set its power correspondingly if it has a humidity sensor. Those lacking a sensor will be regulated manually.
Frost detector:
A frost sensor will detect the development of ice on the condenser coils. The dehumidifier will then turn the compressor off to allow the ice to melt. If the appliance continues to operate with ice on the coils, the parts will be damaged, and the appliance will have to work considerably harder to absorb any moisture.
Restart automatically:
If the dehumidifier loses power unexpectedly, auto restart means it will return to its previous settings once power is restored.
The total number of speeds is:
This refers to how many speeds the dehumidifier's fan has. The more the speeds, the better, since it offers you more control and prevents wasting energy.
Frequently Asked Questions
u003cstrongu003eWhich dehumidifier is most energy-efficient?u003c/strongu003e

Dehumidifiers from hOmeLabs: The Best and Most Energy-Efficient Dehumidifiers (Overall). TOSOT Dehumidifiers: The Most Energy-Efficient Basement Dehumidifiers With Pump Vremi Dehumidifiers are the most cost-effective and energy-efficient dehumidifiers on the market. Danby Dehumidifiers are Energy Star certified.

u003cstrongu003eDo dehumidifiers stop condensation?u003c/strongu003e

Dehumidifiers remove excess moisture from the air, which helps to avoid condensation, mold development, and wetness on the walls.

u003cstrongu003eShould every basement have a dehumidifier?u003c/strongu003e

A dehumidifier will help dry the air in inherently wet places, such as basements and crawl spaces, eliminating musty odors and preventing mold development and other difficulties caused by excess moisture. A basement dehumidifier keeps the indoor relative humidity (RH) at a comfortable level.

u003cstrongu003eShould you run a dehumidifier in your basement in the winter?u003c/strongu003e

The air in your house is generally dry throughout the chilly winter months, so a dehumidifier isn't essential. Most dehumidifiers should not be used below 60° F because the moisture extracted from the interior air might freeze when it condenses on the cooling coils, causing the device to malfunction.

u003cstrongu003eWhat are the disadvantages of a dehumidifier?u003c/strongu003e

Dehumidifiers also have a tendency to blast heated air out the back. This can be advantageous in the winter, but not so much in the summer. Place the rear of your dehumidifier in a doorway to keep it from heating the space you're extracting moisture from.

u003cstrongu003eShould you leave a dehumidifier on all the time?u003c/strongu003e

No, your dehumidifier does not need to be on all of the time. When the humidity level is above 50%, your unit should be turned on. If you want to keep your dehumidifier running all the time, look for models that can automatically drain water to a floor drain.

u003cstrongu003eWill a dehumidifier get rid of Mould?u003c/strongu003e

What if we told you that there is a technique to nearly eliminate all the mold by using a dehumidifier for mold removal? Dehumidification is the most effective method for preventing mold growth since it includes removing moisture from the air, and molds flourish in humid environments.

u003cstrongu003eDo dehumidifiers use a lot of electricity?u003c/strongu003e

A dehumidifier uses far less power than a water heater, air conditioner, or even a hairdryer. A dehumidifier uses roughly the same amount of electricity as a computer. It costs less than $1 to run the most energy-efficient dehumidifier for 10 hours.
Final Words
It will be much easier to compare a few of our finest dehumidifier reviews after you've determined the size you require. Then just look through their characteristics and pick the one that best suits your requirements. The technological aspects of modern dehumidifiers are generally fairly similar. Other variables such as your budget, the unit's visual appeal, and how quiet the machine will be should be considered in these situations.
If you have many wet areas in your house, you might want to get a portable dehumidifier. You could even opt to purchase numerous units. You will definitely pick the best dehumidifier for your requirements using our tips and reviews. Best of luck in 2022, and here's to a drier, healthier house!
---