Best Air Fryer for Family of 4
What is the best size air fryer for a family of 4? This question pops up in many people's minds when they are trying to choose an Air Fryer. Which one should you buy? What size will work best for your needs? How do you know which one to invest in and which ones not to waste your money on with so many options available? Don't worry! We're here to help.
In Hurry? Check Out Our Top 3 Picks for the Best Air Fryer For 4 Members Family.
An air fryer is a great choice for people who want to cook food without using too much oil. This is especially important for those family members who have dietary restrictions. They can save you time and effort in the kitchen by cooking all your vegetables and meats at the same time.
In this blog post, we will explore the different sizes available on the market today and some pros and cons associated with each size. We will also discuss what an air fryer is and how it works, different types of air fryers available on the market, and our buying guide. By the end of this article, you'll have a good idea about what size would be right for your home or office kitchen.
How To Choose The Best Size Air Fryer For The Family of 4
Before buying an air fryer, it is best to know what size you are going to need. If you are just 2 or 3 members family, a small/medium size air fryer (2 to 4 Quarts) would be the best. On the other hand, if your family has four members or more and will use this appliance frequently for cooking meals together, then a large-sized (5 to 6 Quarts) Air Fryer is probably your best option.
Read Also: Top 10 Best Air Fryers of All Times.
Air Fryer Capacity:
Small Size Air Fryer: 1 to 2 Quarts Capacity. This size can be great for a single person but may not work well when preparing larger dishes such as fried chicken that require more space for shaking around while frying.
Medium Size Air Fryer: 3 to 4 Quarts Capacity. Fit for families of two to three people who want an easy way to cook healthy foods without adding oil into their diet or wasting
Large Size Air Fryer: 5 to 6 Quarts Capacity. Best Size Air Fryer For The Family of four up to six people who need to cook in less time.
Extra Large Size Air Fryers: 7 to 10 Quarts Storage Capacity. Best Suitable for Parties or larger households with a lot of members.
Design of an Air Fryer:
There are two types of air fryers: basket and oven-front. The basket design is typically more efficient at cooking food. Easier to clean up and maybe better for people who are not comfortable with the idea of using hot oil or don't have enough kitchen space.
The oven-front design is like a toaster oven and typically has a bigger capacity. The oven air fryers typically come with added features such as toast and rotisserie.
Ease of Use:
The best air fryer should have multiple presets and functions, removable baskets, and racks that must be made up of non-stick material so that it would easy to use and clean.
Price of an air fryer:
A high price does not always mean you are getting the best product. Choose an affordable option that meets your needs like Size or Safety features.
Safety Features:
The safety feature for air fryers must include over-heating protection, auto shutdown, and shake reminders.
List of Top 10 Best Air Fryers For a Family of 4
| Image | Product | Feature | Price |
| --- | --- | --- | --- |
| Editor's Choice | Ninja Foodi Air Fryer DZ201 | XL 8-quart air fryer capacity. 6 customizable programs, 2 independent baskets that let you cook 2 foods. Two 4-quart zones have their own cooking baskets, cyclonic fans, and rapid heaters. | Check On Amazon |
| Best Quality | Phillips Air fryer 5 QT | 3 Lbs Capacity, Fat Removal Technology, cooking 4 times faster than a conventional oven. With no preheat needed, start cooking right away. | Check On Amazon |
| Best Value | NuWave Brio Air Fryer 6 QT | App Recipes, includes basket divider, one-touch digital controls, 6 easy presets, wattage control, and advanced functions like SEAR, PREHEAT, DELAY, WARM | Check On Amazon |
| | COSORI Air Fryer 5.8 QT | Oilless Cooker LED Touch Digital Screen with 13 Cooking Functions, Preheat and Shake Reminder, Nonstick Basket, 5.8 QT-Black | Check On Amazon |
| | Ninja Air Fryer 5.5 Quart | 5.5 Quart Capacity, Cooks, Crisps, Roasts, Broils, Bakes, Reheats and Dehydrates, and a High Gloss Finish. | Check On Amazon |
| | Cosori Air Fryer Stainless Steel | 5.8QT Capacity. Stainless Steel, Rack & 5 Skewers, 9 Presets. Large XL Oven Oilless Cooker Preheat/Alarm Reminder, Nonstick Basket. | Check On Amazon |
| | Simple Living Products Air Fryer | 5.8 Quart Capacity with 8 Custom Presets, 2 Hour Keep Warm and Memory Control Function, Airfryer Recipe Cookbook, Black High Gloss Finish. | Check On Amazon |
| | Instant Vortex Air Fryer 6QT | 6 Quarts, Simple touch controls are easy to read and easy to use, for one-touch air frying, roasting, baking, and reheating with no hassle. | Check On Amazon |
| | GoWISE USA 5.8-QT | Comes with a non-stick pan and detachable basket equipped with a cool-touch handle and button guard to prevent accidental detachment. | Check On Amazon |
| Largest Capacity | COSORI Air Fryer Combo | Air Fryer Toaster Oven Combo 25L Countertop Dehydrator for Chicken, Pizza, and Cookies, 30 Recipes & 4 Accessories Included, Work with Alexa. | Check On Amazon |
Detailed Review of Each Air Fryer:
Ninja Foodi Air Fryer DZ201
It is an air fryer with a capacity of 8 quarts, a good option for a family of 4. Even and powerful eating with little to no use of oil but makes the food crispier and healthy. It can control its heating as well as temperature and keep the taste and texture of the food intact. It can protect the food from overheating due to its built-in functions. It has a large size basket for frying the whole chicken.
Pros
Can cook a variety of dishes due to its larger capacity.
Cons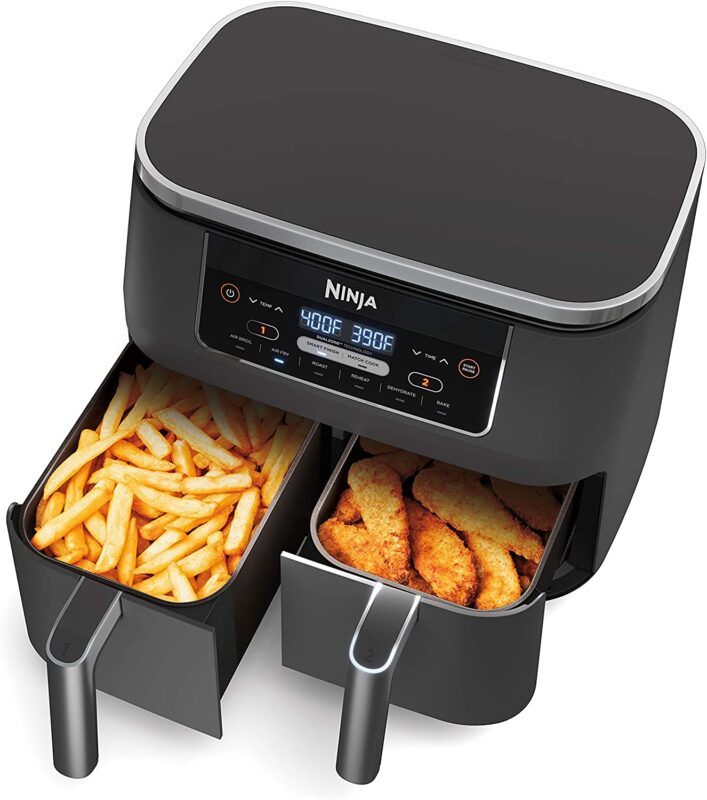 Philips TurboStar Air Fryer
The Philips Airfryer XXL is the healthiest way to fry, with little or no added oil. It's the only air fryer with fat reduction technology that reduces and captures excess fat. With a 3 pounds capacity, you can now make delicious meals for up to 6 people every day- including whole chickens!
It fits two large bags of frozen French fries; Just as crispy as deep-fried food without all those pesky calories. The air fryer is instantly hot and ready in seconds. Cooks 4 times faster than conventional ovens
With no preheat needed, it saves time: You're always cooking right away.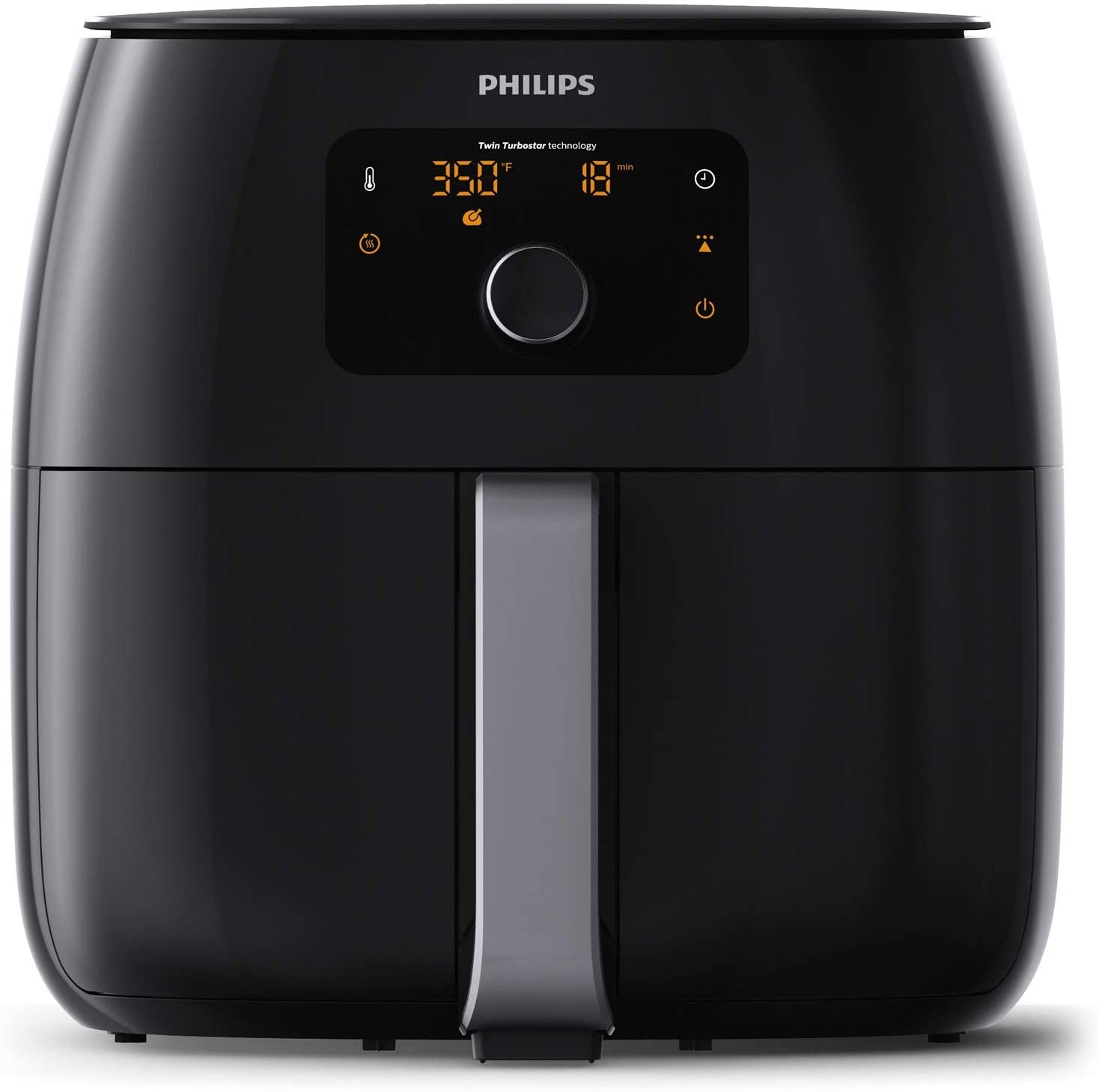 With the Philips Airfryer XXL, you can cook anything from a steak to fresh veggies in one device. The digital interface includes 5 different cooking programs that all give your food an incredibly crispy coating without oils or grease. It has removable parts and is dishwasher safe, so it's easy to clean up after use! With features like a quick-clean basket for time savers like moms on busy nights, we've got this item at our store waiting for you today!
Pros
No preheat needed, you can save time and start cooking right away
Fits a whole chicken or 2 bags of frozen French fries
Cons
Basket quality is not up to the mark
NUWAVE BRIO 6 QT
NUWAVE BRIO 6 QT with a digital touch screen system and digital integrated temperature with a large capacity is good for the use of a family of 4. It is made up of stainless steel. It cooks the food 6 w and when the food is prepared it shuts off automatically. It used superheating air for turning the food crispier and cook frozen food without defrosting it. It is a combination of versatility and capacity. Good for the busy household go. It is easy to clean.
Pros
It cooks food faster and can cook a variety of foods
It is easy to clean
Cons
It should be clean after every use
Limited lifespan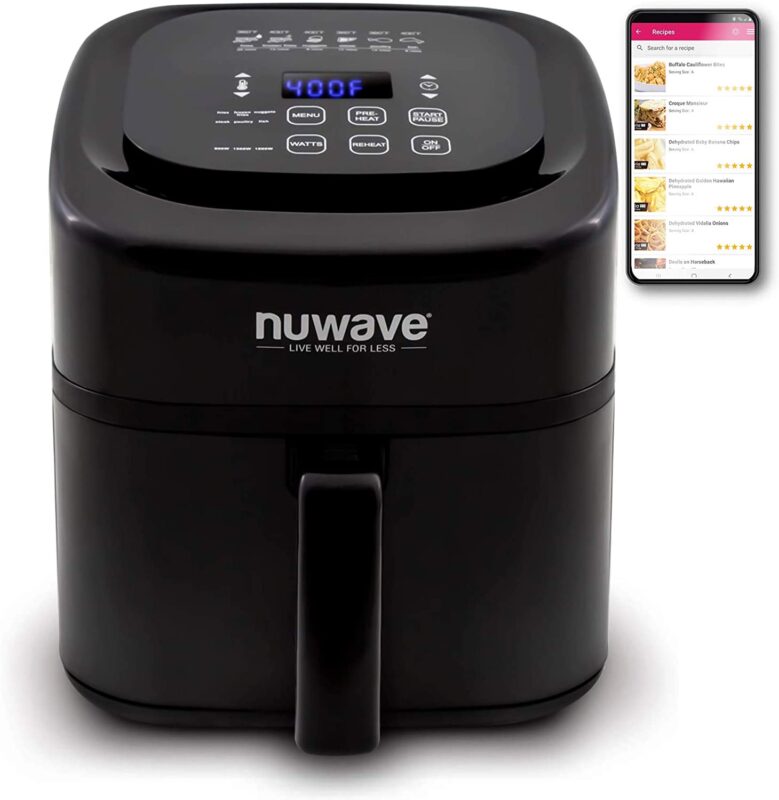 COSORI Air Fryer Max XL
COSORI Air Fryer has a sleek shape, and slimmer footprints fit easily on the countertop. It is designed in California and available in red color, which makes it unique and attractive. The 5.8 quarts capacity serves food for 3-5 people, so it is a good option for a family of 4. It has a square-shaped basket that enables more capacity for food than round baskets. It has preheating option and a led digital touch system to operate.
Pros
Its red color makes it attractive as well as it is super easy to clean.
Cons
It takes more time to cook than others.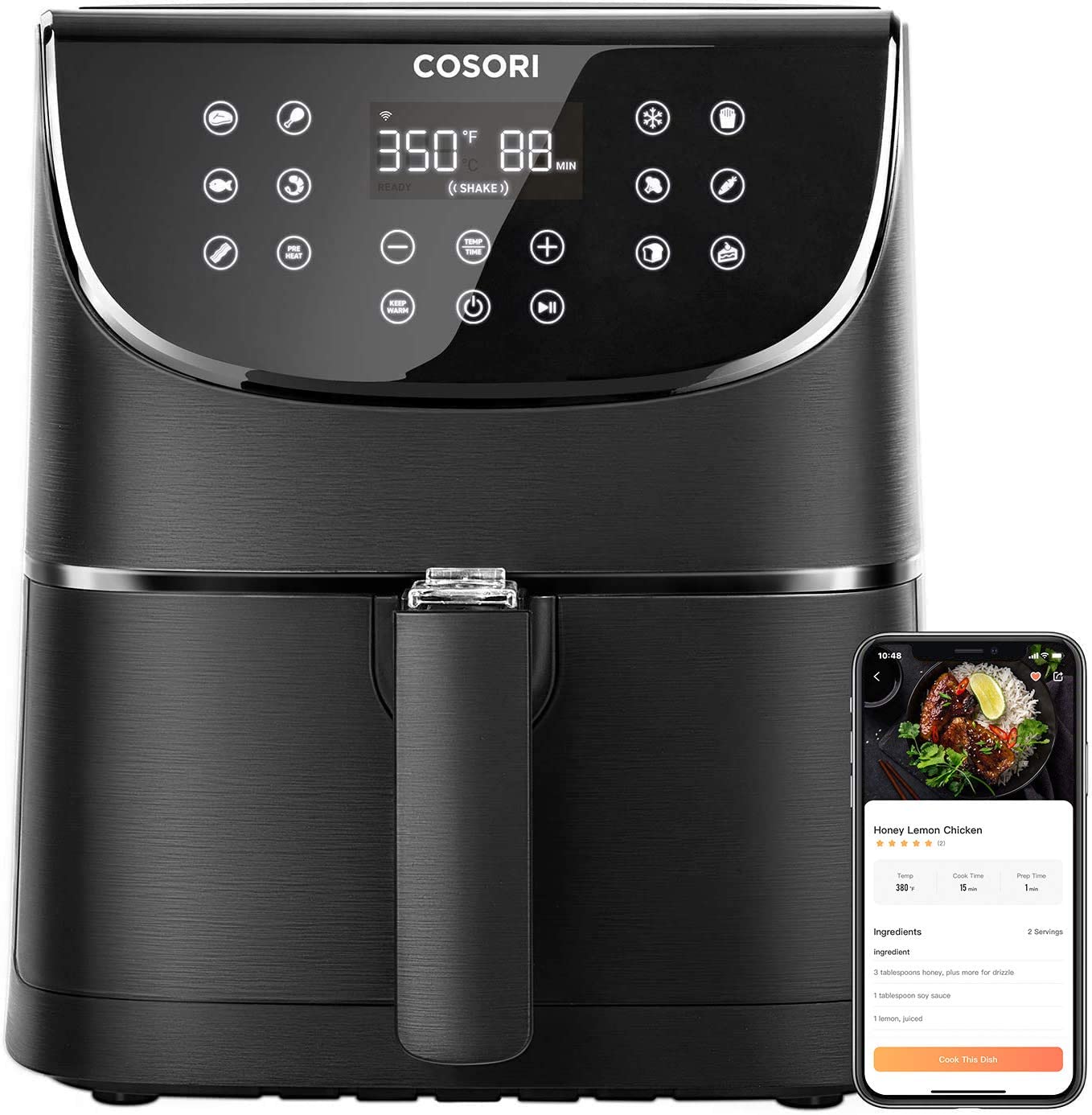 Ninja Max XL Air Fryer
5.5 quarts capacity Ninja max XL air fryer is a good option for a family of 4. Its 450 degrees of superheat air cooks food faster and crispier. It has many cooking functions such as frying, roasting, reheating, broil, dehydrating, etc. Ninja max XL air fryer retains the taste of food because of the availability of temperatures between 150-450. It has detachable parts and a non-stick basket that make it is easy to clean.
Pros
Cooks fast retaining the taste of the food with the minimum or no oil consumption
Cons
It doesn't have a digital touch screen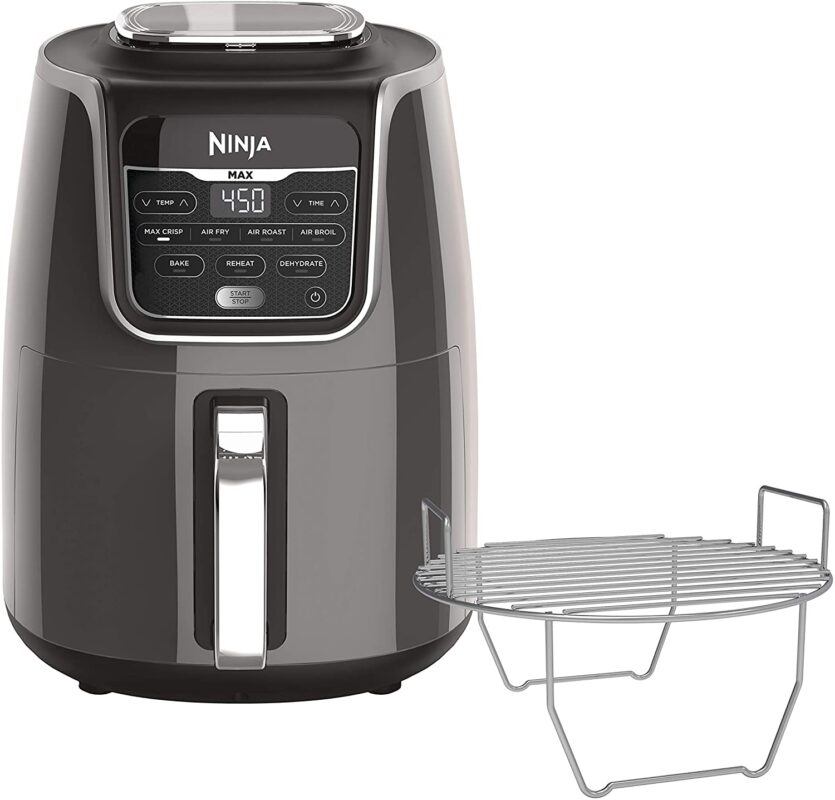 Instant Vortex Air Fryer 4 in 1
6 quarts instant pot with the simple touch screen easy to use and control is better for the family of 4. One-touch for air frying, roasting, baking, and reheating. It cooks food with 95% less oil providing healthy food, and has a large capacity for cooking. Instant Pot Vortex Air Fryer makes the food crispier with no oil, grease, or mess, retaining the juice and taste of food. It requires little to no preheating and cooks food better and in less time than the traditional oven.
Pros
It makes food crispier with the use of less than 95% of oil.
Cons
It has no touch system and detachable lid.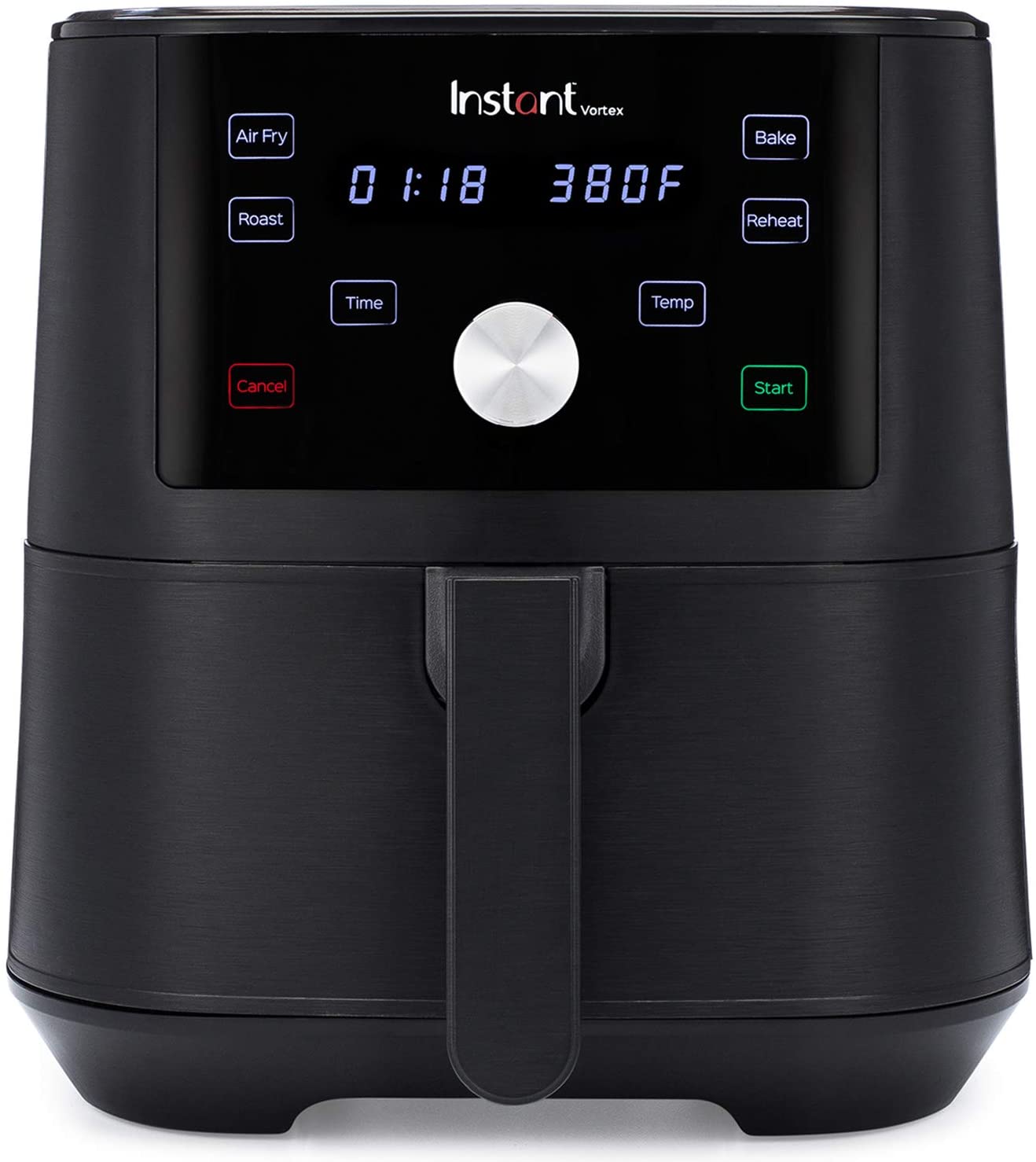 Frequently Asked Questions:
Is Air Fryer for family of 4 available at reasonable prices?

Yes, air fryers for the family are available at different prices based on their characteristics. Some are expensive, and some are available in the budget. Some air fryers with good features are available at reasonable and affordable prices.

Are air fryers provide good cooking?

Yes. Air fryers are good for cooking. They provide healthy cooking maintaining the taste and quality of the food. It also keeps the texture of the food intact.

Why air fryers are a good option over traditional fryers?

Air fryers are a good option because it provides 80% oil-free cooking. It enhances the taste of the food while keeping the health of people in concern.

What type of food can be cooked in the air fryers?

Almost all types of food can be cooked in the air fryers, including baking, steaming, roasting, and frying without minimum consumption of oil.

Are air fryers convenient to use?

Yes. Air fryers are easy to use within the available voltage of the kitchen. It is convenient to operate with the help of the manual provided along with it.

Do all the air fryers require a large amount of space to be stored?

Air fryers are available in a variety of sizes. But air fryers for the family are available in the size that can be stored easily in the kitchen and placed on the kitchen countertop.
Read Also: Top 15 Best Air Fryers Under $200 in 2021
Final Remarks
Air fryers are now the need of everyone as it uses no to minimum oil and provides healthy food. The air fryers with 3-6 quartz are good for the family of 4 that can cook food in a single batch fast. Some of the products mentioned above have features that can make it easy to choose an air fryer for a family of 4.