Best Electric Pressure Washer Under $200
Do you own a home? Do you have a big garden that needs to be kept clean? Tired of paying the water provider for expensive water bills? Today's article is all about the 10 best electric pressure washers under $200 that are a must-have for any gardener out there. These products will make quick work of your dirtiest tasks – including those pesky pet stains or even just washing off the exterior of your house!
Electric pressure washers may be considered a large investment initially, but they will pay off in the long run. They are safer than gas pressure washers because they don't require any fuel to operate and are less expensive in terms of operating costs on an annual basis. In addition, this machine offers different settings which allow you to clean high places easily with safety.
Pressure washers are excellent tools for cleaning various surfaces, such as driveways, decks, walkways, patios, steps, and other things. If the best models can use a short blast to clean months or even years of stains, the model can be an asset to the cleaning company.
Due to their outstanding performance, demand for electric pressure washers is rising at a steady rate. You will come across many brands that make pressure washers due to this. Choosing the best electric pressure washer for your needs is complicated because there are many to choose from.
In a Hurry? Check Out Our Top 3 Picks
Electric vs. Gas Pressure Washer?
So, before you go out and buy a power washer, you probably have a few questions. What is the best type of pressure washer? Should I buy a gas pressure washer or an electric pressure washer? What are some of the advantages of using an electric pressure washer? The list goes on and on. We've created a brief bullet list to help you understand the differences between the two sorts of models. You'll find the advantages and disadvantages of both models in the table below. As a result, you will have a deeper understanding of the individual model.
Electric Pressure Washers
Pros
They are lightweight, making them both portable and easy to move around.
Investment sometimes because you don't have to buy gas or oil over and over. Just pay once for the unit and start working.
Best for small areas or appliances cleaning. In short, ideal residential appliance.
These models are cheaper than gas pressure washing machines.
If you enjoy working in peaceful surroundings, go to electric models. They function quietly, while gas units produce a lot of noise.
Electric units require very little or almost no maintenance at all.
Cons
You can't expect to last more than seven to eight years with an electric power washer.
Not for commercial use.
Compared to gas pressure washers, the electrical machine creates lower psi.
Gas Pressure Washers
Pros
The gas unit supplies high flow rates of water between 1.8 and 2.5 GPM.
It has the ability to clean big areas in a short period.
Because there is no power cord, you can operate conveniently without a power source in any location.
Due to its robust design, you can anticipate a gas washer to endure longer than 10 years.
Gas variants produce higher pressure, making them suited for commercial or heavy-duty cleaning.
The gas unit does not remain linked to the power chord length. Therefore, you also don't have to buy any extensions.
Cons
They cost more than electrical models at first and also require adequate attention for long-term use.
Gas units produce a lot of noise while on.
Fuel used in gas models often emit toxic gas that is health hazardous.
Requires good maintenance. And that is what we mean by the cost to buy oil and gas.

Read Also: Gas vs. Electric Pressure Washer | Which One Is The Best?
List 12 Best Electric Pressure Washer Under $200
| Image | Product | Feature | Price |
| --- | --- | --- | --- |
| Editor's Choice | Westinghouse ePX3050 Electric Pressure Washer | 2050 Max PSI. Quick-Connect Nozzles (0°, 15°, 25°, and Soap Applicator). Easy-Coil Nylon-Braided 25′ hose – 20 oz (600 mL) | Check On Amazon |
| Highest Rated | Sun Joe SPX3000 Electric Pressure Washer | 2030 PSI, 1.76 GPM, 14.5-Amp, and 1800-watt motor. Automatically shuts off the pump when trigger not in use. 0.9 L onboard detergent tanks. | Check On Amazon |
| Best Value | Suyncll 3800PSI Electric Power Washer | 3800PSI and 2000W, 4 Nozzles, Soap Bottle and Hose Reel. 20-foot high-pressure hose and a 35-foot power cord. | Check On Amazon |
| | WHOLESUN 3000PSI Electric Pressure Washer | 3000PSI, 2.4GPM Power Washer 1600W, 4 Nozzles Foam Cannon. 20ft high-pressure hose (metal connection). | Check On Amazon |
| | Briggs & Stratton 20680 Electric Pressure Washer | 1800 PSI, 1.2 GPM, Hose Length 240 Inches. Tough Welded-Steel Frame, Long-Life Universal Motor, 1/2 Gallon Integrated Detergent Tank. | Check On Amazon |
| | Karcher K5 Premium Electric Power Pressure Washer | 2000 PSI, 1.4 GPM. 25ft high-pressure hose Vario Power Spray wand – easily adjust spray right from the wand. N-COR pump – durable, non-corrosive. | Check On Amazon |
| | RYOBI 1,800 PSI Electric Pressure Washer | 1,800 PSI, 1.2 GPM, 13 Amp electric motor. 3 quick-connect nozzles 15 degrees, soap, and turbo) for cleaning a variety of surfaces. | Check On Amazon |
| | SUNPOW Pressure Washer 3000 Max | 3000 Max PSI 2.4 GPM. 8 Nozzles, 2 Spray Gun, Built-in Detergent Tank, Soft Bristle Brush. 2200 Watt motor. 2 Spray Wand, 8* Spray Nozzles, 1* Soft Bristle Brush. | Check On Amazon |
| | Homdox Power Washer 2500PSI Electric | 2500PSI, 1600W, 4 Nozzles, and 1.6GPM water flow. 4 Quick-Connect spray tips (0º, 15º, 25º, 40º, and soap). Safety Automatic Total Stop System. | Check On Amazon |
| | Paxcess 3000PSI Electric Pressure Washer | 3000PSI, 2.5GPM, 4 Nozzles. 4 quick-connect metal spray tips (0°, 15°, 25°, 40°) to provide 4 different kinds of pressure strong water stream. | Check On Amazon |
| | TEANDE Pressure Washer 3500PSI Electric | 3500PSI Electric Pressure Washer 1800W. 2.6GPM water flow. 4 Quick-Connect spray tips (0º, 15º, 25º, 40º, and soap) tackle light. | Check On Amazon |
| | TEANDE 3800PSI Electric Pressure Washer | 3800 PSI, 2.8GPM, 1800W. Automatically shuts off system. 5 quick-connect nozzles with different spray patterns of 0º, 15º, 25º, 40º and soap. | Check On Amazon |
Detailed Reviews of Best Electric Pressure Washer Under 200
01. Westinghouse ePX3050 Electric Pressure Washer
The Westinghouse ePX3050 Electric Pressure Washer, clean grease, tar, and grime with as little effort as possible. With up to 1.76 GPM of water flow, this electric pressure washer can provide up to 2050 psi of maximum pressure and generate water at 1.76 GPM to remove stains, grease, oil, tar, mud, rust, and more from any surface.
The scooter was engineered to be superbly balanced with a low center of gravity at 16.5 inches tall, making it easier to use and handle thanks to the inclusion of anti-tipping technology with four-wheel steering.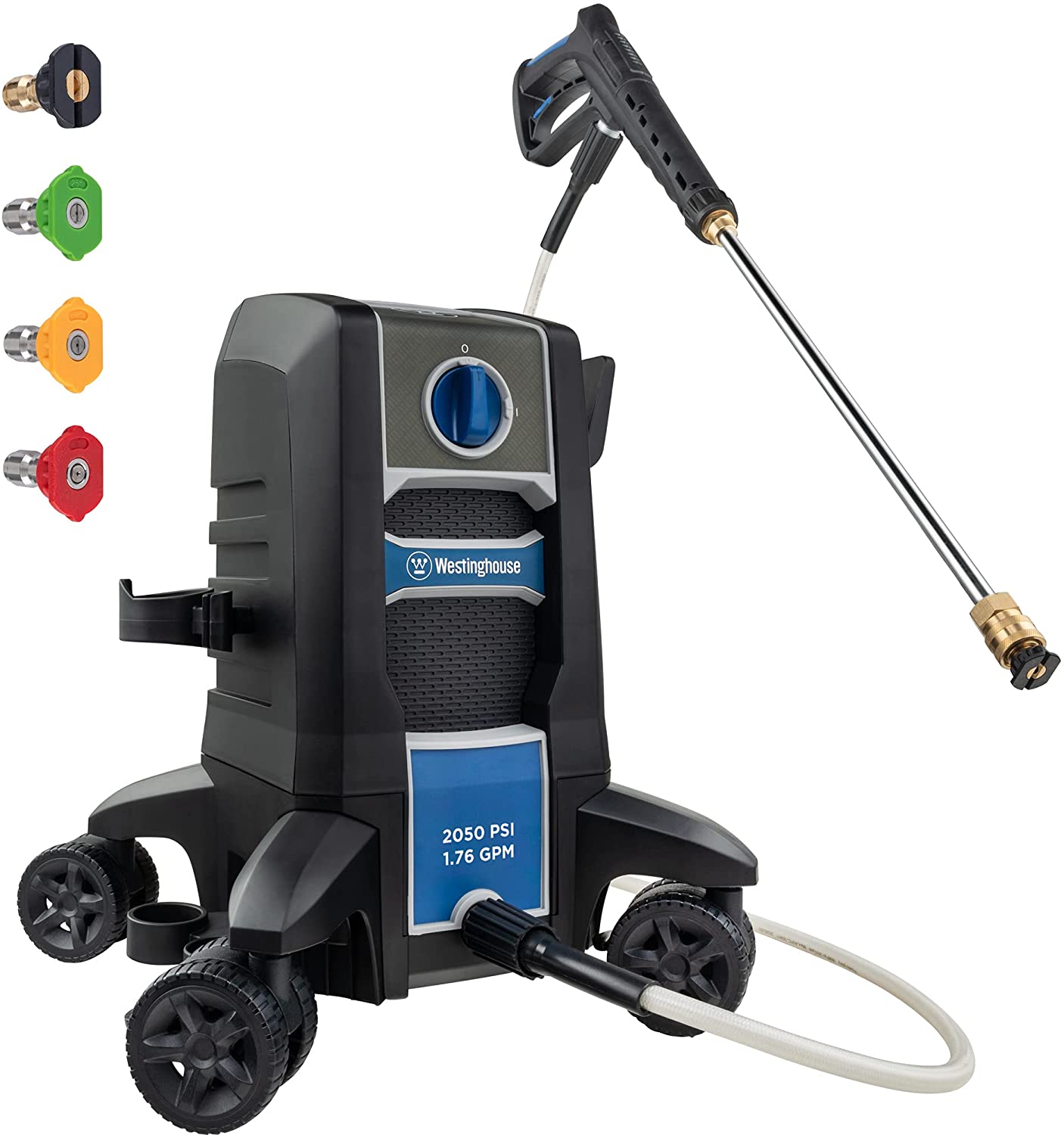 The robotic cleaner rotates in a full circle, following you wherever you go on the surface in one smooth motion. This package is designed to be compact, so you can easily tuck it away and pull it out of storage. It has a pro-style gun with four Quick-Connect spray tips, a detergent tank, and a 25 ft. flexible hose for extra versatility.
The ePX3050 Electric Pressure Washer uses a Total Stop System (TSS) to preserve energy and extend pump life, so you can spray less dirt with half the volume and double the power.
Also Read: 12 Best Pressure Washer Under $600
02. Sun Joe SPX3000 Electric High-Pressure Washer
Sun Joe SPX3000 is a powerful motor that generates up to 14.5 amps and 1800 watts of power, and that can push up to 2,030 PSI at the beginning of a test and 1.76 GPM when the nozzle is open at minimum pressure.
The phrase "versatile" is used to describe a cleaning task because it covers various types of cleaning: home, building, RV, car, truck, boat, deck, driveway, patio, lawn equipment, and so on.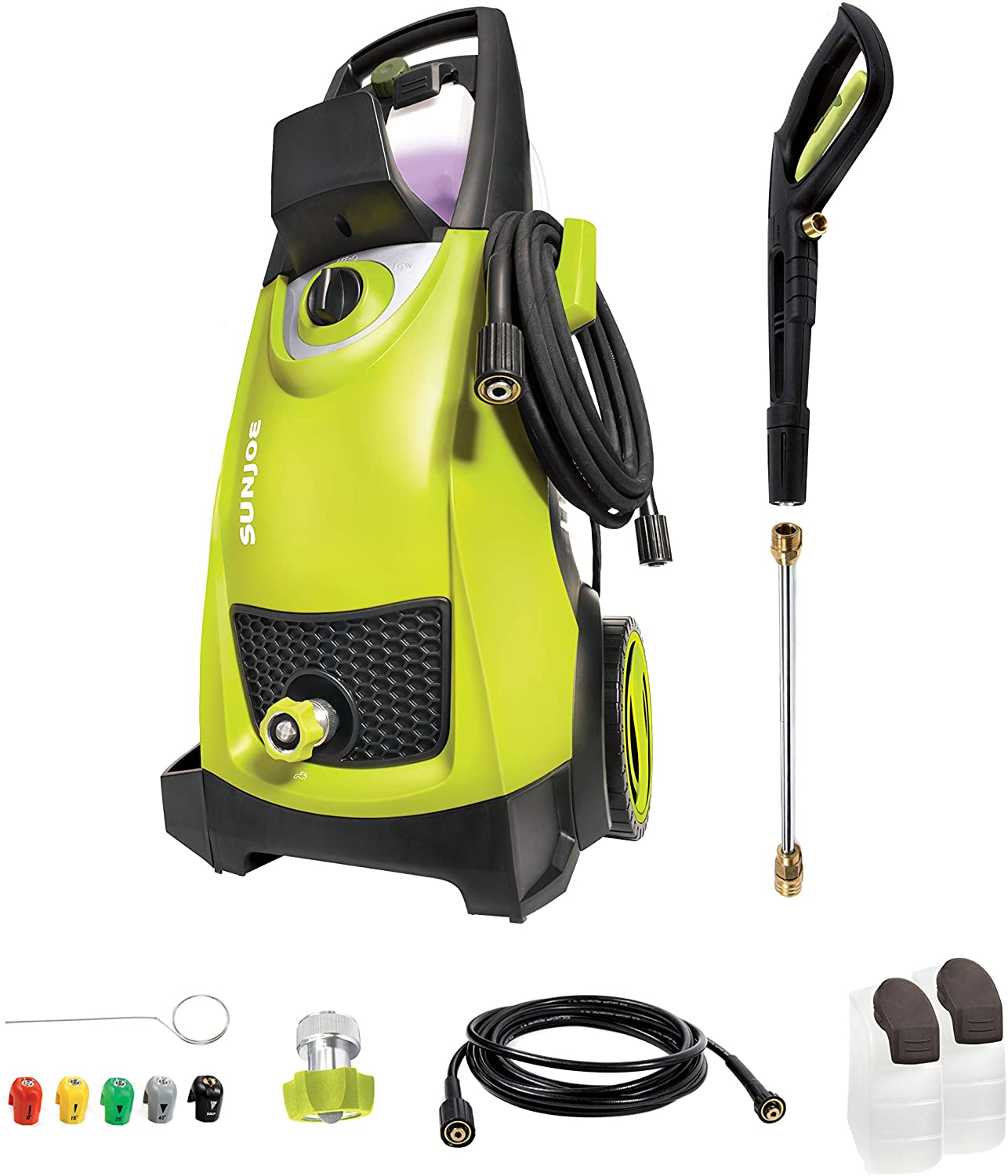 Removable tanks carry and store different types of detergent to clean different projects at the same time. TSS (Total Stop System): An energy-saving feature that turns off the pump automatically when the trigger is not engaged to prolong the pump's life. Initial discharge PSI following CSA internal pressure testing requirements. GPM (gallons per minute) while the nozzle is open at minimum pressure.
03. Suyncll 3800PSI Electric Power Washer
Delivers up to 3800 psi at 2.6 GPM for maximum cleaning power with a powerful motor with a max output of 3800 psi. The hose is 20 feet high, while the cord is 35 feet long, allowing for various uses in large spaces. For washing cars, bicycles, fences, patios, sidewalks, gardens, yards, and more, use the Suyncll Pressure Washer. Make the best use of your time and money. Before use, make sure the hose is empty. Otherwise, the washing machine will not reach the proper pressure.
Professional metal garden hose double leakproof connector and metal water outlet are connected for added security. Instead of relying on flimsy plastic connectors, the Metal Brass Adapter prevents breakage from the area's base. This tool comes with a 20′ high-pressure hose (metal connection) to avoid annoying water leakage. To ensure a leak-free installation, the water inlet temperature should be set to 104 degrees Fahrenheit.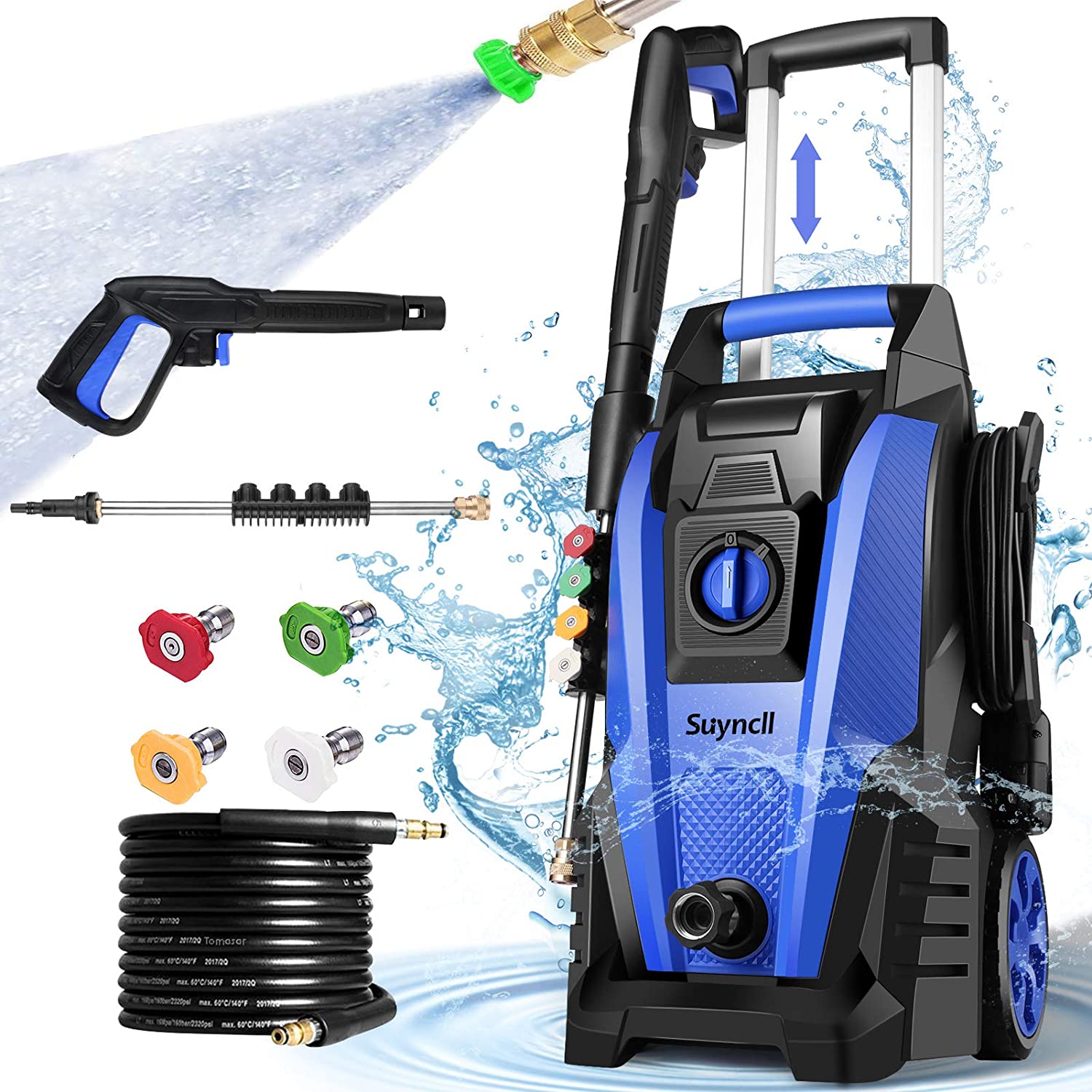 Extended durability and maximum safety. A safety automatic total stop system (TSS) on our electric power washer makes sure that if the trigger is not engaged, the pump automatically shuts off to conserve energy and extend its life. In general, spray guns that have safety locks are more reliable and safer.
In addition, it's more convenient, thanks to the unique plug-in spray gun. This pressure washer is IPX5 waterproof and incorporates a GFCI to ensure electrical safety, and this allows you to operate the machine safely without worrying about electrical hazards.
04. WHOLE SUN 3000PSI Electric Pressure Washer
For tough stains or removal of deep-set stains, be sure to select a polymer corrosion-resistant detergent bottle as a high-pressure foamer. A high-pressure cleaner that uses a powerful 1600-Watt motor generates up to 3000 PSI (or 2.4 GPM) under pressure.
It is designed for various surfaces like patios, decks, cement, sidewalks, pool decks, automobiles, trucks, RVs, and ATVs. It is also a 22mm metal water outlet and professional metal garden hose connector.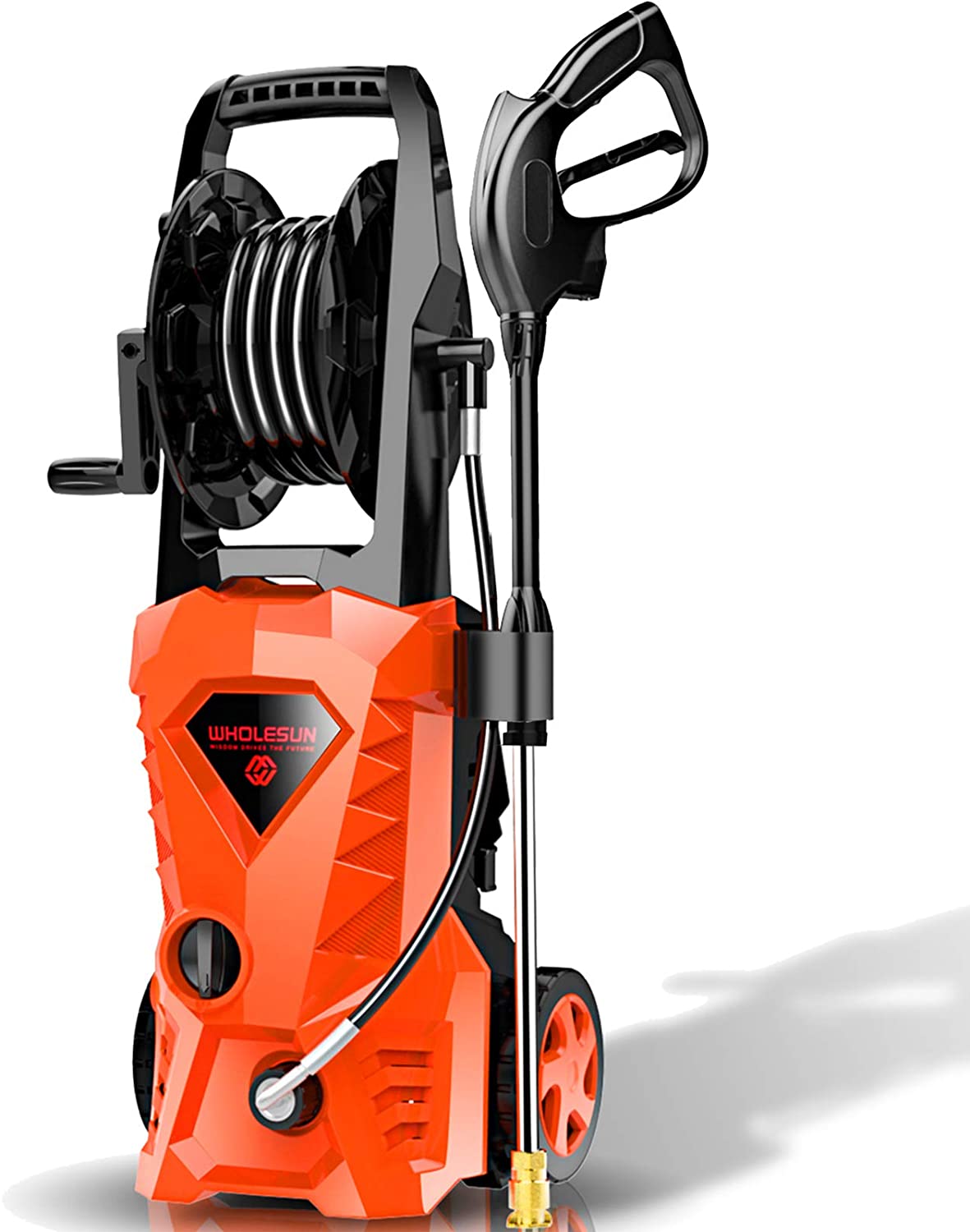 This pressure washer comes with a 20′ high-pressure hose (metal connection) to avoid annoying water leakage. Total Stop System: An additional safety feature provided by the machine's integrated Total Stop System is that the pump will automatically shut off when the trigger is not engaged to conserve energy and extend pump life.
In addition to the existing 33 ft power cord with an inline GFCI, we include an additional 33 ft power cord with the GFCI. 2-year warranty You have a full refund guarantee within 30 days if you are not satisfied.
05. Karcher K5 Premium Electric Power Pressure Washer
The Karcher K5 Premium Electric Power Pressure Washer is a versatile and powerful machine that will do a range of jobs, from gardening to home renovation, with ease. The 2000 PSI pressure washer has an integrated hose reel for easy storage – the 25ft high-pressure hose means you can tackle even bigger tasks without having to stop halfway through!
With the Vario power spray wand – easily adjust your water jet right at the nozzle head, so it's perfect every time. Perfect for tackling dirt or cleaning heavily stained surfaces like car engines, exhaust systems, etcThis top-quality product offers stainblaster spray wands which have been specifically designed just for tough jobs such as these.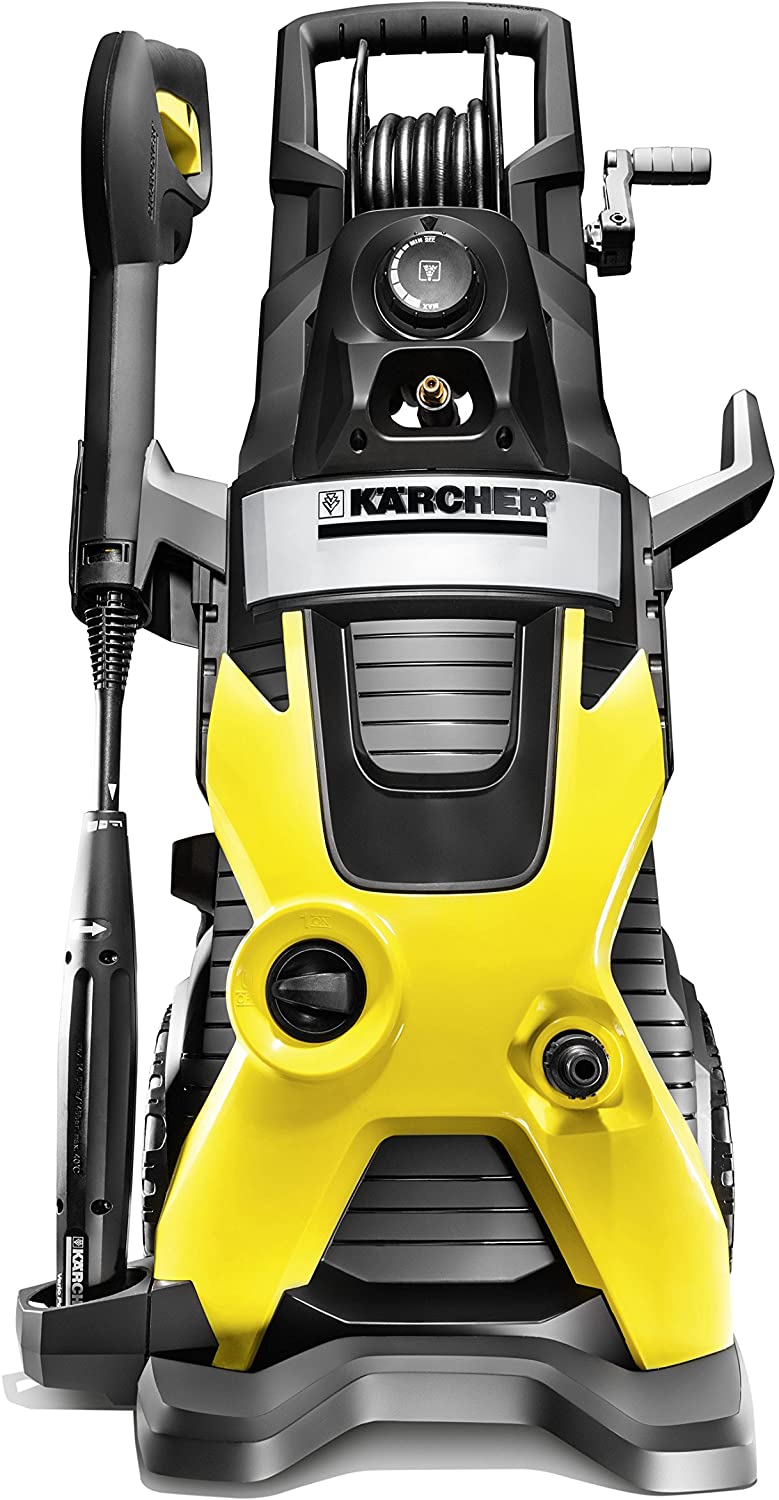 This electric 2000 PSI pressure washer reaches 1.4 GPM and easily stores the hose up to 75 feet of water power with its integrated reel. In addition, the Varo Power Spray wand allows you to control this powerful spray from where it's coming out, so you're not wasting any resources washing down a house when you should be spraying the sidewalk or vice versa!
The DIRTBLASTER Sprayer Wand is specifically designed to tackle the most challenging jobs in half the time. Let's be honest. We're all too busy for that! This wand has a non-corrosive and maintenance-free N-COR pump which increases life five times with a water-cooled induction motor at 120/60 V/Hz speeds. In addition, the rear wash system ensures your safety while you get dirty.
06. SUNPOW Pressure Washer Electric High Power Washer
SUNPOW Pressure Washer is powered by a 2200-watt motor, this machine can generate up to 3000 PSI/2.4 GPM of cleaning power with only moderate effort. It does more than help make all surfaces easier to clean; it also saves time, energy, and water.
The device features a trigger gun with eight nozzles and most other accessories for compact storage. You are worrying about how you will carry your cleaning items to the location where you need to do your cleaning is a thing of the past.Driveway and concrete patios, in addition to homes, cars, boats, RVs, and trailers, are all cleaned using an ideal pressure cleaning solution.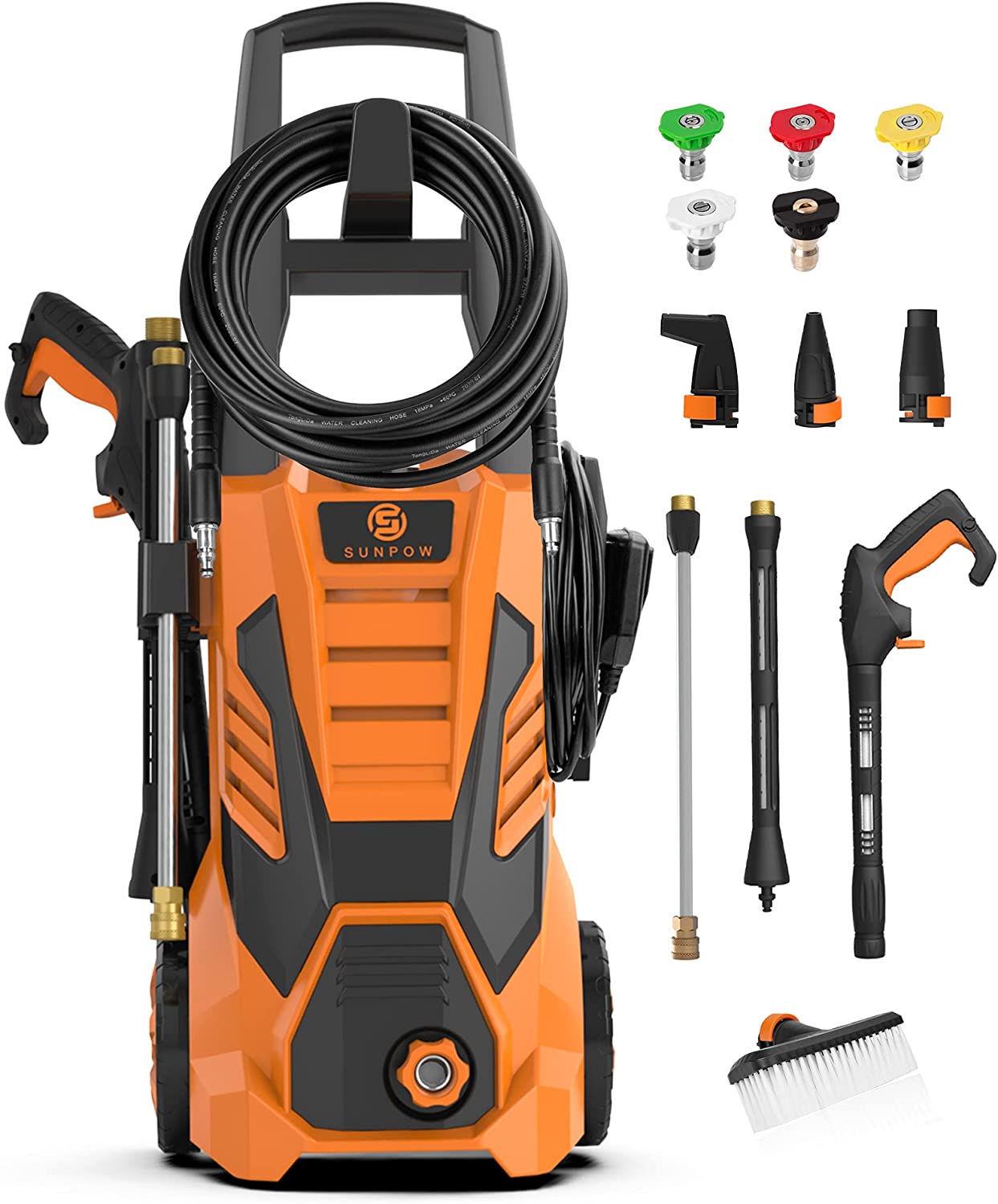 It has outdoor cleaning power so that quick cleaning jobs can be completed efficiently. Automatic pump shutdown feature that saves energy and prolongs pump life. GFCI is typically installed on the circuits or outlets. The blade is powerful and can cut off the power supply quickly.
A pressure washer with a SUNPOW pump, a spray wand, eight spray nozzles, a soft bristle brush, and a 26-foot high-pressure hose. Don't hesitate to contact us with any questions or issues you may have. We will be here to help you overcome it as soon as possible.
Things to Know Before Purchasing An Electric Pressure Washer
For instance, if you are moving into a new home or apartment or are remodeling your property to enhance the home's aesthetics, you will need to clean its hard surfaces and maintain its current look. If you want to better manage the cleaning process without working yourself to fatigue, you will need an efficient and safe machine to clean your house. This article aims to provide tips that will help you choose the best electric pressure washer for your needs.

Before purchasing an electric pressure washer, there are numerous considerations to be made, like psi, which is the amount of force per unit area. PSI is an important factor in determining the power of a pressure washer. The more powerful in terms of psi, the more pressure per unit area will be.
Those who don't need a model with high psi should not use it. For example, it would require different psi when washing a car using an electric pressure washer than cleaning the street with an electric pressure washer. You will see units that have different psi in the following reviews. With this in mind, a well-regarded electric pressure washer should be just what you're looking for. We will begin by doing reviews.
One way to clean with short power is with an excellent electric pressure washer under $200. However, deciding to do something as simple as scrubbing your brick and stone patio, deck, paved driveway, or other outdoor areas is a multitude of tasks. You can choose from a wide range of models, and we've done some research and collected the top 12 pressure washer under $200 that meet the criterion.
Here you will only find legitimate and respectable products priced under 200. So I came up with this decent and best list, where I will provide an in-depth analysis of some of the best electric pressure washers under $200. So with that, here are my reviews for the best devices of 2021, as well as my recommendations for devices you should consider acquiring shortly.

Frequently Asked Questions
What is the loudness of the various types of pressure washers?
It is louder than an electric pressure washer and approximately the same as a lawnmower. Universal motor pressure washers are less noisy than induction motor pressure washers. Universal motors are as loud as a blender and can be heard about a half-mile away. In comparison to vacuum motors, induction motors are quieter and sound somewhat like a gentle vacuum.
Which electric or gas pressure washer is best for you?
So, before purchasing any power washer, you're almost certainly going to have a few questions. There are different pressure washers available, such as diaphragm-powered or piston-powered washers. Are you deciding between a gas pressure washer or an electric pressure washer? Electric pressure washers have many benefits, including increased cleanliness and sanitation. And this is just the beginning. To ensure no confusion between the two different models, we've included a simple list with bullets. The benefits and drawbacks of both models can be found below. As a result, you'll gain a better understanding of the particular model.
What are the benefits of an electric pressure washer?
If you need a quick clean for different items around your home, an electric pressure washer is a good option rather than using a bucket of soap and a scrub brush. As you'd expect, this machine is powered by electricity and used to clean up massive amounts of dirt. This machine uses an electric motor to power a pump used to force water at high pressure via a nozzle to concentrate the water. Then, the high-pressure spray is used to cleanse surfaces like driveways, patios, decks, and any other areas where dirt and grime may accumulate. Always be careful and try to stand as far away as possible when using this model as it provides a powerful high-pressure stream of water and can cause severe injury and damage.
How do you decide which electric pressure washer is the best for you?
Everyone wants to get the value of money they've invested in a machine and then return it to its box, unopened. To avoid missing essential features before reading our electric pressure washer reviews, you should first consult this list. The electric pressure washer first type is a good fit for newcomers because it is simple to use and handle.
This machine has the normal amount of power to cleanse dirt even with the specified amount of pressure. And it comes with various cleaning modes, ranging from delicate to stubborn stains. Of course, a small amount of water and time is required because it creates less pressure. But even if it can handle everything you wish to clean, it will clean whatever you want to wash.
Electric pressure washer accessories worth owning?
It is safe to assume that if you're looking for the best pressure washer, you're also probably interested in additional accessories for it. All of these accessories are great, but they each have their characteristics. Now that you have learned a bit about this product, here are a few accessories you might want to purchase. These sweat stains are caused by yellow dyes, which turn sweat yellow.
Due to the aluminum compounds in your deodorant reacting with the salts in your sweat, you will stain your clothes with sweat. This can increase over time, and before you know it, you'll have a yellow armpit tint.
At a price under $200, how can a pressure washer compete with the high price range machines?
It is incorrect to assume that the pressure washer priced at $200 is uncompetitive with more expensive options. This is not the case. For under $200, the pressure washer has all the features that you will find in the higher-end machines. However, if you carefully follow some guidelines, these appliances can also work in the same manner as the costly appliances.
Final Remarks
So, at the end of this article, I hope you've enjoyed my reviews and suggestions on the best electric pressure washers under $200, and now you can go ahead and buy any one of these pressure washers without any ifs or buts. I'll suggest you use these electric pressure washers whenever anyone asks you about the best of them.
So, this is the time to go to Amazon.com to purchase the best electric pressure washer under $200, and I can assure you that you will be satisfied with your purchase. And so, what are you waiting for? To see how other people feel about our product – click on the Amazon link I'm giving, and from there, you can find pricing information as well as reviews.
Although our reviews show that the Sun Joe 2030 Electric High-Pressure Washer is the best cheap pressure washer under $200 thanks to its excellent psi ratings and the detergent tanks that are part of its design, we still recommend purchasing the DeWalt 12 Gallon Detergent Tank Assembly for best results. With this, even embedded dirt and debris are a lot easier to clean.