Best Air Fryers for a Family of 5
Many families today are opting to purchase an air fryer. These are smart kitchen appliances that can be placed in your kitchen. Unlike traditional deep-fried food, air fryers are much healthier because there is no oil involved. Plus, they are also faster and easier. If you are a family of 5 people, the first question that will pop up in your mind is, "What is the best size air fryer for a family of 5?"
The size and cooking capacity of the air fryer are two of the most important elements to consider while choosing the correct air fryer. The device must be large enough to cook enough food for the entire family while remaining compact enough to fit in your kitchen.
When buying an air fryer, it's critical to know how big it is and how much food it can cook. The size of the air fryer can make or break the whole experience.
In a Hurry? Check out our top 3 picks for the best air fryer for family of 5.
Size Comparisons of Air Fryers
When buying an air fryer, it's critical to know how big it is and how much food it can cook. The size of the air fryer can make or break the whole experience. There is no right or wrong size; it all depends on what works best for you, your family, and your cuisine.
However, there are a few rules to follow regarding air fryer size that should be considered before making a purchase. With hundreds of models accessible online, a few rules of thumb might help you narrow down your options.
| Type | Capacity | Persons | Meals |
| --- | --- | --- | --- |
| Small | 1 to 3 Quarts | 1 to 2 Family Members | French Fries, Chicken Wings, Nuts |
| Medium | 3 to 5.8 Quarts | 3 to 5 Family Members | French Fries, Nuts, Vegetables, Wings |
| Large | 6.0 to 10.5 Quarts | 5 to 10 Family Members | Whole Chicken, Turkeys, and Pizzas |
| Extra Large | 11 to 16 Quarts | Bulk Cooking For Events | 5-Pound Chicken, two 12-inch Pizzas, or a 12 lbs Turkey |
Chicken breasts, tenders, nuggets, and wings cook well in smaller air fryers. However, when it comes to a whole chicken, air fryers under 5 quarts don't have the cooking capacity to accommodate the complete bird.
When confronted with this problem, some people may resort to using force to break the chicken's backbone into smaller pieces in order to make it fit.
The best approach is to look for a larger air fryer, one that can cook a full chicken in a single session. A full chicken might weigh anywhere from 4 to 7 pounds, necessitating a significantly larger air fryer than a pair of wings or nuggets.
If you want to cook an entire chicken in an air fryer, choose one with a capacity of 5.3–5.8 quarts or more. Air fryers with less than 5 quarts will not fit the entire chicken, and air fryers with more than 5 quarts may struggle with larger chickens. When cooking a full chicken or small turkey, a 5.8 quart or bigger air fryer is the best option.
List of 10 best air fryer for family of 5
| Image | Product | Feature | Price |
| --- | --- | --- | --- |
| Editor's Choice | NUWAVE BRIO Digital Air Fryer | Temperature ranges from 100F to 400F degrees, adjustable in 5-degree increments, and includes a non-stick baking pan and cooking rack. You can air fry, broil, roast, grill, bake, reheat and even dehydrate. | Check On Amazon |
| Quality Pick | Philips Digital Twin TurboStar Airfryer | You can now make food for up to 6 people every day. Fits a whole chicken or 2 bags of frozen French fries; Just as crispy as deep-fried with 3 pounds capacity. Cooks 4 times faster than a conventional oven. | Check On Amazon |
| Highest Rated | COSORI Smart WiFi Air Fryer | Smart feature, WiFi COSORI, Alexa, and Google Assistant-enabled. A slimmer footprint fits on your countertop and saves your space. 11 built-in, one-touch presets. | Check On Amazon |
| Stainless Steel | Chefman TurboFry Air Fryer | Nonstick Square Stainless Steel Airfryer with One-Touch Presets, Use Less Oil for Healthy Rapid Frying. 8-Qt Capacity for Family Cooking, BPA-Free with Dishwasher Safe Basket. | Check On Amazon |
| Best Combo | Ninja Foodi 10-in-1 Smart XL Air Fry Oven | 10 in 1 Air Fry, Air Roast, Bake, Whole Roast, Broil, Toast, Bagel, Dehydrate, Reheat, and Pizza, all in one. 1800-watt appliance, 90-second oven preheat time, and 30% faster cooking than a traditional convection oven. | Check On Amazon |
| Most Reviewed | GoWISE USA 5.8-QT Air Fryer | Temperature ranges from 180 to 400 Fahrenheit with 10-degree increments and a cooking timer up to 30 minutes. Non-stick pan and detachable basket equipped with a cool-touch handle and button guard. | Check On Amazon |
| | Instant Vortex 4-in-1 Basket Air Fryer | 4 built-in smart programs in 1 appliance, air fry, roast, bake and reheat. The air fryer basket is large enough to fit a 2-pound bag of fries or a 4 pound butterflied chicken. Power supply: 120V – 60Hz with 6 Quart Capacity. | Check On Amazon |
| | Innsky Air Fryer XL 5.8 QT | 360° hot air convection system and (fence-like)hollow-carved design basket. Digital one-touch screen features 7 Preset modes (Steak, Chicken, Shrimp, Seafood, French Fries, Vegetables & Bread). | Check On Amazon |
| | Ultrean 5.8 Quart Air Fryer | 10 Presets food: Toast, Chips, Frozen chips, Pork, Chicken leg, Shrimp, Steak, Fish, Pizza, and Cake. Ultrean offers 12 months warranty. It has a 5.8 quarts capacity, serves 3 to 5 persons. | Check On Amazon |
| | KITCHER 6.8QT Air Fryer | 6.8- quart square nonstick basket can fit a 6-7 lbs whole chicken. The controlled temperature and time button 180-400°f. 8 built-in presets, kitcher air fryer owns ul certification, fcc, fda compliant. | Check On Amazon |
Detailed Reviews of Selected Air Fryers
01. Nuwave Brio Air fryer 6 Quarts
This Nuwave Brio Air fryer 6 quart will be the ideal selection if you're looking for the best air fryer with an attractive appearance. It features a more appealing look and a higher cooking capacity than comparable appliances with the same digital display.
This 6 quarts air fryer has a specific airflow designed for cooking fried food without using too much oil, making it a must-have gadget for anyone who enjoys fries. It allows you to process any of your favorite foods, making it an excellent choice for any modern family.
This Nuwave Brio allows you to prepare any meal, from breakfast to dinner or dessert, every day. It comprises a nonstick baking pan with a temperature range of 100 to 400 degrees Fahrenheit, allowing you to air fry, roast, grill, or bake any food. Furthermore, you may easily prepare two things at the same time. As a result, the Nuwave Brio Air fryer is an excellent choice for busy households.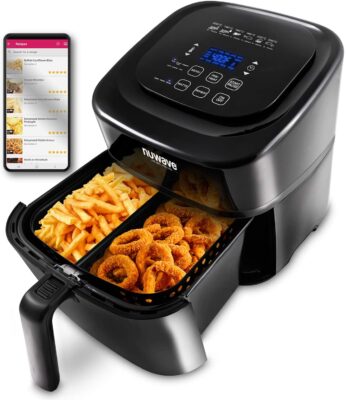 You can cook 3 pounds of French fries, 2 pounds of chicken wings, and so on with a high cooking capacity. For large families, singles, and couples, the Nuwave Brio is ideal.
Temperature is adjustable from 100 to 400 degrees Fahrenheit in 5-degree increments at the push of a button. The reheat button is set at 360° F for 4 minutes by default. There are three wattage control levels available: 900, 1500, and 1800 watts. It has six predefined functions; with the click of a button, you can prepare homemade fries, frozen fries, chicken nuggets, steak, chicken breasts, and frozen fish sticks.
Controls and displays are digital. It has delayed, preheat, warm, and sear functions, and for increased security, the demounting basket button comes with a cover. The basket divider allows you to keep food separate while cooking two different foods simultaneously, and a digital timer may be programmed for up to 100 hours. The preheat button guarantees that the desired results are obtained every time. Both the basket and the frying rack are dishwasher safe.

Read Also: 10 Best Air Fryer Toaster Oven Combo
02. Philips Digital Twin TurboStar Airfryer
The Philips Air fryer XXL, as the name implies, is one of the bigger models available for air frying, with a basket that can hold 1.4kg of food in total, enough for around six people.
The appliance employs Philips TurboStar technology, which circulates hot air swiftly in and around the food you wish to cook for consistent results, aided with 2225 watts of power. It can be gentle on your prepared food using gentler temperatures starting at 40°C, but it can be ramped up to 200°C as needed.
In that regard, the Philips Air fryer can cook almost everything and choose 5 preset cooking modes such as air frying, grilling, roasting, and baking. These basic presets are delivered through a simple set of icons that includes fish and meat symbols and a frozen chip symbol, with manual operation possible if desired. We especially appreciate the keep warm option for when the other half arrives home late from work.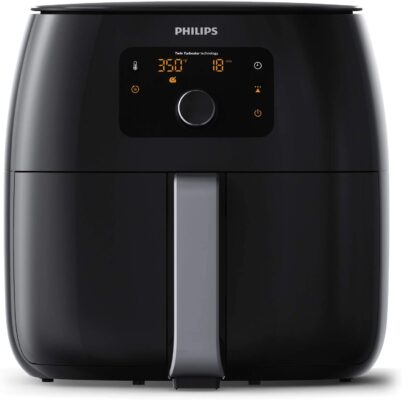 With dimensions of 12 inches wide, 17 inches deep, and 12 inches tall, the Twin TurboStar XXL lives up to its name. It boasts an astonishing temperature range of 175 to 400 degrees Fahrenheit, and you can regulate the temperature using the front dial in 25-degree increments.
The dial allows you to set the duration (between 1 and 60 minutes) and select from presets such as defrost, chicken, steak, fish, and cake. The wide LCD screen display gives you the temperature and amount of time left in the cooking process.
The air fryer comes with a lovely recipe book with full-color images. There are around 30 recipes in all, with over 200 more available by downloading the app. Philips offers a one-year limited guarantee on this air fryer.
03. COSORI Smart WiFi Air Fryer
The COSORI VeSync Pro Air Fryer has made an appearance in the kitchen. Your mobile devices can now manage and monitor the world's first air fryer. WiFi COSORI's Smart function elevates meal preparation to new heights of convenience.
The redesigned ergonomic angled display allows for greater viewing without having to hunch over. A smaller footprint fits better on your counter and saves space. Alexa and Google Assistant are both available. Use the VeSync app or voice commands with Alexa or Google Assistant to manage your fryer from afar. Enjoy adjusting and monitoring the progress of your food' cooking from afar.
The VeSync app contains over 100 original pre-programmed recipes, with new recipes being updated weekly. In our online community, you'll find even more recipes from Cosori members.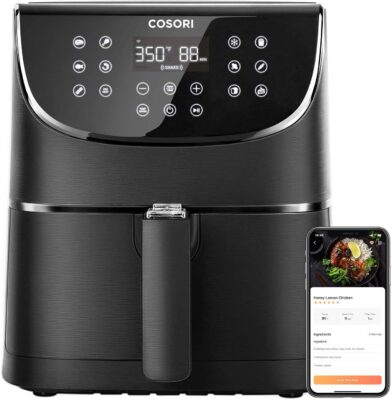 Steak, Poultry, Seafood, French Fries, Vegetables, Desserts, and more selections are available with 11 built-in, one-touch presets. Manually alter the parameters or select a recipe in the app, and the settings will be automatically adjusted.
Do you want to eat better or give the gift of better eating? Give the present of 85 percent less oil in the kitchen and less "deep-fried" aromas. Enjoy the same delectable, crunchy textures and flavors of fried food. Cook your food in half the time it would take in a traditional oven while getting crispier, tastier results.
04. Chefman TurboFry Air Fryer
The XL 8-quart frying basket is ideal for large family dinners and quick evening dishes. The nonstick, dishwasher-safe basket and tray make cleanup even easier, perfect for one-touch meals, and effortlessly keeping your counter clean.
The digital control panel with touch control allows you to control your cooking with the lightest touch. Use the 4 built-in presets for ideal cooking and the smart LED shake reminder to ensure perfectly cooked dishes every time.
Serve all of your favorite fried dishes in the comfort of your own home, free of extra oil and fat. The Chefman Air Fryer is your number one tool for a crispy, fried finish using 98 percent less oil than traditional fryers, and it comes with presets for easy cooking and a temperature range of 200-400°F. In minutes, air-fried vegetables, pizza, frozen dishes, and even leftovers to perfection.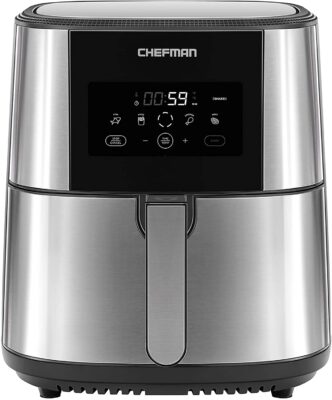 cETL approved, with sophisticated safety features for long-term durability, and Chefman's 1-year warranty so that you can buy with confidence – we've got your back!
It's never been easier to prepare dinners for the family. Four presets make it simple to serve French fries, chicken, steak, and fish at the touch of a button, and the simple touch control allows you to change the time and temperature effortlessly. With the LED sake reminder, the digital display makes it easy to check cook times and assures evenly fried dishes.
The 8-quart nonstick basket and flat frying tray can both be washed in the top rack of the dishwasher, making cleanup a breeze. Never again worry about a greasy frying mess; attain flawless, crispy results without the hassle.
The dishwasher-safe basket makes cleaning and storage really easy while saving counter space, ideal for any tiny kitchen, dorm, workplace, RV, and more!
05. Ninja DT251 Foodi 10-in-1 Smart XL Air Fry Oven
The Ninja Foodi Smart XL Combo is a brilliant extra-large toaster oven and air fry oven with Full Surround Convection, which gives you up to 10X the convection power of a typical convection oven. The Smart Cook System keeps track of your food, so you'll never overcook or undercook it again.
Compared to a regular full-size convection oven, this oven has up to 10X the convection power for quicker, crispier, and more juicy results. All in one powerful 1800-watt appliance: air fry, air roast, bake, whole roast, broil, toast, bagel, dehydrate, reheat, and pizza.
With the inbuilt Foodi Smart Thermometer, you can get the precise doneness from rare to well done at the push of a button – no guesswork required. Preheat time is 90 seconds, and cooking time is up to 30% faster than a standard full-size convection oven.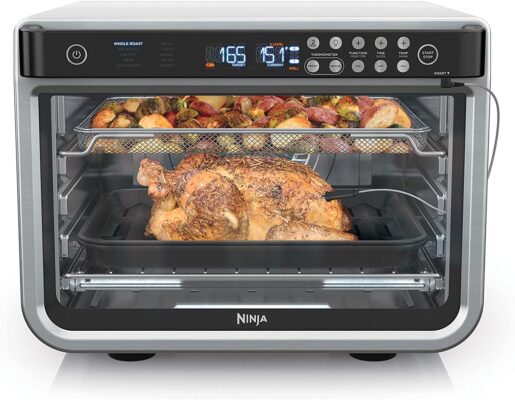 The Ninja Foodi Smart XL Air Oven fits a 5-pound chicken and a sheet pan of vegetables, two 12-inch pizzas, or a 12-pound turkey on two levels with no turning required. For entertaining or weekly meal prep, make two sheet pan dinners at once.
Compared to traditional deep frying, the Air Fry feature can save up to 75% on fat (*tested against hand-cut, deep-fried French fries). When compared to a regular convection oven, the results are up to 30% crispier.
Depending on the function, the best oven rack placements will be illuminated. When the door is open, the display settings freeze to prevent any changes to the cook cycle from being made accidentally. Compared to a leading countertop oven, you'll get up to 50% more even baking outcomes. For entertaining or weekly meal prep, make two sheet pan dinners at once.
The Digital Air Fry Oven comes with two sheet pans, two-wire racks, an air fry basket, a roast tray, a crumb tray, a Foodi Smart Thermometer, and a 15-recipe guide.
Benefits of Family Size Air Fryer
The greater capacity is, of course, one of the benefits of owning a large air fryer. A huge air fryer's inner space isn't the only advantage.
Additional Components
Grill racks, cake pans, pyrex pans, silicone cups, and various other attachments are all compatible with large air fryers. In tiny air fryers, it may be difficult to use attachments other than those designed expressly for the air fryer, but anything can be used in bigger air fryers.
So, rather than purchasing many accessories, you can make do with what you already have. A large air fryer may be more cost-effective than a small one with all of the accessories.
Layering Capabilities
Layering capabilities are common in large air fryers, which equates to more food. On one layer, you can fry french fries, and on the other, chicken. Because chicken and french fries may not cook at the same time, this is quite convenient.
Rather than withdrawing everything from the air fryer and gathering the fries before re-entering the chicken, you can just remove the tray of french fries and continue cooking the chicken.
Versatility
You can also bake cakes, create lasagnas, large batches of cookies, pizzas, and more with an air fryer large enough to feed a family of five.
Frequently Asked Questions
Is it worth investing in an air fryer?

This is a question that each family will answer differently. If your family eats eggs for breakfast and soups or sandwiches for the rest of the meals, an air fryer is unlikely to be of much use to you, and you might be better off saving your money on a more functional kitchen gadget.
If, like most families, you use a combination of stovetop, oven, and other methods to prepare foods that are more "deep-fried," you're likely to find ways to replace your traditional, heat-intensive recipes with an air fryer recipe. This can help you make your meals healthier, lower the temperature in your kitchen, and save money and time on oil and cooking!

What is the best air fryer size?

It isn't easy to give a general response because it depends on your family size, cooking plans, and other factors. If you're entirely new to air fryers and just want the most versatile option, go with the medium to large-sized air fryers, which are best for a family of four. This way, you'll know it's not too huge to prepare in smaller amounts, but not too small to cook a lot of tiny batches if your family grows or you have company.

What is the price range of large air fryers?

The cost of a large air fryer varies based on the brand and model, but they typically cost between $100 and $300. For $100, you'll receive the air fryer and a few accessories; for $300, you'll get more features, functions, and flashy extras.
The $100 air fryer is likely to come with everything you need to make food. It will be taken to the next level by the other model. Keep in mind that both models, no matter how costly or inexpensive, use the same technique when cooking your meal.

Is a large air fryer excessively large for a small household or a single person?

If you have a small family, a larger air fryer can be a good idea. As you become more familiar with the air fryer and the options it offers, you'll want to try new dishes, and the extra room will come in useful.
A huge air fryer with a capacity of 5 quarts or more is a luxury that a single person does not require. In a one-person household, an air fryer with a capacity of 3 quarts would be preferable.

How can you figure out the size of an air fryer?

An air fryer's capacity is measured in quarts (quarter gallon), liters, or pounds. An air fryer with a capacity of 1 quart can handle 0.94 US liters or around 2 pounds.

What is the maximum size of air fryer that can cook a steak?

To fit a steak in the chamber of an air fryer, the appliance should have a capacity of at least 2.5 – 3.0 quarts, which is the absolute minimum, in my opinion.

How do I pick the proper air fryer size?

Consider your family's size (i.e., the number of servings required), how much food you typically make at once (one night's worth versus cooking for tonight plus leftovers), and how often you'll use it.
If you only want to prepare handmade french fries once or twice a year, a smaller and less expensive air fryer may be preferable but if you have limited storage, you might want to go with a smaller one.
If you plan on replacing your frying pan with an air fryer and using it several times per week, a larger air fryer may be a better alternative for larger families or those who prepare dinner portions plus leftovers for tomorrow's lunches in one sitting.

Should I invest in a one-person air fryer?

It's not something I'd suggest. Unless you live completely alone, have no family who will ever come over for dinner, and have no plans to extend your family, there's always the possibility that you'll desire a little more room. If nothing else, you might wish to make enough for lunch the next day, in which case you'll need an air fryer that can hold two servings.
College students who need compact equipment to fit in college accommodation, or older folks living in senior apartments/living centers with limited storage space, may find an air fryer for one person beneficial.

I am from a large family. Should I just buy a commercial-sized air fryer instead?

Compared to the smaller sizes, most of these models will not be as safe to use in a typical residential kitchen. Because larger sizes entail larger parts, cleaning will be more difficult. Make sure you have a large sink in your kitchen!

How much would a good air fryer set me back?

The cost of an air fryer will vary based on the size and additional features you select. In most cases, you'll spend roughly $150+ to buy a decent one for your home.
Final Thoughts
Finding the best air fryer for your family used to be a hassle, but not anymore since this article gave all the valuable information you need to know about the perfect air fryer for a family of five.
Deep-frying, which consumes a lot of oil, is replaced by air frying, which is a healthier option. There are many sizes of air fryers to meet everyone's needs. The above-mentioned air fryer sizes are required for every family size and group, depending on the size of your household.
For small-scale air frying, there's no need to invest in a large air fryer. Although high-capacity air fryers offer additional benefits and variety, the size you choose is entirely up to you.
Thank you for taking the time to read our best air fryer for a family of five reviews. Let us know if you have any queries in the comments area below.
---