Best 95 Pint Dehumidifier With Pump
A dehumidifier with a capacity of 95 pints is ideal for keeping larger places dry. We looked at all of the larger dehumidifiers on the market to see which ones had the finest features. We found 8 best 95-pint dehumidifiers with outstanding features, long-lasting materials, and good energy-saving benefits. Keep reading to learn more about our suggestions.
In a Hurry? Check out our top 3 picks for the best dehumidifier with 95 Pints.
There are numerous drawbacks to having too much moisture and condensation in the air. Mold and mildew might grow as a result of the extra moisture. These microbes prefer moist surroundings and can result in property damage. Molds are also hazardous to one's health. When you are exposed to certain molds, you may develop allergies or even poisoning.
Because you can't control the weather, a dehumidifier can help you control the humidity levels in your home. It works by removing extra moisture from the air, leaving you with an appropriate humidity level that is more comfortable to live in.
Dehumidifier Size Guide
What dehumidifier size do I require? Is it possible for a dehumidifier to be too big?

Most residential dehumidifiers have capacities ranging from 30 to 70 pints. If you buy a dehumidifier that is either too big or too small, you will end up with:
Dehumidifier/electricity costs are higher (if the dehumidifier is too big).
Humidity in the house (if the dehumidifier is too small).
When it comes to sizing a dehumidifier, most homeowners base their decision on the purpose for which it will be used. In short, we size a dehumidifier wrongly based on:
Suppose it's required for the basement. Basements feature high relative humidity, ranging from 70% to 100%, and small. Dehumidifiers are ideal for removing excess moisture.
Assume we'll need it for the entire house. Houses typically have a relative humidity of 50 to 70 percent and larger space footage.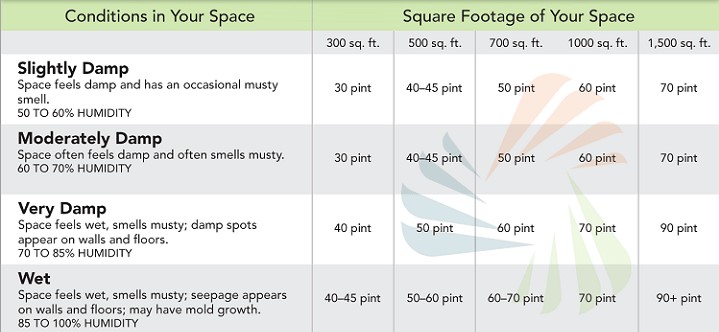 Three key elements are important to consider while choosing the right size dehumidifier:
Rates of relative humidity: The percentages range from 50% to 100%. The goal of utilizing a dehumidifier is to reduce relative humidity to between 30% and 50%.
The amount of space available: A smaller area (under 500 square feet) will require a smaller dehumidifier (30 or 50 pints) than a larger one (1000 square feet or more).
Temperature's average: When it comes to determining what size dehumidifier you need, the temperature is the most disregarded aspect.
Read Also: 10 best dehumidifiers for a small grow tent
List of 8 best 95 pint dehumidifiers
| Image | Product | Feature | Price |
| --- | --- | --- | --- |
| Editor's Choice | Aprilaire 1852 Pro Dehumidifier 95 Pint | Corrosion-resistant aluminum coils are designed and manufactured in the United States. Keep relative humidity below 60% with a dehumidifier to reduce Airborne virus survival rates. Removes up to 12 gallons of water. | Check On Amazon |
| Premium Quality | Aprilaire – 1850Z 1850 Pro Dehumidifier, 95 Pint | Control automatically starts dehumidification when humidity above the target is sensed. Simple to set up – just place a hose or place dehumidifier over a drain, level it, plug it in, set the target humidity, and you're done. | Check On Amazon |
| Budget Pick | Soleus Air 95-Pint Dehumidifier with Pump | 95 pints per day. A constant upward drainage system is provided by an internal pump. Preprogrammed humidity settings. 3-speed fan circulates air at low, medium, and high speeds. | Check On Amazon |
| | Ivation 95 Pint Energy Star Dehumidifier with Pump | Spaces Up to 6,000 Sq. Ft. Prevents Formation of Mold, Mildew, Dust, Allergens & Odors. Built-In 16W Pump and Continuous Upward Water Drainage. Casters, Auto-Defrost, & Auto-Restart, and Bright LED Display. | Check On Amazon |
| | Danby DDR095BDPWDB 95 Pint Dehumidifier | Energy Star qualified. LED display, 2 fan speeds (High/Low). The system can continue to operate due to the low-temperature feature. Working in temperatures as low as 41 degrees Fahrenheit. Auto-restart unit restarts itself. | Check On Amazon |
| | Frigidaire FAD954DWD Dehumidifier | Continuous operation, extra long 6 feet three-prong power cord, and energy star certified. 1 Year Full/5 Year Sealed System Warranty. Front pull-out tank with handle and splash guard. | Check On Amazon |
| | Keystone 95 Pt. Dehumidifier with Built-In Pump | Dehumidifies up to 6000 square feet, Electronic controls with LED Display and 24-hour timer. Auto-restart saves your settings during a power outage. Built-in pump for continuous upward drainage. | Check On Amazon |
| | MIDEA AKDL-95PT6 95 Pint Arctic King Dehumidifier | 95 Pint Energy Star dehumidifier 115V, EF=2.8L/KW.h, 10L water tank, 2-speed fan. Auto Restart Function. Auto-defrosting function and automatic 24-hour on/off timer. | Check On Amazon |
Detailed Reviews for the best 95 pint dehumidifier
01. Aprilaire 1852 Dehumidifier 95 Pints
The Aprilaire 1852 Dehumidifier is great for dehumidifying your basement or sealed crawl area, with a daily capacity of 12 gallons (95 pints). Castors (included) make it easier to move from one location to another. The control panel can be put on the top or front of the machine for your convenience, making it easy to access from any location.
The dehumidifier boasts an easy-to-use interactive display that makes setup and operation a pleasure. The Aprilaire 1852 requires little care, as there are no messy trays to empty and only a once-a-year filter cleaning or replacement.
The Aprilaire 1852 was designed and built to last by Aprilaire in the United States. Aprilaire's dehumidifiers continue to develop in quality, with corrosion-resistant aluminum coils, superior manufacturing techniques to prevent leaks, and sturdy packing for damage-free shipment.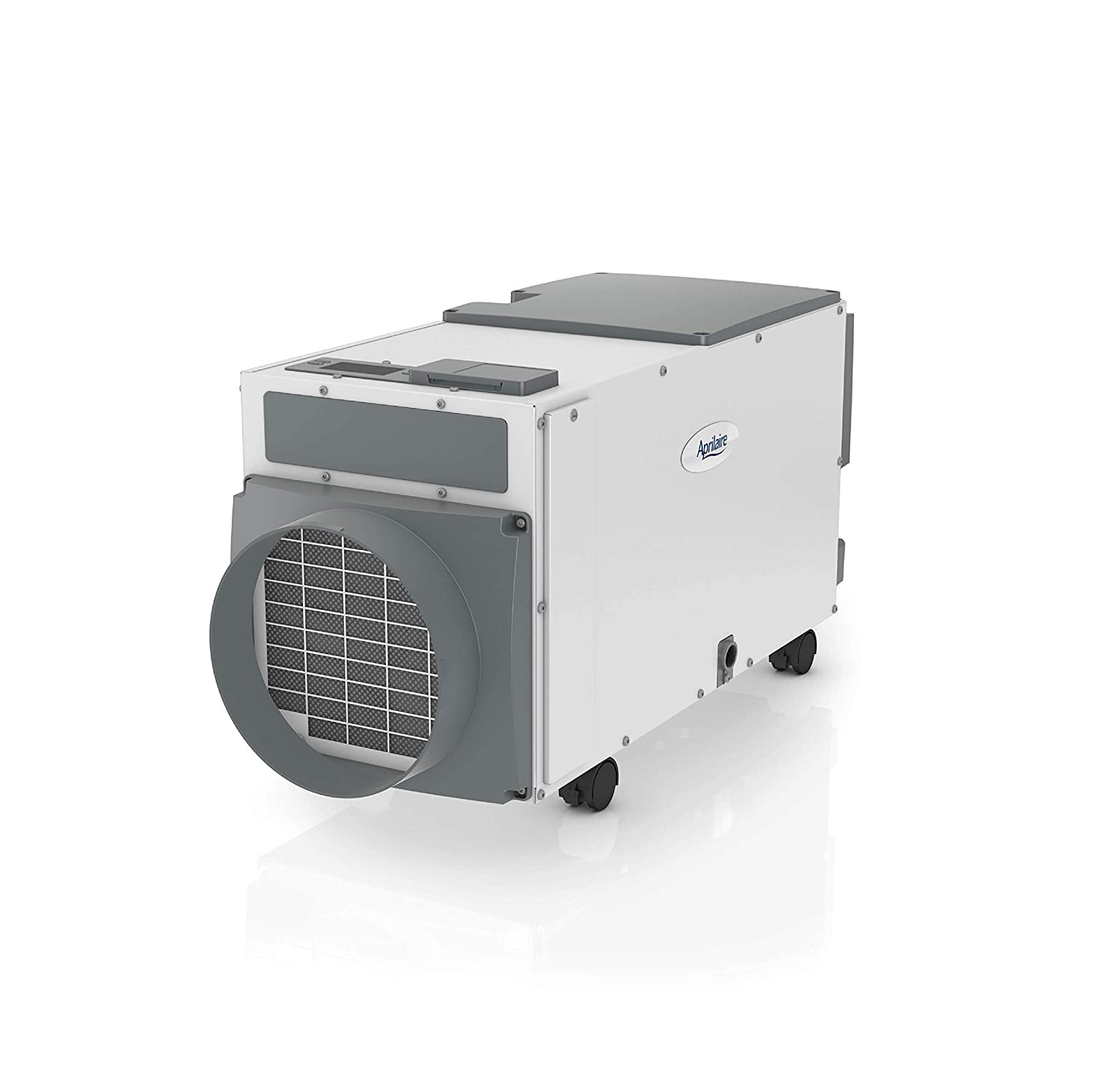 It comes with a 5-year warranty to give you even more peace of mind. This dehumidifier works with single-phase 110V AC to 120V AC power sources at 60 Hz. It is incompatible with power sources that operate at 50 hertz. Corrosion-resistant aluminum coils are built into the Aprilaire Dehumidifiers, which last a lifetime.
Reduces and controls the levels of Humidity in basements, whole homes, and sealed crawl spaces to help protect your carpets and furniture from moisture damage as well as preventing mold, termites, and structural wood rot with up to 12 gallons (95 pints) of water removed each day
02. Ivation 6,000 Sq Ft Energy Star Dehumidifier with Pump
Ivation Energy Star Dehumidifier comes with a simple LCD interface. You can adjust moisture levels thanks to a clever Ivation design. For hassle-free operation, check the humidistat, set your desired levels, adjust fan speed, preset the 24-hour timer, and receive vital filter and reservoir notifications.
Includes a 16-watt built-in pump capable of pushing water up to 16,4 feet vertically. Compact, weighing only 61 pounds, it is small enough to fit most areas. Removes up to 95 pints of moisture every day in areas up to 6,000 square feet. Four robust, smooth-rolling caster wheels allow for easy movement from room to room.
The 6-foot, three-prong power cord eliminates the need for extension cords. The quick control allows you to turn on and off the humidistat without adjusting it. With the intuitive LCD, you can see operational parameters at a glance and receive vital filter and reservoir notifications.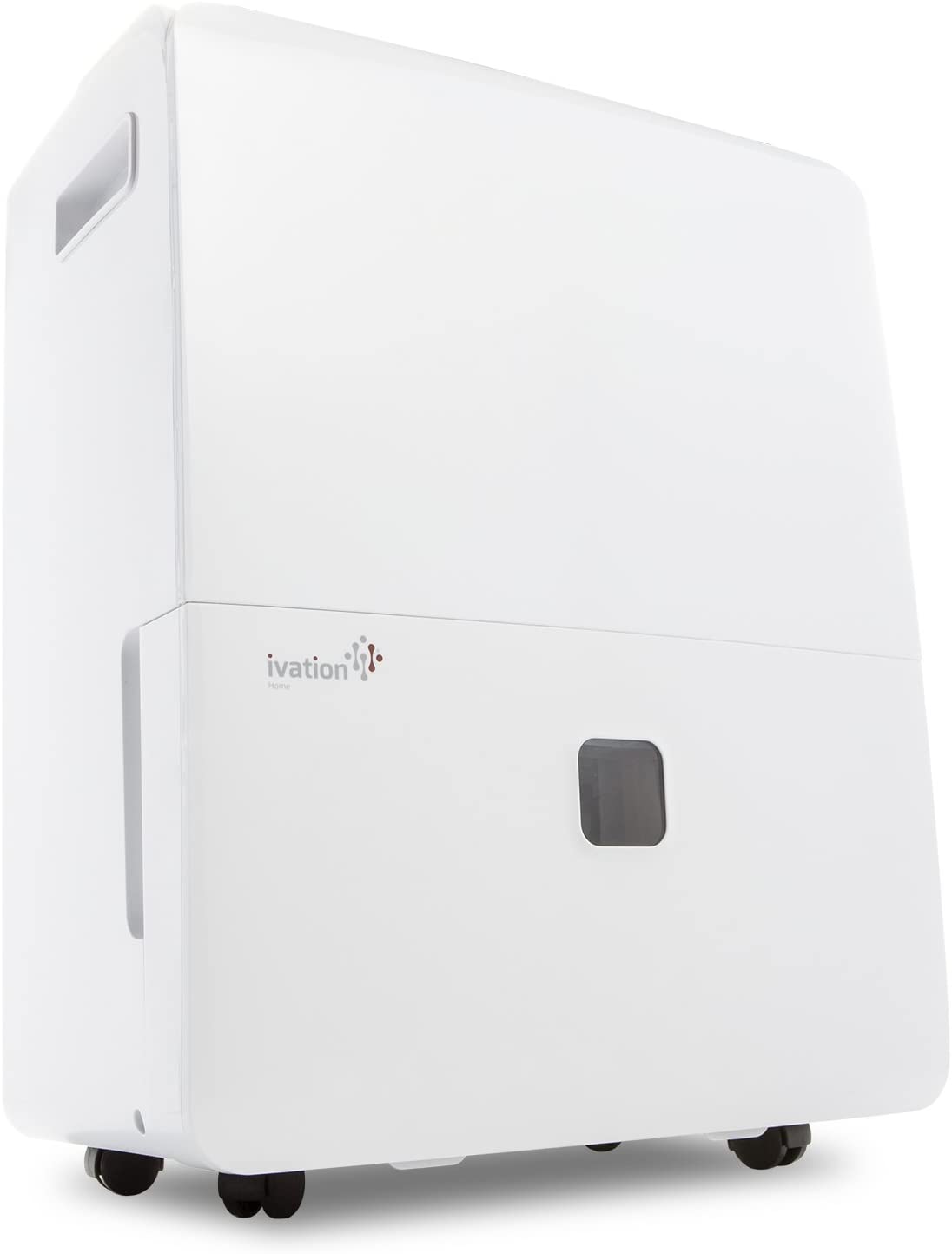 2 Fan Speeds for maximum comfort, choose between regular and turbo fan speeds. Built-in Relative Humidity Meter: The LCDs the current humidity level in the room accurately, allowing you to select your preferred levels for automatic moisture control.
Program the 24-hour timer to fit your schedule and save money on energy. The 2.6-gallon tank is removable and has a visual level indicator and ergonomic grips with a cover for easy removal and transport when full. When the reservoir reaches capacity, the water level sensor activates an automated shutoff.
Smart technology saves your settings while the unit powers up automatically after a power outage. A reusable Washable Air Filter eliminates the need for costly supplies. Rinse and recycle after receiving a clean-filter notice. An optional hose connection enables continual draining in moist areas. Water should be sent to the basement drain or slop sink. Auto-defrost saves electricity while protecting evaporator coils.
03. SoleusAir 95-Pint Portable Dehumidifier
The SoleusAir 95-pint portable dehumidifier features an inbuilt pump for continual upward drainage, making it a strong, dependable, and convenient option to keep your house dry. MyHome mode, a patent-pending feature, removes the guesswork from dehumidifier operation.
Select the basement, living space, or sleeping space settings to achieve the ideal humidity level wherever the unit is placed. Of course, you may always use the digital humidistat to select a specific humidity level if you like manually. The dehumidifier's caster wheels make it easy to move from room to room, and the washable and reusable filter makes maintenance a breeze. With a SoleusAir portable dehumidifier, you can stay comfortable while keeping moisture to a minimum.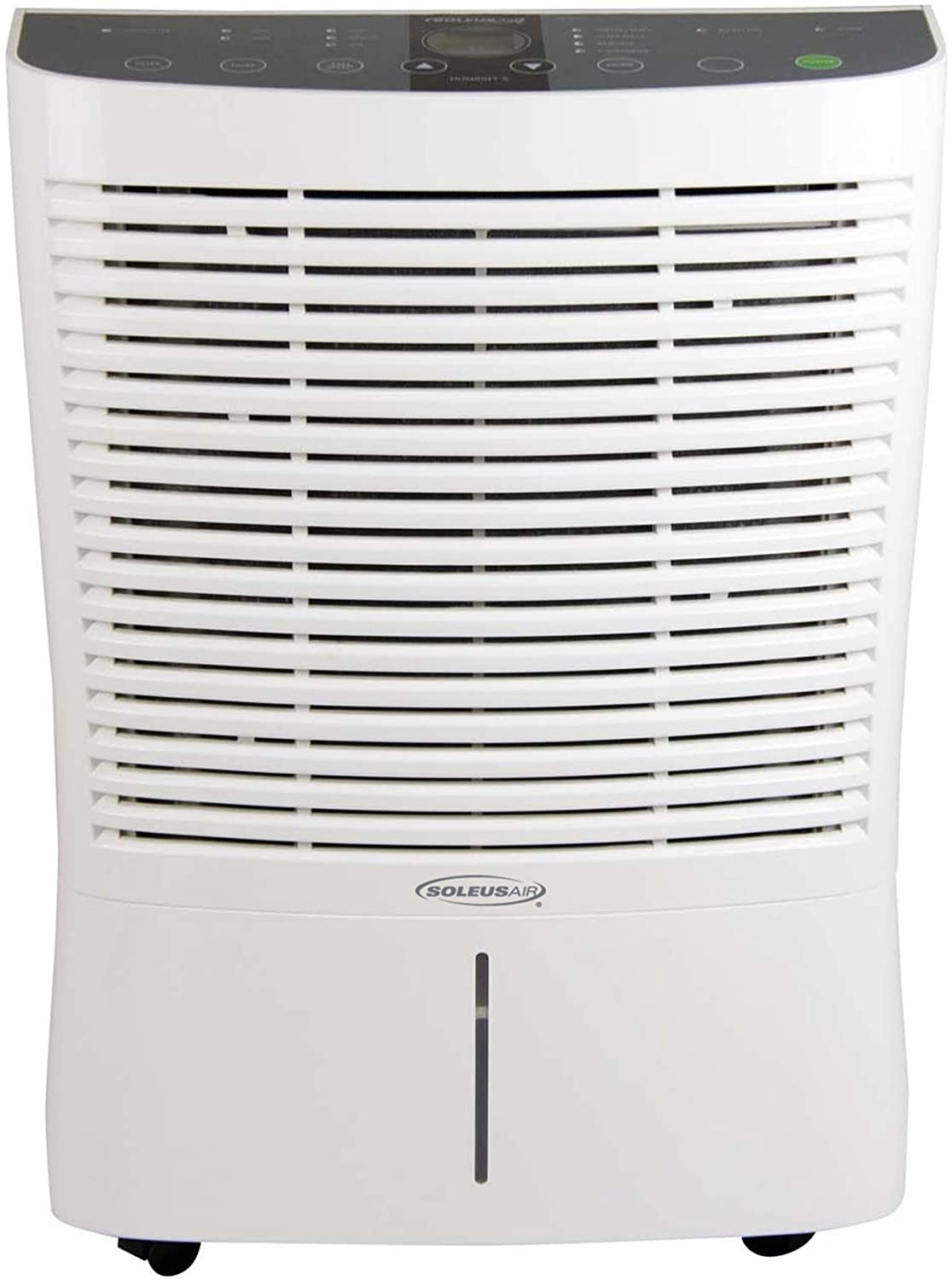 This portable dehumidifier can eliminate up to 95 pints of moisture per day. Internal pump that allows for continual upward drainage (pump hose included). The digital humidistat displays the programmed humidity level as well as the current room humidity level. A three-speed fan circulates air at low, medium, and high speeds.
04. Danby DDR095BDPWDB 95 Pint Dehumidifier
Dehumidifiers can avoid irreparable damage to your home and goods caused by excess moisture by managing the dampness. We recommend maintaining a humidity level of 40-50 percent.
When your Danby Dehumidifier runs at low temperatures, a film of frost can form on the evaporator's surface, diminishing overall performance. This auto-defrost feature helps enhance performance by automatically placing the machine into defrost mode until the frost has melted.
This strategy is ideal for individuals who want a more practical setup and don't want to deal with the trouble of manually emptying the dehumidifier once the water level reaches a certain level. This optional feature necessitates the presence of a floor drain.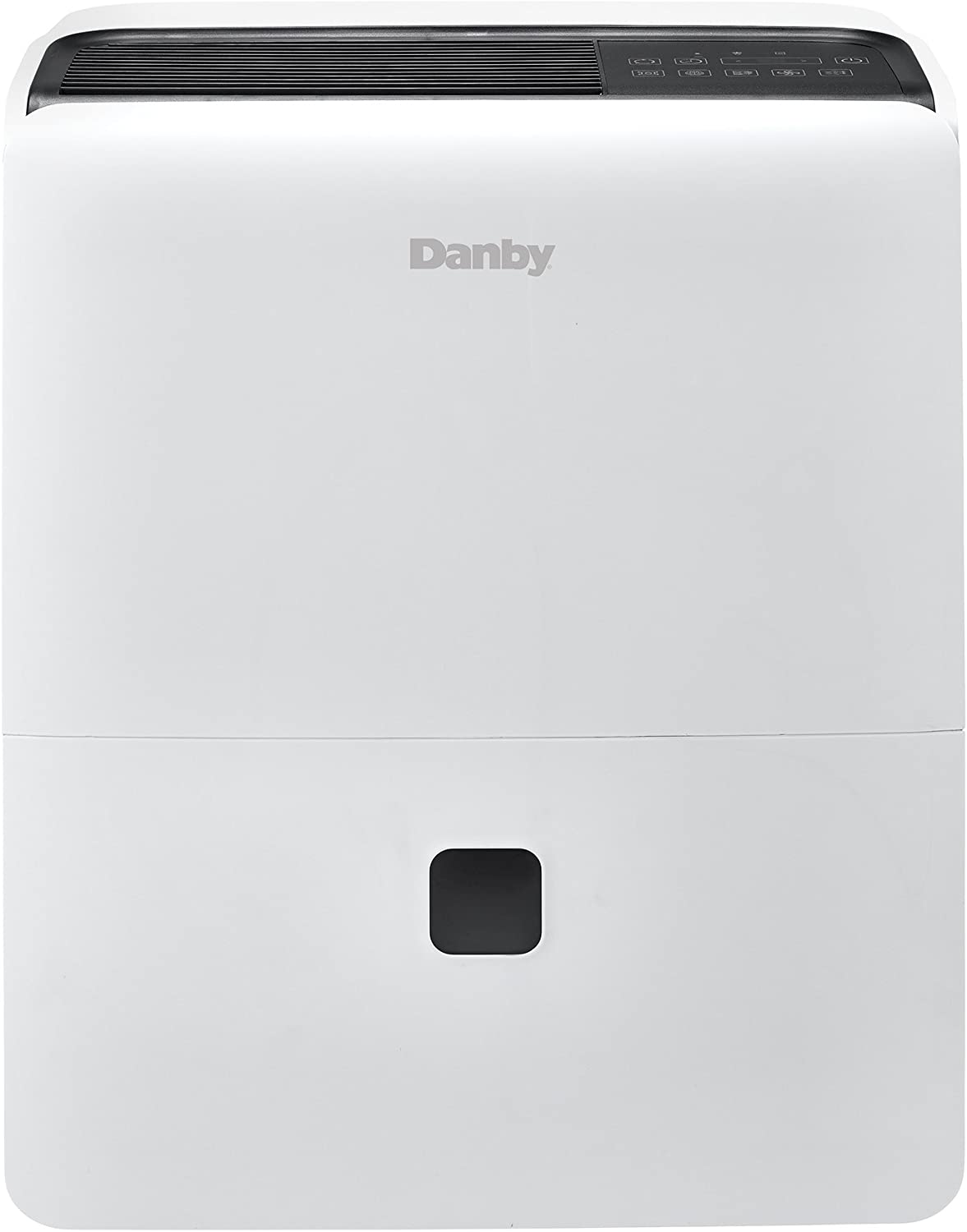 R410A delivers more efficiency – saving you in energy expenses – and is significantly better for the environment than other refrigerants. Danby's 30-pint dehumidifier will help you get rid of excess moisture in your home. This dehumidifier can eliminate up to 95 pints of moisture in a day and is suitable for rooms up to 6,000 square feet.
The automatic shutoff feature keeps the bucket from overflowing, and the direct drain feature allows you to run it continuously. This device is Energy Star approved and includes a 24-hour timer so you can run your Danby dehumidifier during off-peak hours to save money on your monthly hydro bill.
If you plan on using this unit in a chilly environment, such as a cellar, the automatic de-icer feature allows it to operate in temperatures as low as 41°F (5°C).
05. Frigidaire FAD954DWD Dehumidifier 95-Pint
The Frigidaire 95-pint dehumidifier keeps your home dry and prevents mold and mildew from growing. It also aids in the removal of microorganisms from the air, which can make breathing difficult. When the device is placed near a suitable drain, Frigidaire's 95 pints-per-day dehumidifier can run continuously.
It has full-function electronic controls, a large collection container with a level indicator, and a washable filter that eliminates bacteria, smells, and other airborne particles. Its simple humidity control allows you to manage the humidity level in your room precisely. The integrated side handles and caster wheels on the SpaceWise portable design make it simple to move your unit from room to room.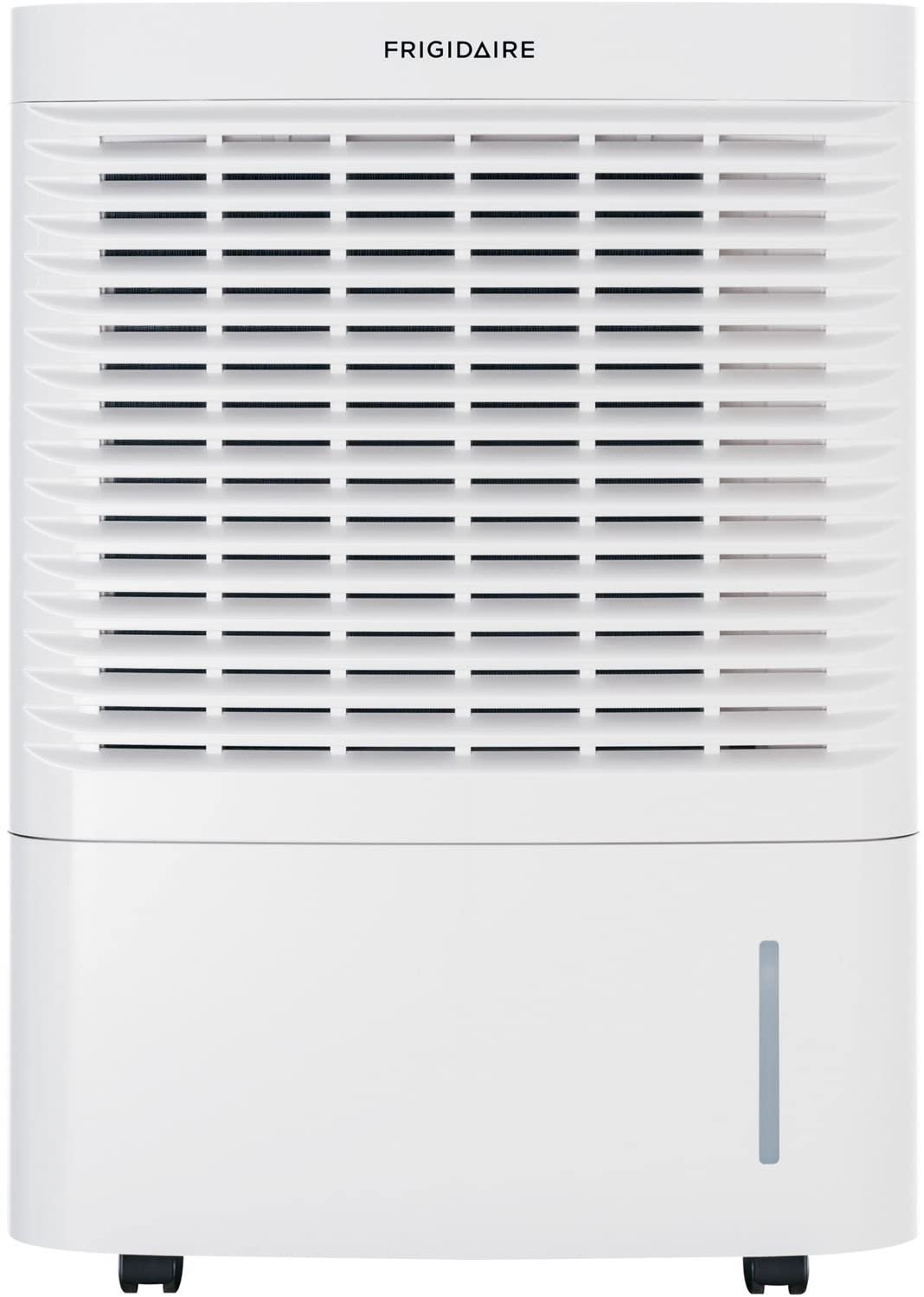 The Frigidaire FAD954DWD Dehumidifier protects your home from mold and mildew caused by excess moisture. Aids in the elimination of microorganisms in the air can make breathing difficult. When the device is placed near a suitable drain, it can operate continuously—pull-out tank in the front with a handle and splash guard.
The extra-long 6-foot three-prong power cord eliminates the need for extension cords. Continuously empties your dehumidifier, eliminating the need to empty the water bucket. ENERGY STAR Certified, UL/CUL|UL Safety Certification.
Buying Guide for a 95 pint dehumidifier
When choosing a 95-pint dehumidifier, keep the following purchase recommendations in mind to ensure that you receive the best one:
1. Determine how much of a space it can dehumidify.
The majority of 95 pint dehumidifiers can dehumidify 6,000 square feet of space. However, some may provide you with even more coverage. Examine the parameters to find which of the 95-pint dehumidifiers has the most range.
2. It must be simple to clean.
First, check to see if the dehumidifier's frame comprises long-lasting materials resistant to mold and mildew. You don't want mold to grow in the water you've gathered. It should be simple to remove the water tank without leaking water all over the place. It should be easily accessible, with a mechanism that allows users to remove it.
3. A built-in pump could be useful.
Although not all dehumidifiers have a built-in pump, you should look for one that does because it allows the machine to evacuate water through a hose. Its purpose is to ensure that the water drains effectively even when the hose is lifted. If you're draining it through a window, and the window is higher than the dehumidifier, a built-in pump will ensure that the water drains out.
4. A dehumidifier that is small and portable may be a better alternative.
You'll want the dehumidifier to be portable, especially if you're going to use it in several rooms. Also, look through the weight requirements. It shouldn't be too heavy; else, lugging it about the house would be difficult. For portability, look for ones with casters.
5. It should be environmentally friendly.
Never purchase without first checking its energy efficiency. Is it an energy-star-rated product? Is there a timer setting or other features that allow it to operate efficiently? Most people will leave their dehumidifier on all day. That means it will eat up a significant portion of your utility budget, so choose a dehumidifier with a high-efficiency rating. You won't see a significant increase in your energy consumption this way.
6. The dehumidifier must have low noise
They have a noise level that is 56 decibels higher than what is deemed a nuisance. Because the basement is the only area you can confine your hamsters, make sure it works for them as well as you.
Frequently Asked Questions
Why do you need a dehumidifier with a capacity of 95 gallons?

Even if the problem appears to be localized, dampness commonly spreads throughout your home, necessitating the usage of a dehumidifier capable of adjusting moisture levels in other areas as well. The larger the space to be dried, as with 95-pint capacity dehumidifiers, the greater the dehumidifier's capacity. They are perfect basement liners since they are well suited for basements, living rooms, and other difficult areas.

Why a dehumidifier with a 95-pint capacity is a good choice?

A dehumidifier is a device that removes excess moisture from the air in your home. It can help prevent mold and mildew while also boosting comfort by keeping a constant humidity level that allows you to breathe healthy, dry air throughout the year. Nowadays, there are so many types of equipment on the market that choosing one may be tough! If space is a concern, choose a small model rather than lugging around a huge unit; make sure the capacity matches what you need before purchasing anything!

Who is the commercial dehumidifier's target market?

A commercial dehumidifier protects businesses and their products from the damaging effects of dampness. To avoid harm, it is vital to protect your products while being stored in the warehouse.

What precisely is a commercial dehumidifier?

Furthermore, defining which types of dehumidifiers qualify as commercial units is crucial. A large-capacity industrial dehumidifier is designed to remove a large amount of water and moisture from the air. This equipment, unlike residential humidifiers, can handle enormous spaces and large amounts of moisture.
Even if you work in a small workplace, you will almost likely release a large amount of moisture in the air, particularly if you live and work in a densely populated area. Having the correct dehumidifier can help you improve your customer and employee air quality and health while also making them more comfortable.

Is it okay if I use the dehumidifier's water for my plants?

Greywater, which is wastewater, is produced by your dehumidifiers. Greywater is suitable for watering plants and flowers but not for drinking.

How can I turn off my dehumidifier to empty it?

The water removed by a Danby dehumidifier can be collected in a bucket. Alternatively, the water can be evacuated by gravity by channeling it through a hose. There are additionally pumped models available.

From where should I get a new filter, and how often should I change it?

Dehumidifiers can also be recycled. If a filter becomes damaged, simply replace it; no need to purchase a new device.
Final Remarks
Every dehumidifier under consideration was carefully inspected, and the ones that made the best impression were discussed in this blog. We hope you got some useful information about choosing the best 95 pint dehumidifier. We also discussed the buying guide for commercial dehumidifiers.
We've included a variety of price ranges that provide excellent value without compromising quality! Let us know your thoughts about using these dehumidifiers in the comments section so that other readers might benefit.
---