Best Commercial Blender
A commercial blender is necessary for chefs, bartenders, and other professionals, but it's also a nice addition to a contemporary kitchen if you want professional results at home. These time-saving gadgets make it easy to mix difficult-to-blend substances and are built to withstand heavy use, such as combining frozen foods and ice throughout the day. Commercial blenders, despite their resemblance to household blenders, are built to handle high quantities of use. We have carefully tested and created a list of the 10 best commercial blenders available in the market right now.
The best industrial blender has a few distinguishing characteristics that set it apart from the competition. It will include a high-power output, several settings and speeds for different beverages, and safety features, including a locking lid and overheating protection. However, before selecting which blender would be a suitable fit for you, you must consider your sort of usage as well as your budget.
In a Hurry? Check out our top 3 picks for the best commercial grade blender.
Because there are so many things to consider, finding the appropriate commercial blender for your requirements may be challenging. We are, nevertheless, here to assist you in making the best decision for your level of usage. We researched industrial blender specs and read hundreds of reviews from professionals and customers to save you time. Our buying guide has a wealth of additional information on the critical features to look for when purchasing a business blender.
Our top selections are summarized in the table below, and you can scroll down for additional in-depth evaluations of the finest industrial blenders available.
Difference Between Commercial and household blenders:
The contrast between commercial and home blenders is not always obvious at first glance because the main difference is found inside the device. The design of the blades, the motor's power, numerous functional features, and, most significantly, the capacity to endure repeated usage throughout the day are the most significant differences between the two types of blenders.
Commercial blenders, unlike domestic blenders, are generally used to make milkshakes, smoothies, frappes, and sauces because they can quickly transform frozen fruit, vegetables, ice, and other difficult components like nuts into smooth and creamy drinks or soups. Although many versions can do more, a commercial blender's primary job is to make frozen beverages.
List Of 10 Best Commercial Blenders
| Image | Product | Feature | Price |
| --- | --- | --- | --- |
| Editor's Choice | Vitamix Professional Series 750 Blender | Automated Blending and Self-Cleaning. Low-Profile 64-ounce Container, 5 pre-programmed settings, Variable Speed Control, and Pulse feature. Electrical Ratings – 120 V, 50-60 Hz, 12 Amps. | Check On Amazon |
| Runner Up | Blendtec Designer 625 Blender | Reduced motor noise due to internal baffling. No Chopping Prep. BPA-Free WildSide+ jar is a 90-ounce volume jar with a 36-ounce capacity and a mini 46-ounce volume jar with a 24-ounce capacity. | Check On Amazon |
| Highest Rated | Ninja BL660 Professional Countertop Blender | 1100 watts power, 3 speeds, pulse, and single-serve functions. Dishwasher safe and BPA free parts. 72 ounce total crushing pitcher and two 16 ounces Nutri Ninja cups with lids. | Check On Amazon |
| Premium Quality | Breville BBL920BSS Super Q Countertop Blender | Powerful 1800 Watt motor. The Vac Q removes air from the jug before blending. 5 Pre-programed options and 12-speed settings. Ultra-quiet with 10 Years warranty. | Check On Amazon |
| Budget Friendly | Cleanblend Commercial Blender | Inexpensive choice, 1800w blender's variable speed control. 9 Pre-programed settings, 8-blade sealed ball bearing, stainless steel blades, and BPA-free pitcher. | Check On Amazon |
| Heavy-Duty | Vitamix 36019 Quiet One Blender | Expensive and heavy-duty blender. Polycarbonate container with a capacity of 48 oz. 6 program buttons and magnetically attached back to save cleaning time. Made in the United States. | Check On Amazon |
| 9 Speeds Motor | KitchenAid High Performance Series Blender | 9 Variable speeds, powerful 3.0 peak HP motor, and tamper. One dial and two switches. Tamper helps blend the ingredients efficiently. Includes Blender, Jar, Lid, Tamper, and Ingredient measuring cap. | Check On Amazon |
| Popular | Hamilton Beach Commercial | Popular Kitchen Brand. Powerful 3 HP motor and timer with automatic shutoff feature. Compact break-resistant polycarbonate jar. Durable all-metal drive clutch. | Check On Amazon |
| New Arrival | Wantjoin Commercial and home Professional Quiet Shield Blender | Powerful blades and 2200W motor with dual direction technology. 38000 RPM speed, built-in Pulse, and 15-speed controls. Large capacity pitcher 80oz (2.2L, 8 Cups). | Check On Amazon |
| High Power | Blendtec Commercial CONNOISSEUR 825 Blender | FourSide Jars are long-lasting and BPA-free (2 included). Jars are lightweight and stackable. It is completely safe to use and clean. Commercial Motor with Extremely High Speed. | Check On Amazon |
Commercial Blender Reviews In Detail:
01. Vitamix Professional Series 750 Blender
The Vitamix Professional Series 750 Blender is a heavy-duty blender with unrivaled fine-tuning via delicate manual control, as well as a wide range of clever pre-programmed settings, excellent power, and high-quality components.
This blender features a powerful motor and great, user-friendly buttons, featuring pre-programmed settings and complete manual control. A 2.2-horsepower max motor provides power, and the stainless steel blades can readily spin fast enough to friction heat soups and other mixes. Like the rest of the Vitamix industrial blenders, this model includes a self-cleaning option that saves time.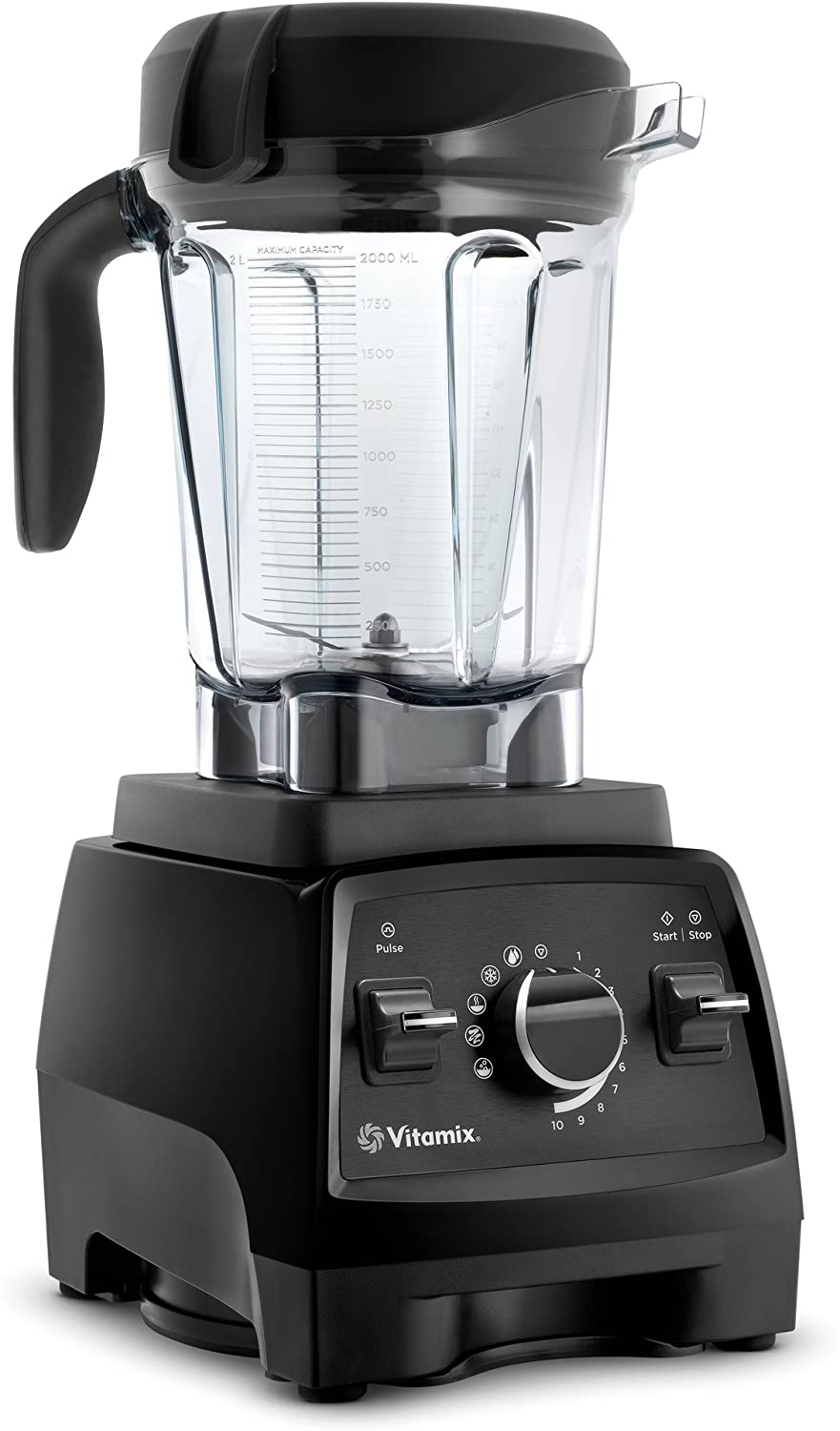 Self-detect technology is another notable characteristic of this type which implies that the blender can automatically adjust to varied container sizes. You might also be interested in the finest vacuum blender models for even more high-tech mixing. It is one of the best commercial blender for smoothies.
Pros
Blade friction heating capability
Adjusts for holder size automatically
Timing and remote control capabilities are available via a smartphone app
Cons
This isn't the quietest professional-grade blender available
It doesn't come with as many extras like some other blenders
This pro-grade blender was designed to withstand the demands of busy juice shop and coffee shop environments, but it is also durable enough for preparing smoothies and shakes at home. It has a low-profile pitcher with a capacity of 64 ounces, enabling large quantities.
02. Blendtec Designer 625 Blender
Blendtec is a household name in the kitchen appliance market, and rightfully so. Their 625 model comes with a slew of useful features that will make your life simpler. The powerful 3-horsepower engine allows the blades to glide easily through whatever meals you put inside.
If you've contemplated utilizing your blender as a soup maker, the Blendtec 625 will make the process easier because it can heat and cook the soup while you're making it. Because of the eight-year warranty, this blender is an investment that will pay you for years. Overall, we believe this is the best commercial blender on the market right now.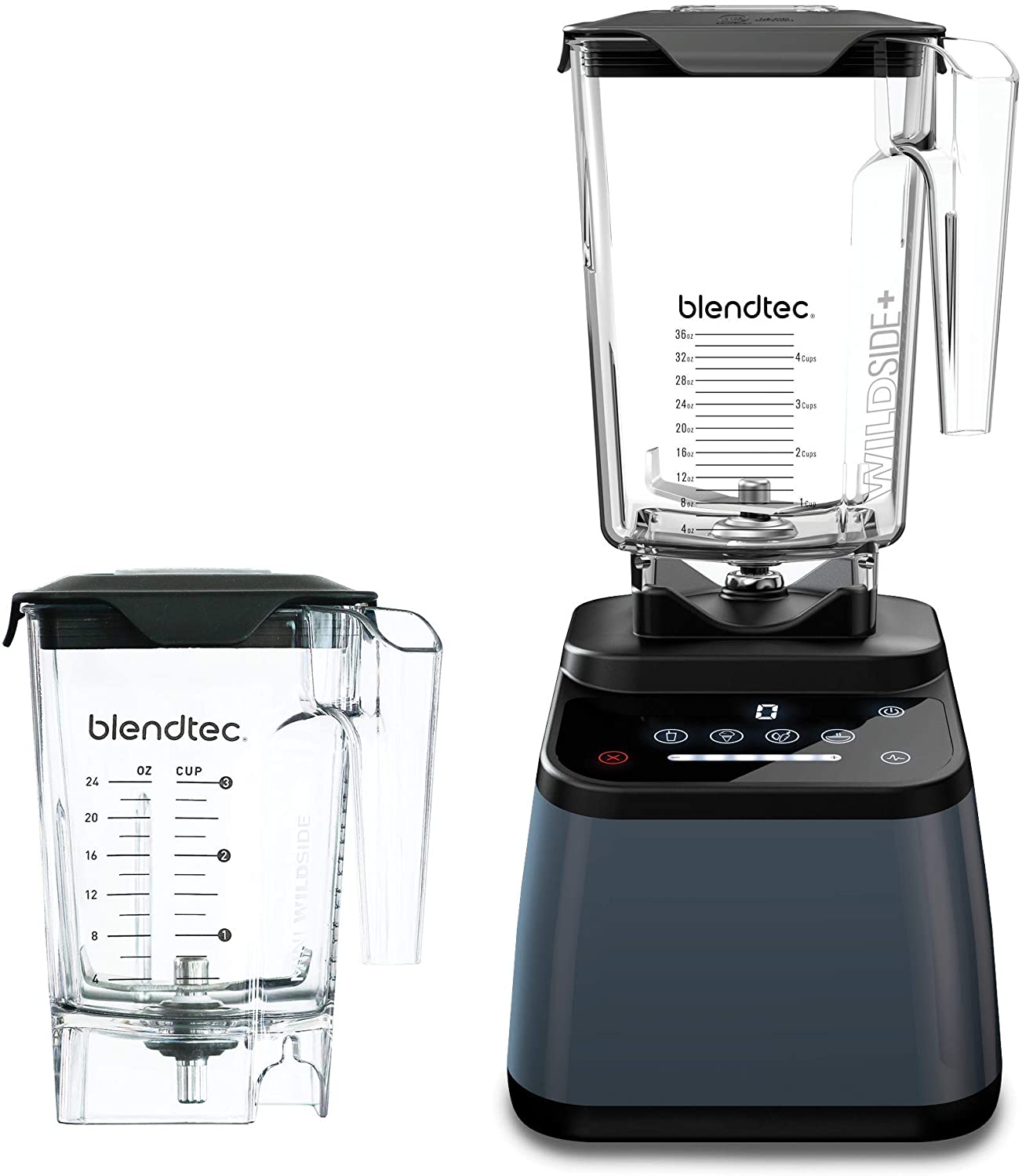 You'll have plenty of room to produce as much smoothie, soup, or anything you like with the two glass blending containers provided. If you don't like cooking numerous little batches, the bigger container's 90-ounce size means you can throw everything in at once and finish your dinner in one sitting.
Pros
Blending container with a capacity of 90 ounces
Three-horsepower motor
Soup can be cooked in the blender
A guarantee of eight years
Two mixing containers are included
Cons
Not the quietest blender on the market
The price is high
Despite its many advantages, this blender is not without flaws. To begin with, you're paying a premium for this extensive feature set. Additionally, this is not the quietest blender of its kind on the market. If you're seeking a calming addition to your kitchen, look elsewhere.
03. Ninja BL660 Professional Countertop Blender
This 700-watt personal blender, which comes with two 16-oz NutriNinja portable cups with resealable lids, can mix frozen fruit and shatter ice nearly as effectively as a full-size countertop blender. Six blades made of stainless steel Dishwasher-safe pitcher with a 72-ounce capacity
Furthermore, virtually all of the container and attachment materials in this model, including the pitcher, cups, and to-go cup lids, are dishwasher safe, making cleanup a breeze.
It has Auto-iQ technology and a variety of programs for various recipes. The pitcher may also be washed in the dishwasher, making cleanup a breeze. This might be the greatest countertop blender with professional skills if you're seeking one.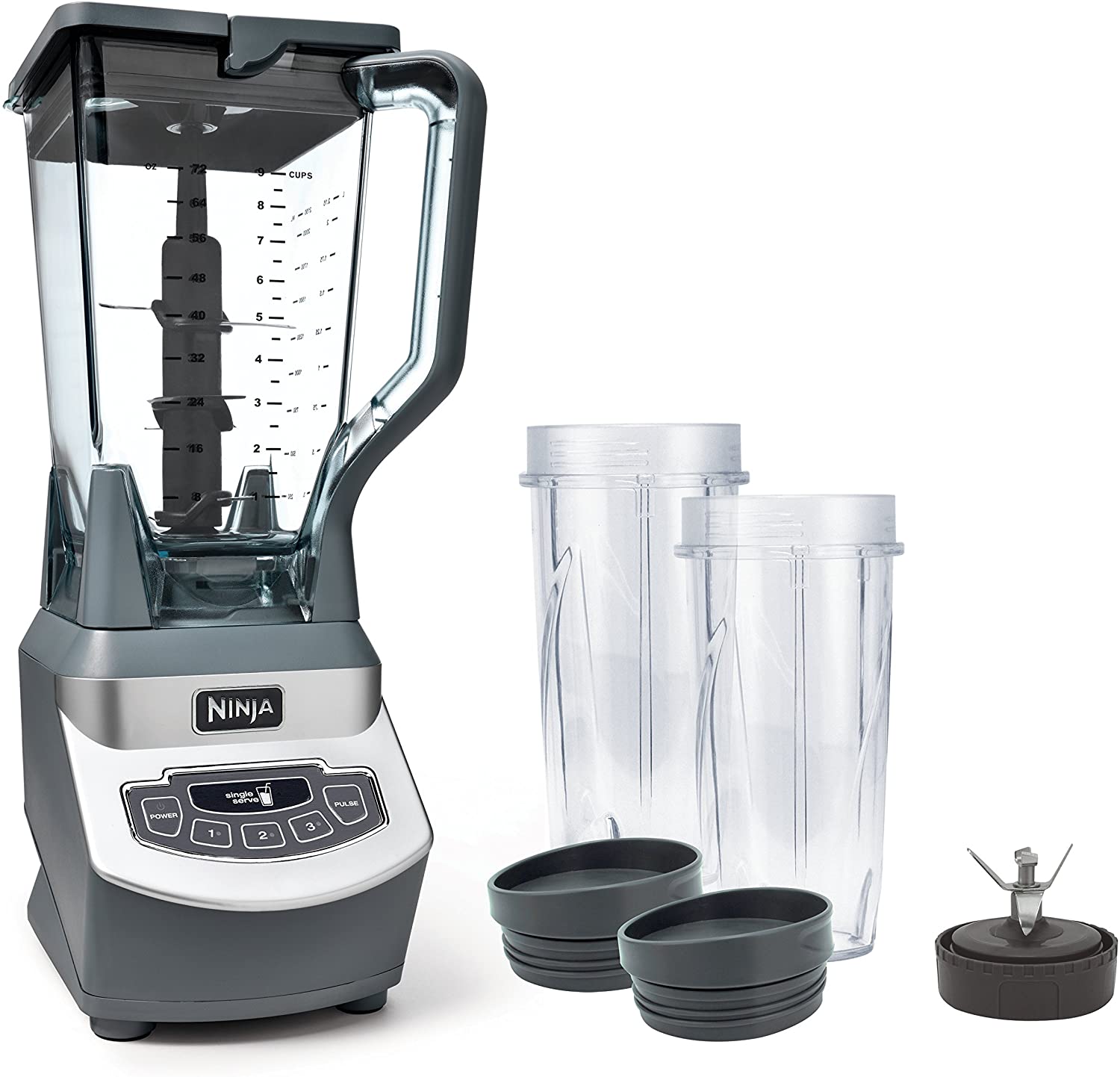 This Ninja Professional blender features a strong engine, six blades that smash ice into snow in seconds, and a huge 72-ounce capacity, making it ideal for large quantities of frozen beverages. There's also an 8-cup food processor attachment and a pair of to-go cups included. With its 1500-watt motor and simple one-button settings for dough, mix, and crush, the Ninja offers many adaptabilities while still delivering capable performance.
Pros
The maximum liquid volume is 64 ounces
Inexpensive
2 Nutri Ninja cups are included
The motor is rated at 110 watts
On the pitcher and cups, there are measurements and a maximum capacity labeled
BPA-free
Cons
It's a bit complicated to use
Can't make hot soups
A bit noisy
04. Breville BBL920BSS Super Q Countertop Blender
The Breville Super Q BBL920 is the newest and most powerful premium blender, competing with Vitamix and Wolf Gourmet premium blenders.
The Vac Q vacuum pump removes air from the Super Q for a smoother texture, brighter colors, and improved flavor. Breville is excellent for "green smoothies, pestos, dips, and soups."
The Super Q has a 1,800-watt motor designed for quiet operation, 7 blender base colors. Featuring five automatic modes, 12 manual modes, a 24-ounce blender cup with a lid and blades for batch-size blending on the go, and a 68-ounce blender jar, it also works with Breville's separately sold Vac Q vacuum.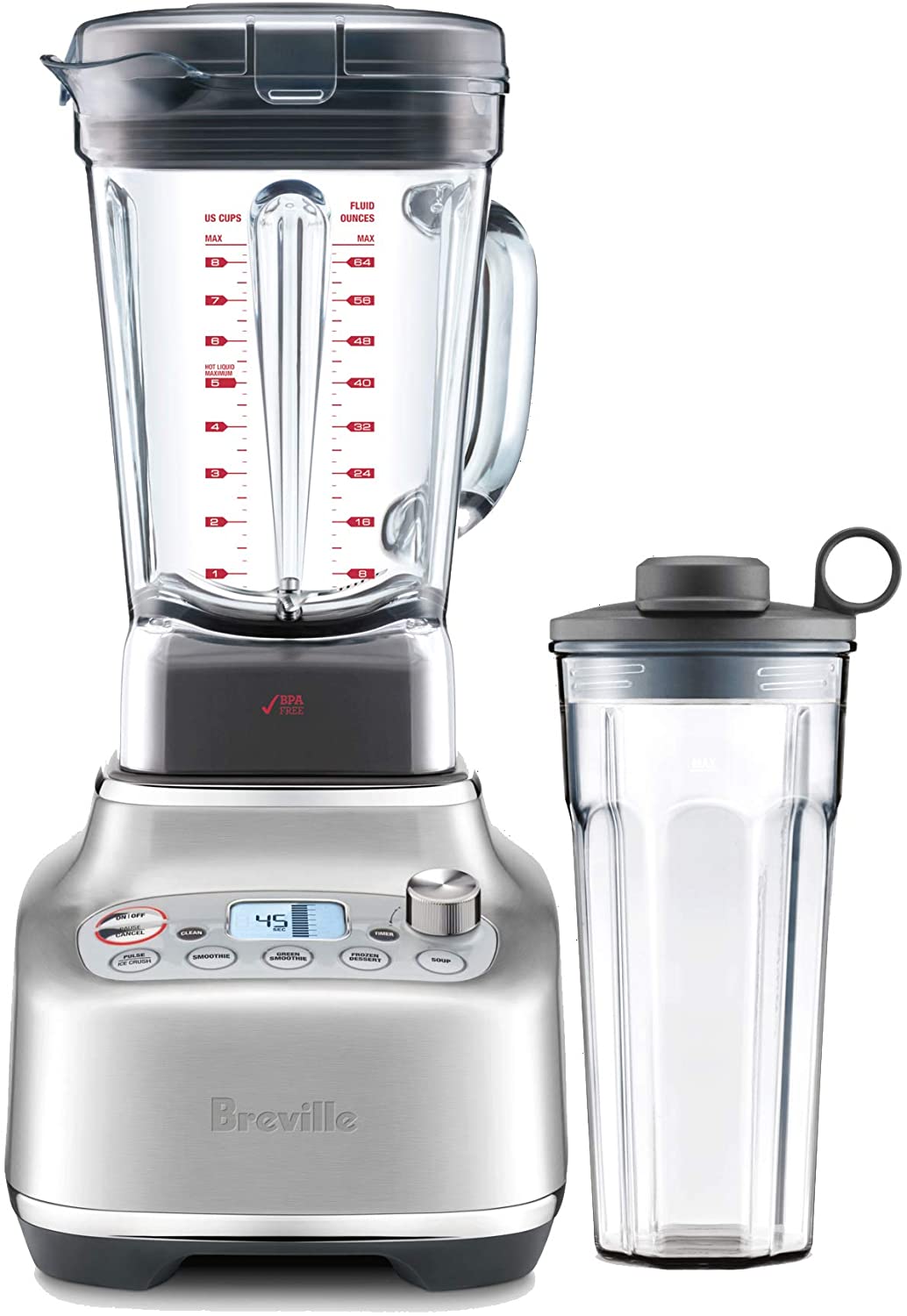 The Breville Super Q blender jar is a 68-ounce (2-liter) copolyester jar that is shattered, impact-resistant, and devoid of BPA. The Super Q comes with an extra 24-ounce blender cup, lid, and blade assembly, which is unusual among premium blenders because none (or virtually none, depending on how you define them) feature a personal blending cup.
Pros
Powerful Motor: 2.4 HP
A personal cup is included
LCD (liquid crystal display) display
Dishwasher-safe and BPA-free
The warranty is for ten years
Cons
There is no vortex action to process the ingredients evenly
Personal cup has a maximum blend time of 30 seconds
05. Cleanblend Commercial Blender
If you need a heavy-duty blender but don't want to spend a lot of money, the CleanBlend Commercial Blender is an excellent choice. It's an excellent low-cost blending machine for your food truck or back-of-the-house puree equipment.
I'd want to emphasize right away that it's not suitable for use as a bar blender. It's too noisy to make smoothies or milkshakes in a restaurant atmosphere. It has a decibel level of 90, which is comparable to the sound of a lawnmower. With this type of loudness, you'll scare away your clients.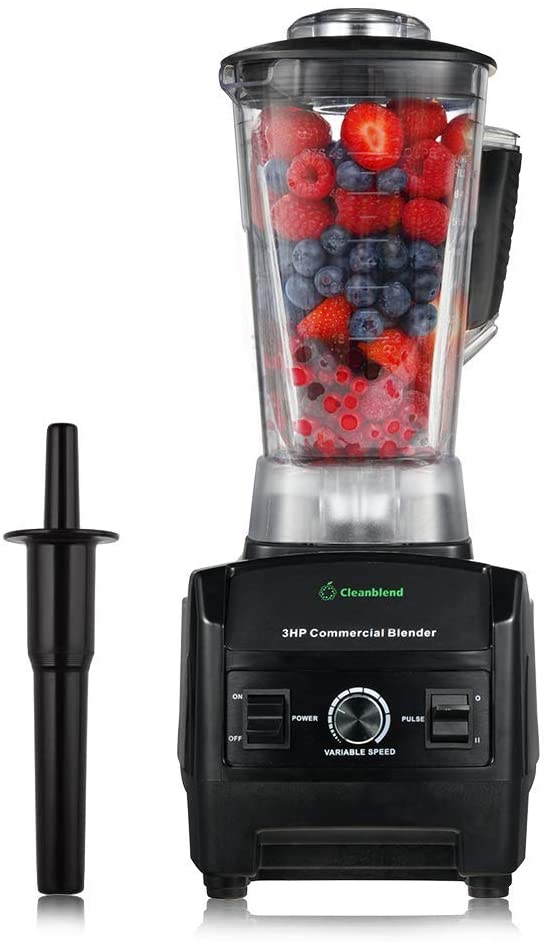 Let's get to the cool stuff now.
When you buy this low-cost industrial blender, you will receive a 64 oz (1.9 L) BPA-free container as well as a food tamper. The best thing is that it comes with a 5-year product warranty. It will be considered as one of the cheapest commercial blenders for smoothies.
Pros
Affordable price
Long lifespan
Strong 3-HP motor
Five-year warranty
Cons
Some food gets caught due to the blade design
Blending container made of plastic
The Cleanblend has a 3 horsepower motor that is just as powerful as the Vitamix The Quiet One. According to the firm, it can pulverize anything in its path. It's ideal for smoothies, milkshakes, pureeing soups, nut butter, sauces, and similar applications.
06 Vitamix 36019 Quiet One Blender
The Vitamix The Quiet One is a widely used commercial blender among small and large business owners. If you've lately visited Starbucks, you've most likely seen this mixing machine.
The noise reduction technology is the most compelling argument for purchasing this big commercial-grade blender for your smoothie bar company. Its enclosure efficiently reduces the noise to a more bearable level.
This blender also features many manual controls, with 93 distinct speed settings to mix everything from light juices and margaritas to thick shakes, smoothies, and malts. However, it lacks the flexibility of certain other high-performance blenders aimed for the home kitchen, particularly when it comes to food preparation. It's a strong candidate for the finest frozen drink blender!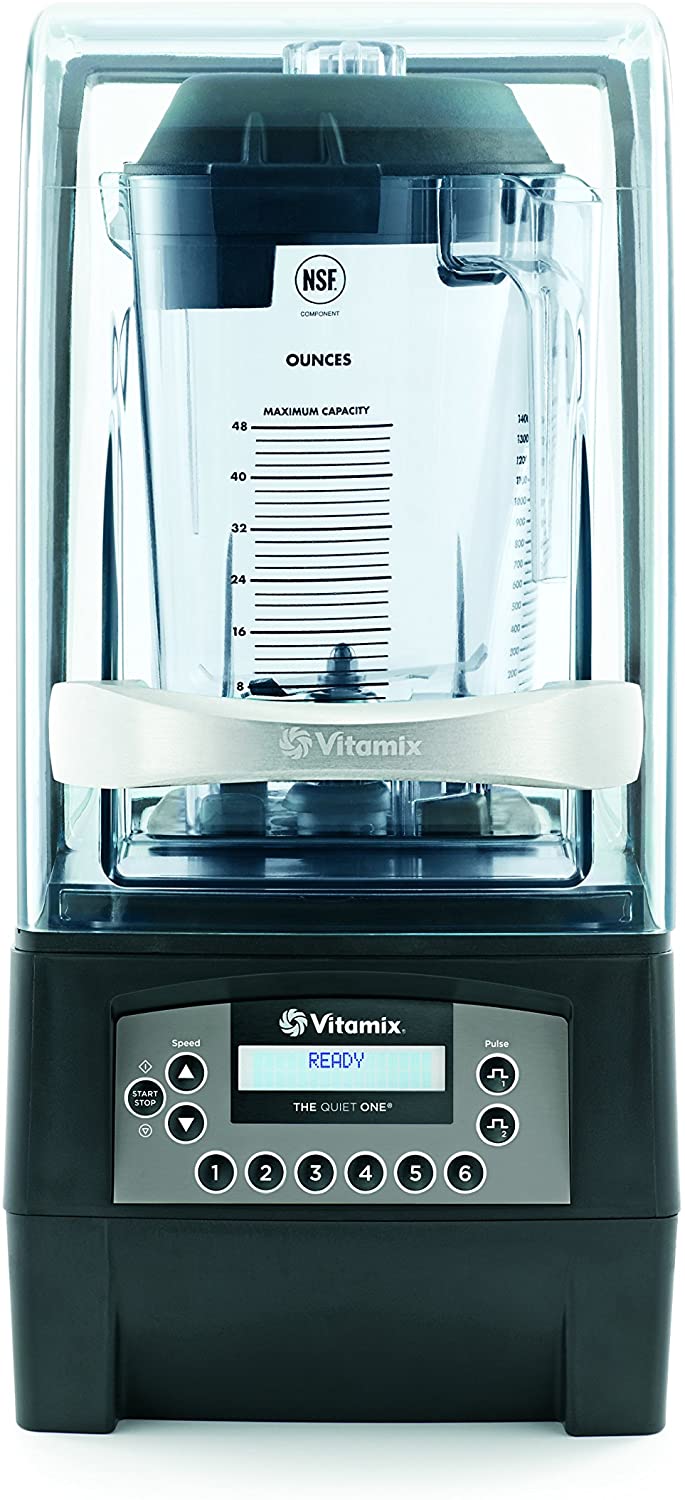 This model includes a vibration-reducing shell that reduces noise and enables a quiet atmosphere behind the counter or in the kitchen. The same motor powers it as previous Vitamix professional blenders. It is equipped with high-performance, long-lasting hardened steel blades, a 48-ounce pitcher, and 34 pre-programmed cycle modes, making it one of the most competent professional ice blenders on the market.
Pros
Quieter than other Vitamix blenders
34 programmed beverage settings
Easy pour pitcher design
Ultra quiet
Cons
The size of the pitcher is restricted by the enclosure.
Demo cons here
07. KitchenAid High Performance Series Blender
KitchenAid has a long history of producing kitchen equipment, dating back over a century. It has been creating blenders for almost 30 years, and models from its line frequently appear on our top blender list.
The KitchenAid High-Performance Series Blender, at $429.99, is also too costly. It's excellent for heavy-duty blending jobs that need a lot of muscle, such as mixing a variety of stiff fibrous materials. However, if you're searching for a blender that can even chop nuts, this is one to avoid because its attempts left us dissatisfied.
The KitchenAid High-Performance Series Blender is no different. It's one of KitchenAid's most powerful blenders, designed to be an easy-to-use, no-nonsense kitchen gadget. It comes with a 60oz/1.75-liter plastic pitcher and a die-cast metal base. It's meant for experienced cooks rather than beginners in the kitchen, with 10-speed options but no auto programs.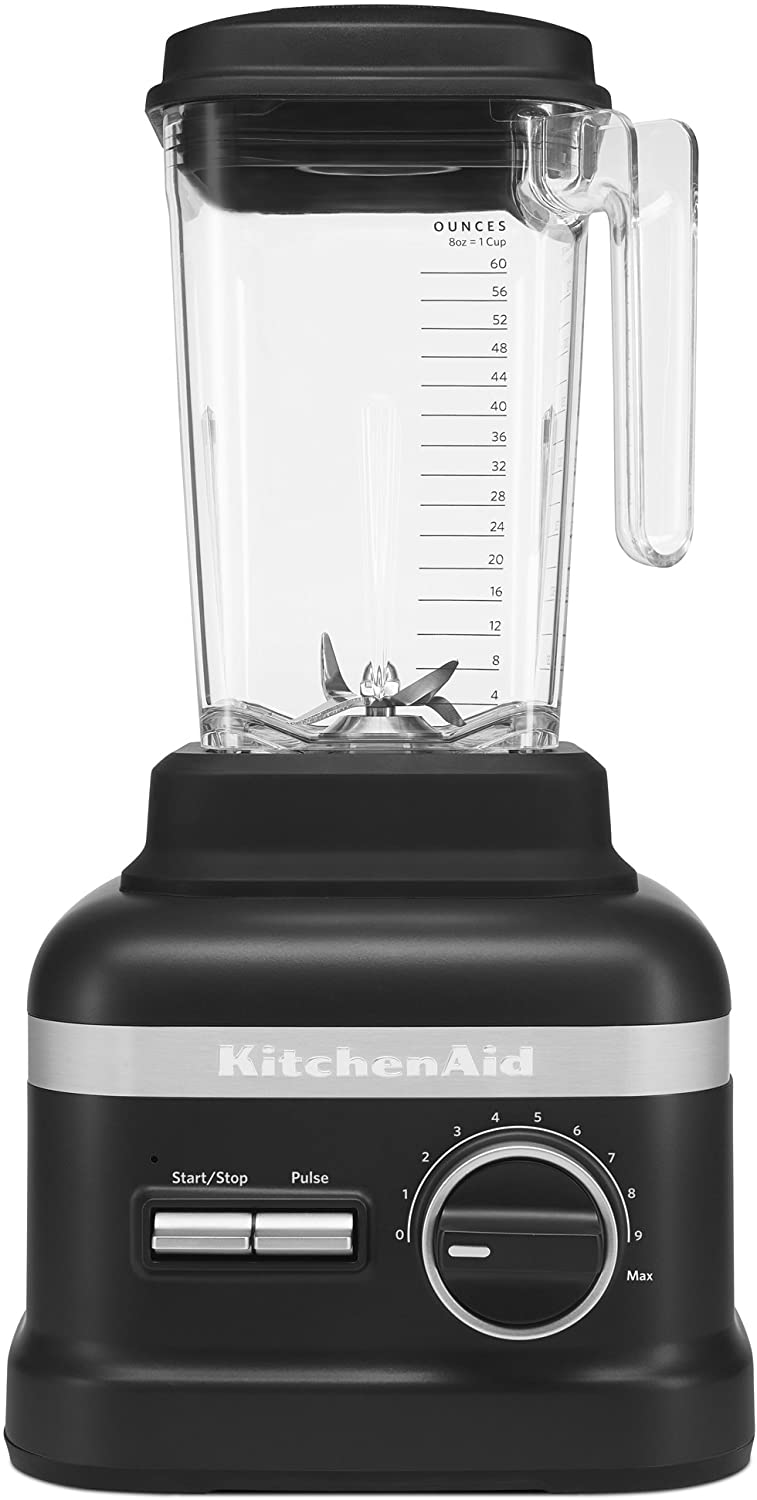 Pros
Die-cast metal base
Variable speeds
3.0-peak-HP motor and tamper
10-year replacement warranty
Cons
Costly
Big and bulky design
The user has a lot of flexibility over the speed parameters for anything they choose to make. KitchenAid isn't targeting the smoothie crowd with this equipment; it's for professional cooks. There are no additional blending cups or smoothie attachments included or sold separately.
08. Hamilton Beach Commercial Blender
The Hamilton Beach Commercial high-performance blender line's workhorse is the 3 horsepower Fury, which comes with a stackable 64-ounce polycarbonate container and proprietary WaveAction technology. Ordinary blenders spin contents around the jar's walls, leaving entire chunks undisturbed by the blades.
Paddle switches are long-lasting and simple to use. Operators can focus on other activities with the help of a timer with automatic shutdown.
Ordinary blenders rotate contents around the jar's walls, leaving entire pieces of food unaffected by the blades. The Wave Action System circulates the ingredients through the stainless steel blades, resulting in perfectly smooth contents.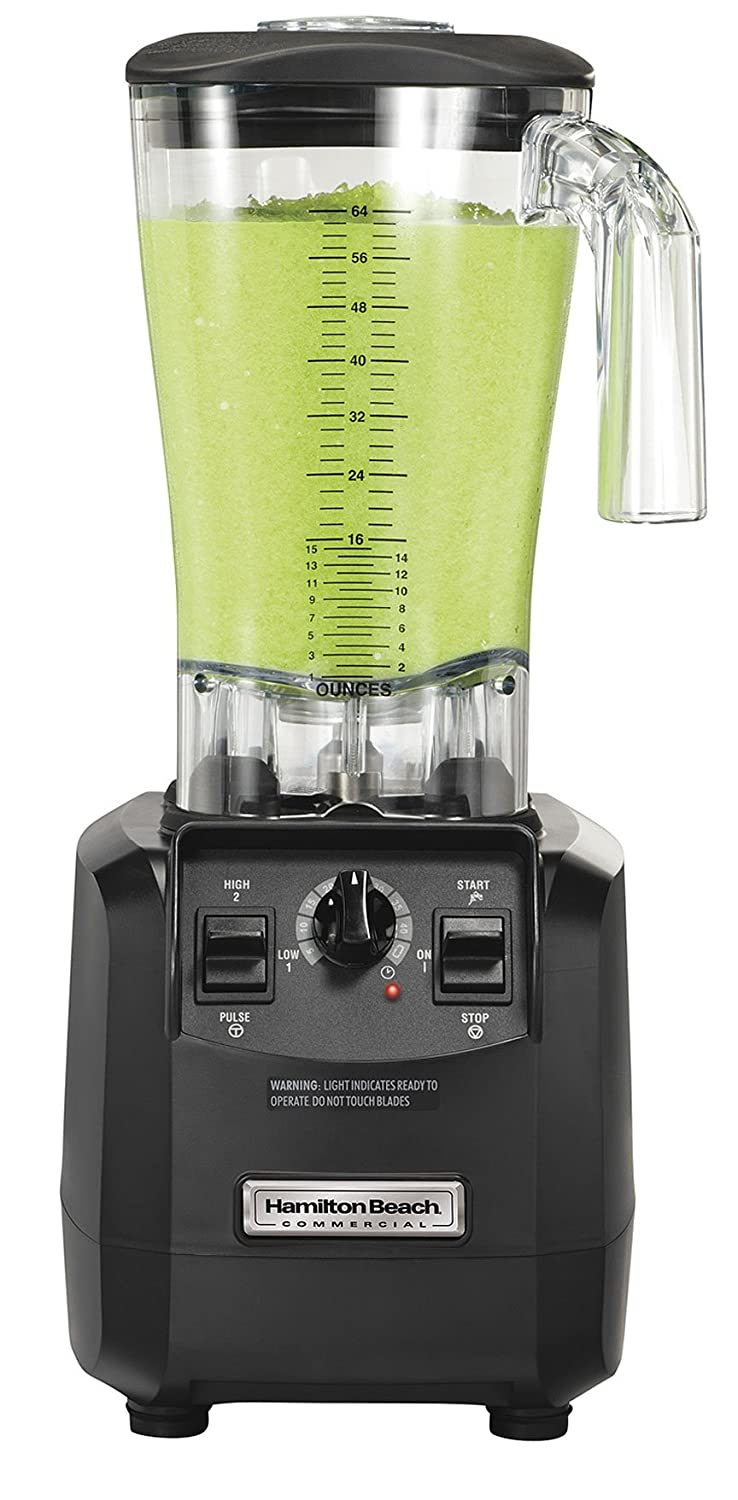 The WaveAction System continually pushes components down into the blades, converting ice from granita to a highly creamy drink profile. The Fury's big paddle switches make running the power blender quick and straightforward in busy environments, and the customizable timer helps with drink consistency while freeing up workers to multitask. The motor's long-lasting all-metal drive connection meets the needs of even the busiest bars.
Pros
5-years warranty
Quiet operation
Cons
Short lifespan means you might need the warranty
A 3-year parts and labor warranty is included with this device. We will deliver a free replacement unit (if necessary) for the first two years as part of our Express Care service to keep your business up and running.
09 Wantjoin Commercial and home Professional Blender
Wantjoin's silent and soundproof shield professional blender reduces noise when blending and spatter and leakage. This heavy-duty industrial blender comes with a large-capacity pitcher (80oz, 2.2L, 8 Cups), ideal for a family or a party. And it's simple to deal with smoothies, ice cream, salsa, sauce, almonds, hummus, shakes, and infant food, as well as fitness enthusiasts.
Wantjoin's professional countertop blender has a strong blade and a 2200W motor, as well as dual-direction blade technology, to provide powerful blending and constant energy. 38000 RPM, built-in Pulse& 15-speeds control, high-speed professional countertop blender for shakes and smoothies for your preferences.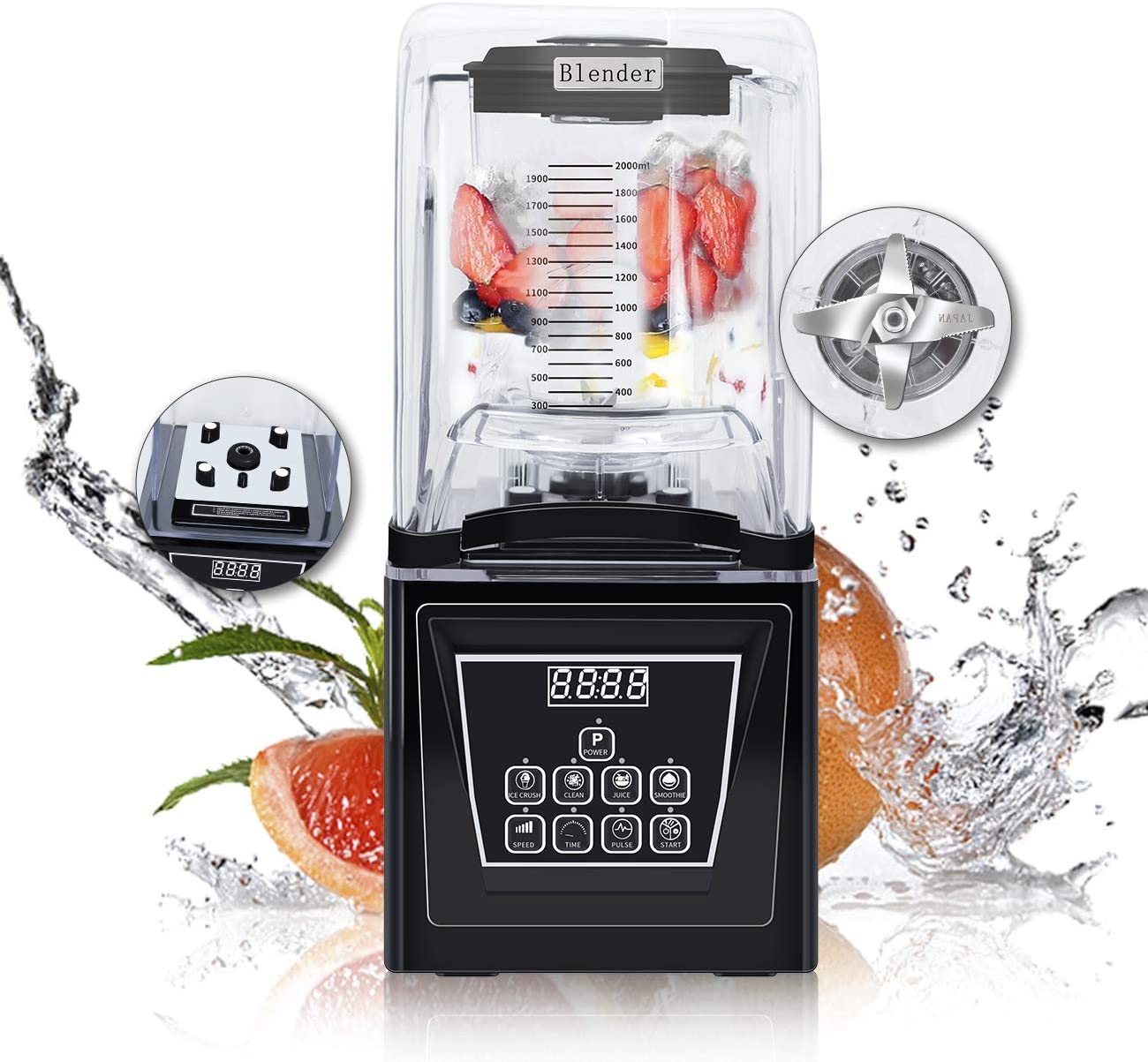 Wantjoin's professional silent blender has a fantastic ice-crushing effect, and you can smash ice into a slushie consistency, making it ideal for shakes and smoothies. It has an elegant appearance and a shield cover, which helps reduce noise and satisfy the needs of restaurants, hotels, snack shops, cafés, coffee shops, bars, and any other establishment that would benefit from a peaceful, customer-focused atmosphere.
Pros
Heavy-duty commercial specs
Very powerful 3.5-HP motor
Quiet Shield
Cons
No pre-programmed controls
10 Blendtec Commercial CONNOISSEUR 825 Blender
Blendtec Commercial CONNOISSEUR 825 Blender is intended for use at the "front of the house," where consumers will see it. Because high-speed blenders are noisy, noise is a major problem for company owners. The Connoisseur sound dampening enclosure may reduce noise by up to 50%, allowing customers and staff to converse.
The blade is made of stainless steel and is built into the jar. Blendtec has a unique blunt blade design that won't become dull over time or harm consumers. According to Blendtec, this blade is 80 percent thicker and 10 times tougher than its competitors, assuring effective and quick mixing.
For fast mixing, the 3.8 peak horsepower motor is more than enough. Many blenders can overheat, tripping the internal circuit breaker, preventing you from using it until it cools down. The Connoisseur 825 is a high-volume blender that can produce over 150 blends per day without requiring chilling time.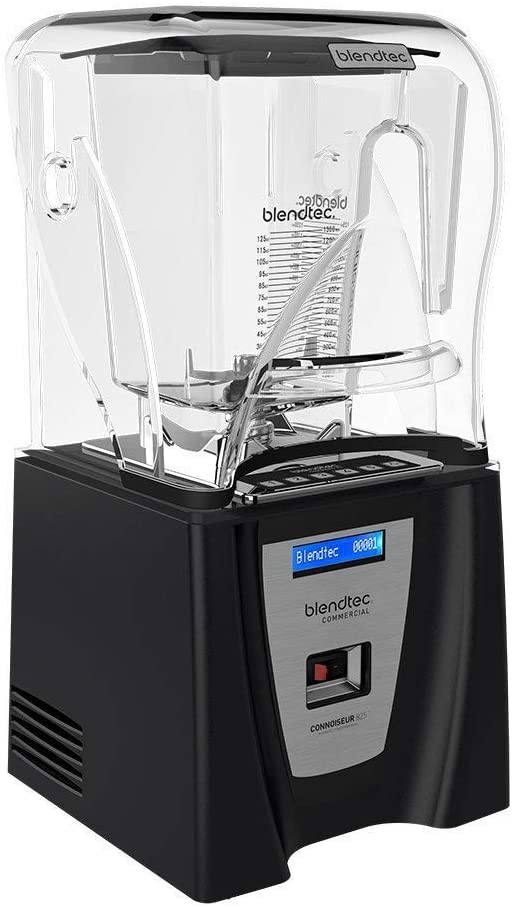 Its square shape ensures that it does not move when mixing and that it is sturdy enough to operate hands-free in a high-volume situation. It may also be installed under the counter to conserve space. The weight of the person is 16.8 pounds.
Pros
Motor with max horsepower of 3.8
Noise is reduced by a fully enclosed sound dome
The online BlendWizard tool for building bespoke programs has 42 pre-programmed cycles
Any raw or frozen item, even ice, maybe readily pureed. Nut butters, soups, sauces, and other food preparation activities may all be done with it.
How We Made Our Decision:
u003cliu003eWe searched for models with proven longevity, high performance, and exceptional material quality while selecting the best heavy-duty industrial blender. We sought a blender with a motor capable of producing at least 1200 watts or 2.0 peak horsepower. A powerful cooling system was also deemed advantageous.u003c/liu003e
u003cliu003eWe chose blenders with dishwasher-safe jars, lids, and rotating components since they were the easiest to clean. We looked for easy controls and programmable functionality that would allow you to quickly make ice blended coffee, smoothies, and other frozen beverages. A pulse function was viewed as an added feature.u003c/liu003e
u003cliu003eWe only examined models with BPA-free pitchers and inbuilt overheat protection for safety, as well as high-performance motors and blades, when looking for the finest industrial blender on the market today. Blenders with well-designed controls and pre-programmed settings for typically blended drinks were given priority.u003c/liu003e
u003cliu003eFinally, we looked at the accessories that came with the package. Spill-proof travel lids, food processor attachments, and additional single-serving cups were among the items we searched for.u003c/liu003e
Read Also: 10 Best Blenders Of All Times.
How to buy the best commercial blender? (Buyer's guide):
We examined the 10 top industrial blenders on the market right now to see how they stack up. But how are these comparisons being made? What are the essential characteristics to look for in a new blender, and what should you keep in mind while shopping for one? In this part, we'll go over everything you need to know about blenders so you can make an informed decision about which one is right for you.
Material of the container:
Blender containers are now manufactured of various materials, the most popular of which are glass and BPA-free plastic. Despite the fact that both are dishwasher safe and easy to clean, there are reasons to favor one over the other. Plastic may absorb some of the odors or flavors of the items you put in it over time. This is the most significant disadvantage of plastic mix containers and the primary reason why you should choose a glass one instead. Of course, glass is more easily broken. Glass blender containers, on the other hand, are typically thick and strong, so breaking shouldn't be an issue.
Price:
In most cases, you will not justify the cost of a high-quality blender unless you'll be using it regularly. Others will use the blender regularly and consider it a necessity in both culinary and social activities. Regardless of your preferences, we have alternatives in every price range that will meet your requirements.
Power:
What good is a blender if it cannot properly mix its contents? Look for a blender that has enough strength to chop through leafy leaves and ice easily. Motors with a horsepower of two or more will give plenty of acceleration. However, with so many models available at a strong 3HP, it's worth looking at the ones with the extra power.
Capacity:
There may not be a need for enough capacity to serve a full party, but most people want to feed a family or at least more than themselves. In the blender, vegetables, especially leafy greens, tend to take up a lot of room. If you've ever struggled to get enough food into your blender's container, you'll understand the problem. The capacity of a blender varies a lot from one model to the next. The container size ranges from 32 ounces to 90 ounces on this list alone. You'll need to figure out how much capacity you believe you'll need for the typical serving size you'll be making.
Performance of Motor:
You'll want a blender with a high-performance motor if you want to make smoothies from entire frozen fruit, smash ice cubes, and handle heavy powders and nut butter without stalling. We recommend searching for a constant power output of at least 1200 watts or a peak output of at least 2.0 horsepower.
Coupling for Metal Drive:
Many top professional blenders use an all-metal drive connection rather than plastic drive gear to enhance longevity. This allows power to be transmitted to the blades more smoothly and effectively, minimizing wear and tear and improving performance. Vibrations and undesired noise are also reduced by using a rubber-isolated metal-bearing connection.
Warranty:
Blenders have a difficult job to do. They must accelerate from a standstill to extremely high speeds while generating enough power to shatter things like ice cubes. This can result in a lot of wear and tear, resulting in a short lifespan for low-quality blenders. While not always a direct measure of quality, an extended warranty typically indicates that the firm stands behind its product and expects it to last a long time. Some blenders only come with a one-year guarantee. Others provide coverage for up to eight years. The longer your blender's warranty is valid, the more your investment will continue to pay off with excellent service.
Design:
The conflict between form and function is as ancient as time. When it comes to aesthetics, everyone has their own opinions on whether or not it matters. For many people, the kitchen is a focal point of the house. As a result, most individuals choose a well-designed kitchen with attractive appliances. However, not everyone leaves their blender out. If your blender spends the bulk of its time hidden in a cupboard, you may not give a damn about how it looks. If you use a blender regularly, on the other hand, yours probably has a permanent position on the counter. In this situation, you'll most likely want to seek a blender that matches the present aesthetic of your kitchen. While some blenders appear very laborious, some have attractive designs that look well at home in the open.
Ultra Quiet Feature:
No matter if you're at home cooking breakfast or a social gathering surrounded by people, you don't want your blender to be too loud so that it disturbs the people around you. While mixing solid ice cubes will never be completely silent, certain blenders can help reduce the amount of noise produced. Built-in sound dampening technology can assist reduce motor noise significantly. Some blenders come with sound control enclosures that surround the blending pitcher and keep the noise contained while in operation. This can reduce the noise to the point where it is no longer bothersome. If noise is one of your primary concerns while shopping for a blender, look for these characteristics.
Frequently Asked Questions
What blender do professional chefs use?

Vitamix is the industry standard for professional-grade blenders, according to most chefs around the country. Although Vitamix blenders are more expensive, they have unrivaled power and can puree even the hardest ingredients (hello, almond milk!).

Is Vitamix the best blender?

Vitamix blenders are usually regarded as the best in the industry, and their high cost reflects its track record of success. I was blown away by how simple the Vitamix was to operate right out of the box, as well as the vast range of jobs it could perform that would typically need a heavy-duty food processor or stand mixer.

Which is better, a glass or plastic blender?

Most professional blenders have high-capacity, heavy-duty plastic or polycarbonate pitchers as standard, depending on the intended application. Some companies also sell heat-treated glass pitchers. Look for a BPA-free, heat-safe, and dishwasher-safe blender jar for long-term use and safety.

How powerful should a blender be?

A good blender will have a wattage of 1200 to 1500. Blenders of professional quality are for the genuine blending aficionado. Blending is a key element of certain people's lifestyles or diet plans that they must follow on a regular basis; thus, textures become quite significant.

What is the best heavy-duty blender?

A heavy-duty commercial blender with robust metal blades and high-quality couplings, as well as a strong motor with excellent airflow for cooling, will be the ideal option. This is particularly essential for blenders who blend large quantities and may have some downtime between jobs.

What are commercial blenders used for?

Commercial blenders are made for high-volume kitchens and restaurants. These blenders are also extremely long-lasting and can easily withstand regular use. A commercial blender is used to make smoothies, crush ice, make milkshakes, mix drinks, and make soups, sauces, and dressings.

What types of blenders are used in restaurants?

Durability, performance, pricing, and noise are all factors that most restaurants evaluate when purchasing a commercial blender. Pitcher sizes also play a factor since some are easier to accommodate on packed countertop or bar areas than others.

Which blender is an alternative to Vitamix?

Try the Blendtec if you're searching for a blender that can compete with Vitamix in terms of settings. Soup and ice cream can be made in a matter of minutes. The Breville is also a good option and it can create a soup for you with only one button press.

 How many watts blenders are good?

If you're looking for a handheld blender, seek one with a power output of at least 100 watts. Although a 100-watt immersion blender is cheap, it may be limited to mixing liquids. Most countertop blenders contain approximately 700 watts of power, which is more than enough for a regular blender workload.
Final Verdict:
Managing a company is a difficult task. To satisfy your consumers' needs, you'll need the right people, the appropriate plan, and the right equipment.
Although every blender on this list is a good one that will do the job, various characteristics and skills distinguish some of them from the rest. For a variety of factors, we chose the Blendtec 625 as the finest overall blender. An industry-leading eight-year guarantee backs up the appliance's extended lifetime and durability. Because of the huge 90-ounce mixing capacity, you can feed even big parties with only one serving. It's just frosting on the cake that you can cook as you mix.
The Breville Super Q Countertop Blender, which comes with a ten-year guarantee, comes in second place for the best value. It's simple to understand why, with a long lifespan, strong 3-HP engine, and 64-ounce mix capacity, all offered at a low price. When money isn't an issue, we offer the Vitamix Quiet One as our premium pick. It's one of the quietest blenders on the market, with built-in dampening and a silent shield enclosure for people who don't want their AM smoothies to wake up the whole house.
Hopefully, this information has assisted you in your search for the best commercial blender.
---