Best Beach Chair To Buy This Year
A quality beach chair may make a trip to the beach even more comfortable. Why lay flat on hard sand when it's practically impossible to drink your water or read a decent book without causing pain to your neck or back? Bringing a strong chair to the beach instead can solve those issues.
The Best Beach Chair is a product that you can use to relax on your vacation or at home, and it's also very important if you want to have fun while enjoying yourself. Many types of beach chairs are available today, but not all of them will be good enough for you because they may not fit well with what you need. That's why we decided to write this article about the top 12 best beach chairs in 2022 so that you can make sure that you get one that suits your needs perfectly. After reading our review, we hope that you will know which type of beach chair is perfect for you. So let's start by looking at the list below.
In a Hurry? Check out our top 3 picks for the best beach chair.
Different Types of Beach Chairs
1. Beach Chairs with a canopy:
Canopy chairs are available in a number of styles and are available as a set. You will receive the chair as well as an umbrella or cover. On some models, the two are inextricably linked. The umbrella or canopy can be removed on others, making transporting the set easier and more practical.
2. Foldable Backpack Beach Chairs:
This is the most basic and common sort of beach chair. These are usually relatively light (often made of aluminum, but you may also find folding plastic or wooden beach chairs) and simply upholstered, with most having a mid-range (9″ -12″) seat height.
Given that these are simple, no-frills chairs, most don't have any adjustment mechanism that lets you vary your sitting angle or position. What you see is what you get.
3. Zero-Gravity Reclining Chairs:
These high-end reclining models have ergonomic features like neck pillows, lumbar cushions, and even Zero-G seats. This third feature is uncommon and raises the chair's price significantly, but it allows folks with chronic back discomfort to enjoy a day at the beach (important because most beach chairs are none too kind to people with back problems).
List Of 12 Best Beach Chairs In 2022
| Image | Product | Feature | Price |
| --- | --- | --- | --- |
| Editor's Choice | GCI Outdoor Freestyle Rocker Chair | It is the Best Selling Beach Chair in 2022. Foldable, made from sturdy powder-coated steel, foldable chair frame supports up to 250 pounds and includes padded armrests, a mesh backrest, and beverage holder. | Check On Amazon |
| Amazon Choice | Lamberia Outdoor Folding Camping Chair | Portable high chair with a carrying bag. Strong metal X-shape supports and double layer durable 600D oxford. Support up to 330 lbs and has a cup holder and a storage pocket. | Check On Amazon |
| Quality Choice | RIO Beach Backpack Folding Chair | Adjustable backpack shoulder strap with large storage pouch, hands-free portability, and is lightweight to carry. 4-position easy-adjust recline options. Lightweight, rust-proof aluminum frame. | Check On Amazon |
| Newest Arrival | KingCamp Camping Chair with Cup Holder | Heavy-duty steel frame and oxford mesh fabric, durable and firm, long-lasting strength, support up to 330 lbs. Swivel cup holder and side pocket. Ergonomic back seat provides enough support for your shoulders. | Check On Amazon |
| Sunshade | GYMAX Canopy Camping Chair | Comes with a canopy in the up position for sun protection. Includes two cup holders for convenient storage, Padded armrest, and oversize frame ensure comfort. | Check On Amazon |
| Zero Gravity | Timber Ridge Zero Gravity Chair | Can be folded and unfold in seconds. Anti gravity chair supports up to 350lbs. Sturdy steel tube frame, premium quality elastic cord, and durable polyester. | Check On Amazon |
| Highest Rated | Kijaro Dual Lock Portable Chair | Portable Dual Lock chair, durable diamond ripstop polyester, and breathable mesh on the seatback. Includes: 2 cup holders, organizer with zip & mesh pockets, carry strap attached to chair, and carry bag. | Check On Amazon |
| Most Popular | Tommy Bahama Beach Chair | Adjusts To 5 Positions and Lays Flat Side Pouch with Drink Holder And Cell Phone Pocket. Weight Capacity is 300 lbs. Padded Backpack Straps, Folding Towel Bar. | Check On Amazon |
| ZG Canopy | Coastrail Outdoor Zero Gravity Sun Shade | Breathable mesh back panel. Smooth reclining action is stable and can be locked in place. Designed to fit both Large and Tall People with a high-back design and adjustable pillow. | Check On Amazon |
| Lumbar Support | STRONGBACK Low Gravity Beach Chair | Built-in Lumbar Support. Aligns your body posture to provide relief to your spine and ease tension throughout your back. Easy to use and lightweight. Improved locking system and enhanced connections. | Check On Amazon |
| Budget Choice | Coleman Camping Chair | Built-in 4 can cooler pouch. Fully cushioned seat and back. Comfortable 18.1-inch sitting height. Mesh cup holder and side pocket. Collapsible, folding design is easy to store and transport. Carry bag included. | Check On Amazon |
| For Kids | Baby Delight Go with Me Chair | Portable chair can be used from a baby (approximately 3 months) to a 75 lb. child and sets up in seconds. 5-point removable harness keeps baby secure and comfortable. | Check On Amazon |
Detailed Reviews of top best beach chairs in the market:
01. GCI Outdoor Freestyle Rocker Chair
This chair has a sturdy steel frame that is simple to set up and takedown, which may suit your needs for an outdoor chair. The rocking characteristics are solid and steady, and they can stand on any surface if you use them for camping or other outdoor activities.
The GCI Outdoor Freestyle Rocker was created specifically for relaxing. The structure of this chair well supports the rocking technology that the maker wished to offer to the user. There are various sorts of outdoor chairs to choose from, depending on your needs. This is one of the chairs that you should look at because it can catch your eye.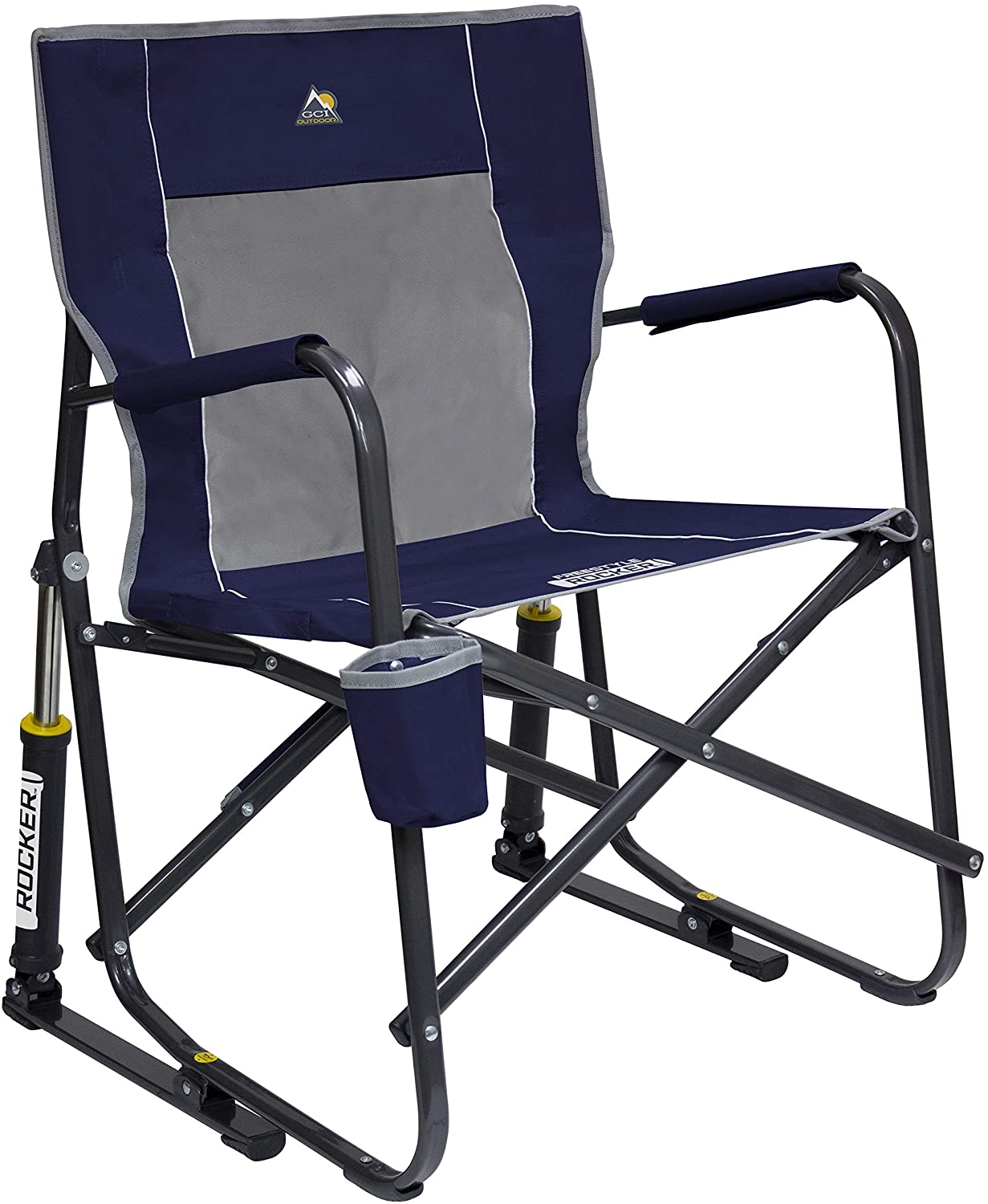 This outdoor chair features GCI Outdoor's patented Spring-Action Rocking Technology, which provides you with comfort for the smooth rocking motion of your seat on any surface. It's an excellent feature because this rocking chair has been designed portable for your convenience if you're going camping. This is comparable to rocking in an indoor chair, except it can be packed and carried around because it is a backpack chair.
The armrests are cushioned but not particularly thick. If you're curious, the bundle we listed does not include a storage bag. When you carry the seat, it is naked and open. This chair has a handle attached to the back of the seat frame. That is for carrying, as there is no carrying bag with this. The chair's folded body is quite large.
The chair's seat height is 19.7 inches, while the chair's unfolded dimensions are 24 inches long, 25 inches wide, and 34.8 inches tall.
02. Lamberia Outdoor Folding Camping Chair
Lamberia Outdoor Folding backpack beach chair has extremely durable and fastened X-Shape Support And Double Layer Durable 600D Padded Oxford Fabric Finish. The sturdy steel frame can withstand up to 350 pounds, and each leg has a rotating foot for terrain adjustments, providing more stability and durability to ensure your safety.
This folding chair's open dimensions are l27 X w27 X h37 and When Folded L11 " X w7.5″ X h40″. It Weighs About 10.5 Lb, easy To Store and Transport.
The included carrying bag with a shoulder carrying strap makes it ideal for hiking, camping, hunting, watching soccer games, fishing, picnicking, barbecuing, and other outdoor activities.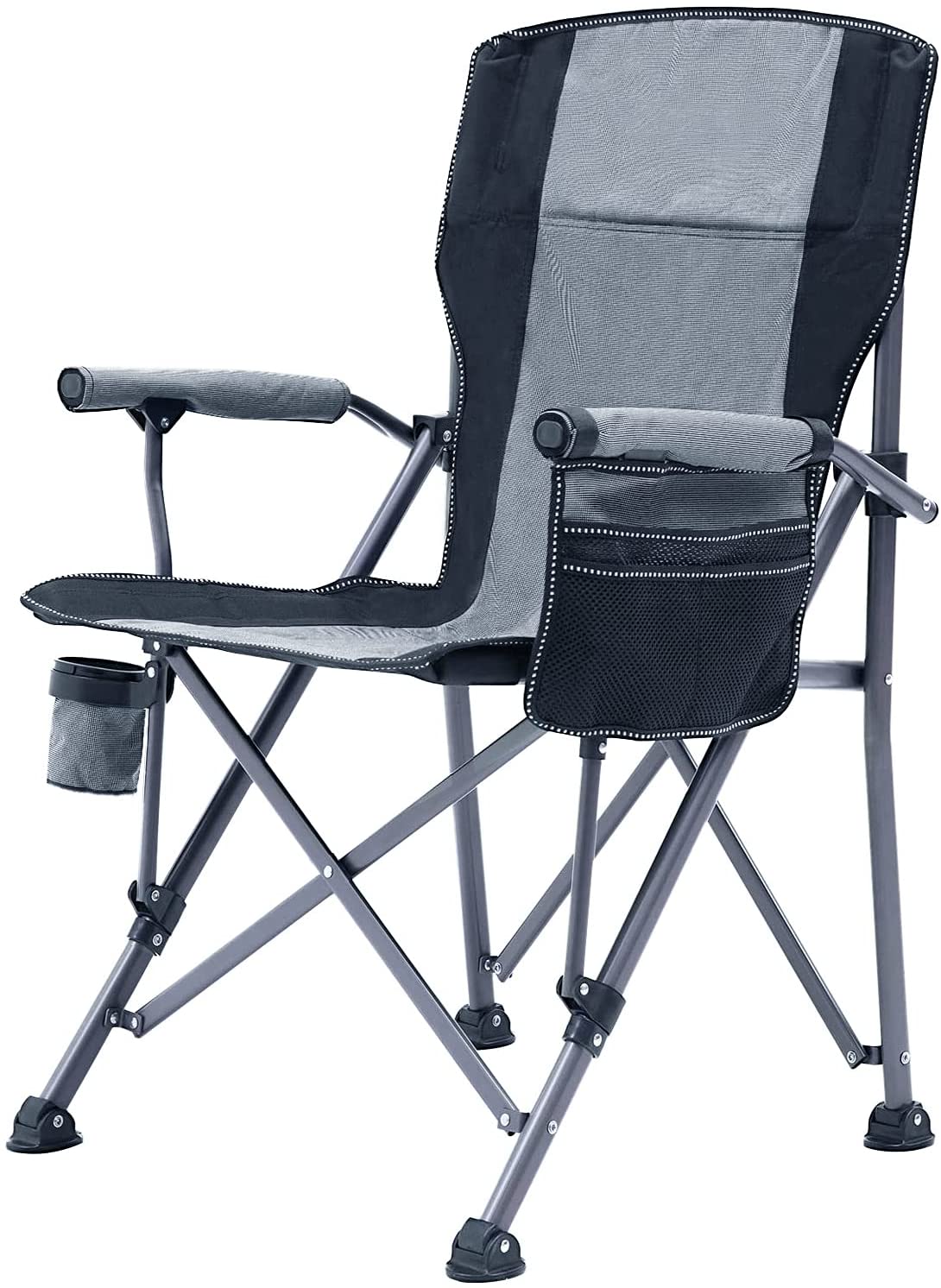 One-Year Limited manufacturer warranty. If you are dissatisfied with our Heavy Duty Folding Camping Chair, contact them as soon as possible, and they will resolve your issue.
This portable chair includes a foldable cup holder and a handy storage pocket. The Cup Holder is foldable and compact in design. The side storage pocket is ideal for storing personal belongings such as books, cell phones, and other items.
This heavy-duty chair's 17.5″ Ergonomic high back design provides adequate support for your back and waist. In contrast, the padded armrests provide additional support and comfort, allowing you to relax and enjoy your time.
03. RIO Beach 4-Position Lace-Up Backpack Folding Beach Chair
There's no denying that the best beach chair is one that combines form and function, and RIO's does not disappoint. The lightweight and rust-proof metal frame weigh only eight pounds, making it significantly easier to transport than most other beach chairs, which weigh between 15 and 20 pounds.
The Rio Beach backpack chair allows for hands-free portability and is easy to transport. Your body is supported and conformed to by the flexible suspension design.
Recline options include four easy-adjust positions. Backpack shoulder carrying strap that is adjustable and has a spacious storage compartment. Rio Beach is the only owner of the patent.
Height of the seat: 11 inches. 240-pound weight capacity. Aluminum frame that is lightweight and rust-proof. It only weighs 8 pounds. A wide adjustable pillow and a cup holder are included.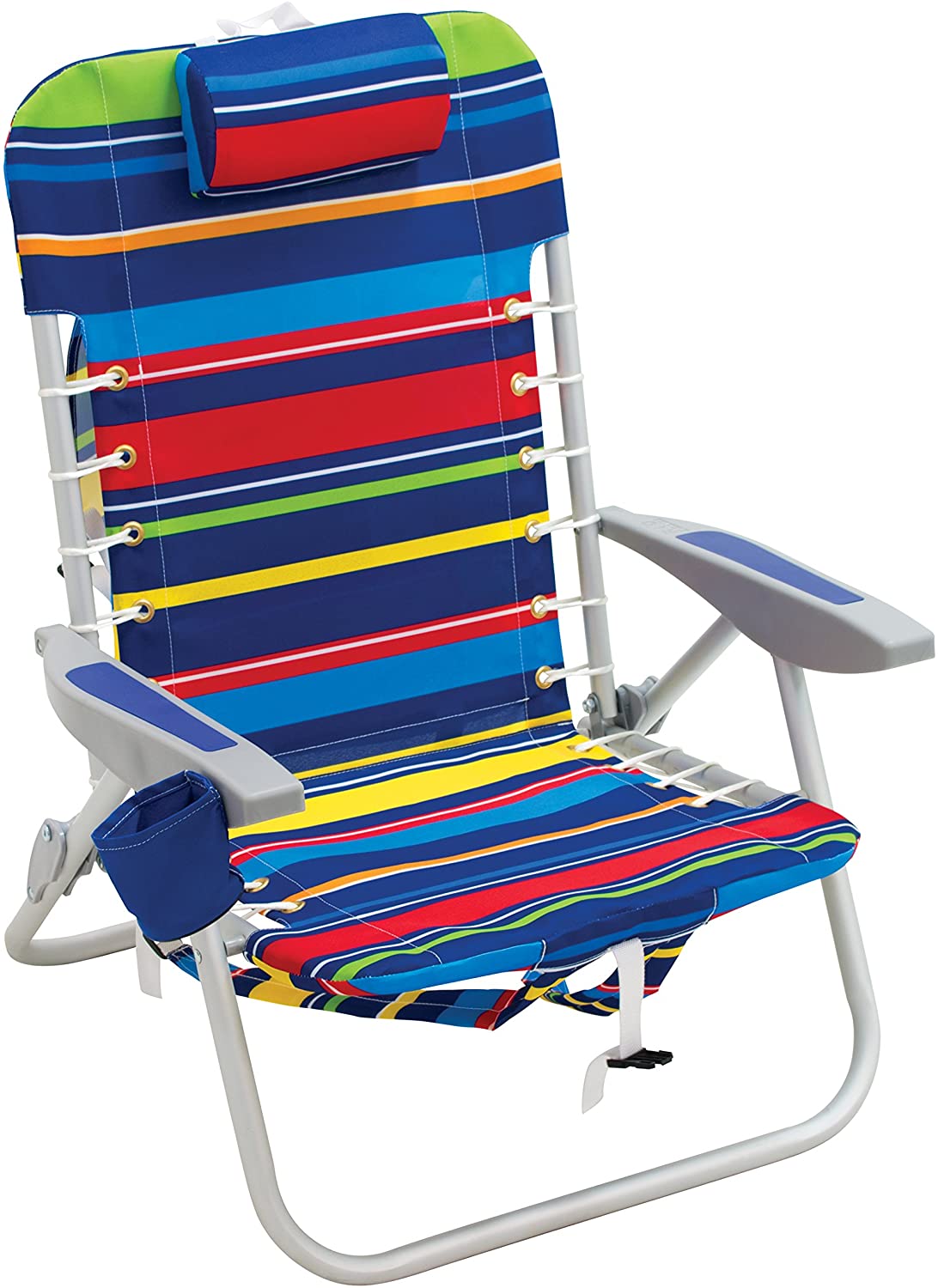 The chair also features a flexible suspension system that conforms to your body to provide the best possible support. Both of these aspects make the chair an excellent choice for everyone, but especially for older persons who cannot lift a heavy chair but want more support than a regular chair can provide.
There is a slew of other conveniences to be found here as well. The chair has a four-position recline and a pillow that can be adjusted. In addition, there's a spacious storage pocket on the rear, as well as a cup holder to keep your beverage handy and sand-free. There's also no need to be concerned about portability. When folded, the chair has comfortable, adjustable straps that make transporting it in a backpack a pleasure.
04. KingCamp Camping Chair with Cup Holder
KingCamp camping chair gives the best possible seat experience. It is one of the best backpack beach chair. The slanting back seat design provides great back support while allowing the legs to relax. The ergonomic back seat will well support your shoulders. This folding camping chair is a terrific companion for your body relaxation whether you're indoors or outside.
Take advantage of every opportunity to unwind. KingCamp folding chairs are solid, with a heavy-duty steel frame and oxford fabric for long-lasting strength and durability, and can support up to 330 pounds. The seat and back are also fully cushioned for enhanced comfort. The inside padding is a must-have element for comfort!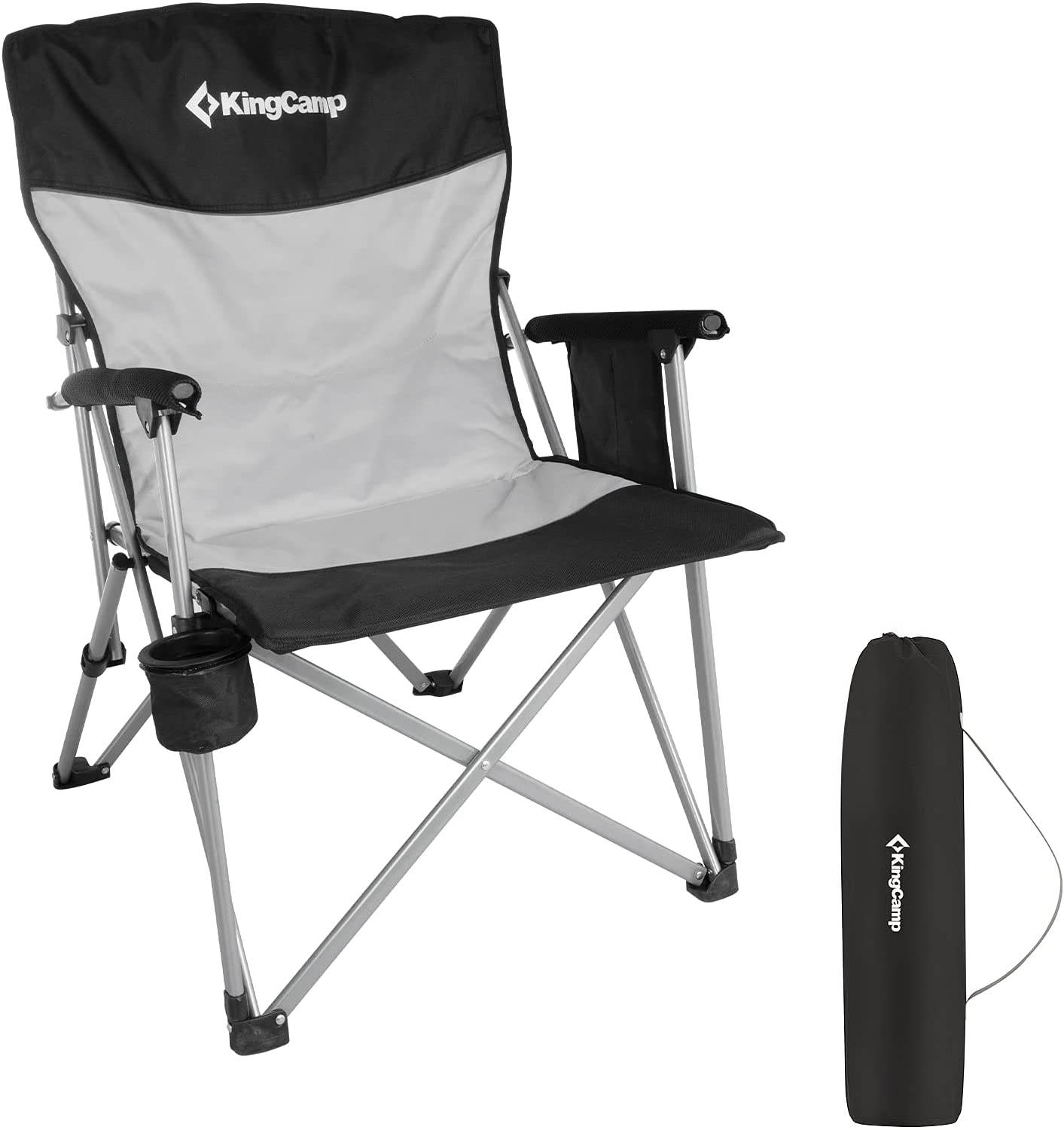 Completely relax your hands. A swivel cup holder on the right side is utilized to keep your water bottle, snacks, and other items—side pocket to keep your belongings close to reaching. The quilted armrest helps you get out of the camping chair by allowing you to rest your arms more comfortably.
Enjoy the outdoors while traveling with ease. There's no need for a tool! Folding camping chairs are simple to assemble and disassemble. It folds up to 37.4×8.2×7.4 inches and weighs only 9.4 pounds. A carry case with a shoulder strap is included, making it easy to transport and store. As a camp chair, lawn chair, or sports chair, use this portable outdoor chair.
05. GYMAX Canopy Camping Chair, Folding Sport Chair
GYMAX canopy camping chair has a canopy on top, so you can relax in the shade and enjoy the breeze at the park, beach, pool, garden, camp site, or other outdoor location. This is the best folding beach chair that is simple to store and transport. Its high-quality materials increase its longevity and dependability significantly. It's light enough to carry around and won't take up too much room.
This beach chair's padded armrest and large frame assure comfort. It also has two cup holders for easy storage, as well as a place to put your water bottle so you can stay hydrated.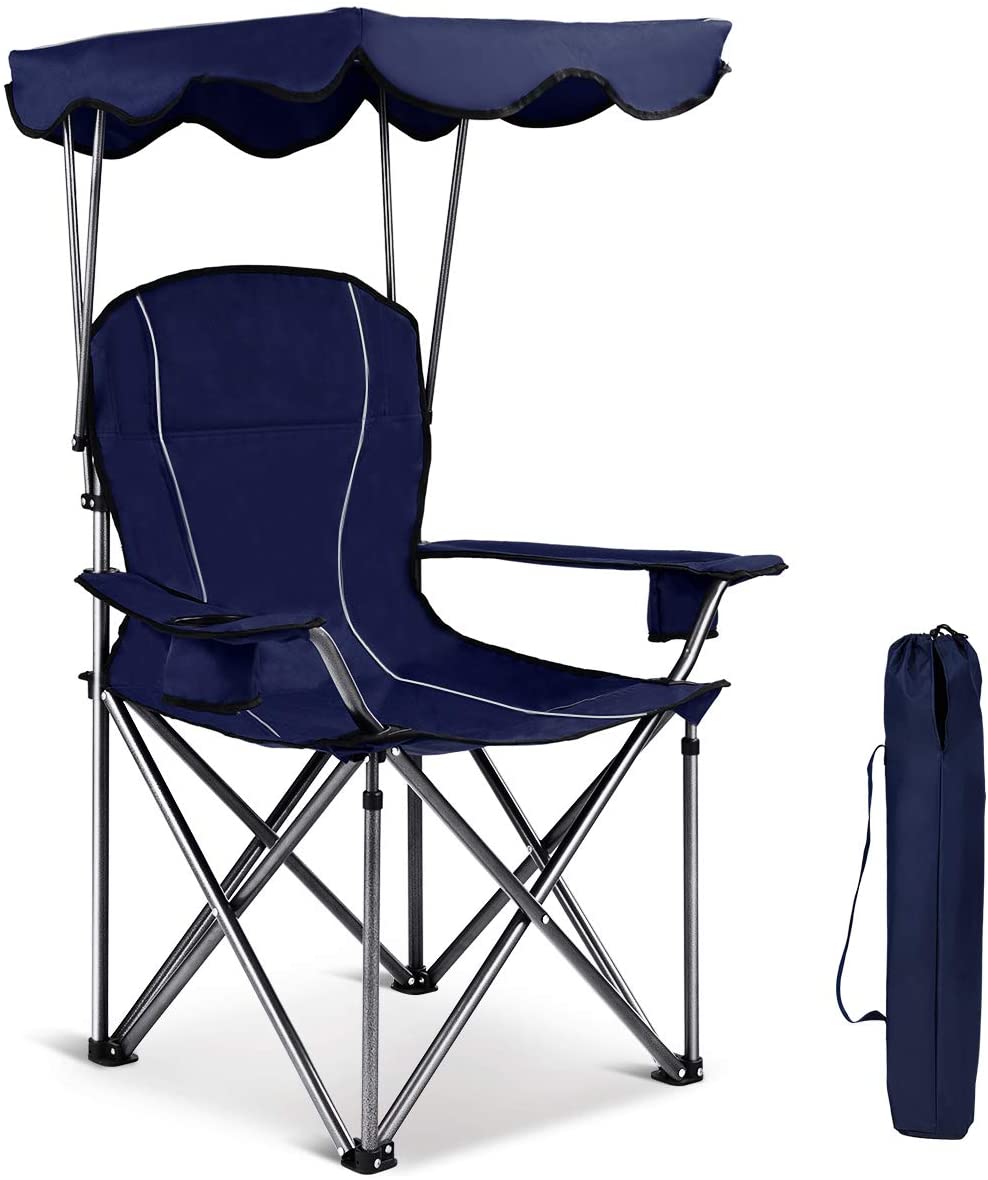 The 600D PVC fabric used to make this foldable shade chair is of excellent quality. The overall weight capability of 265lbs has increased thanks to additional supporting steel tubes on the bottom. This beach chair is strong and stable so that it will last a long time.
The lightweight and collapsible camping chair is ideal for on-the-go camping. It comes with a carry bag that makes it easy to transport and store. You can easily keep it at home or in your car for camping.
It has a canopy that may be raised to provide sun protection. On a hot summer day, it will provide you with refreshing shade. At a park, beach, pool, backyard, camp site, or other outdoor location, you can enjoy the shade and breeze.
06. Tommy Bahama Beach Chair
Even Southern Living editors believe that the Tommy Bahama Backpack Chair is the best. This chair can simplify your beach packing list with its built-in storage pouches, one of which serves as a cooler for your drinks and snacks. There's also a cell phone bag and a cup holder to keep your drink out of the sand. Its adaptable design reclines into five positions, including flat for optimal relaxing and sunbathing and backpack straps for stress-free portability.
With this luxurious backpack beach chair, you'll be able to relax like never before! This chair is made of lightweight metal that won't rust and is collapsible for easy transport. It reclines to five different positions and rests flat when unfurled, providing exactly the ideal amount of comfort and sunbathing.
You'll always have the finest seat in paradise with an insulated pouch, cell phone holder, towel bar, adjustable pillow, and more! It adjusts to five different positions and lays flat. A pillow that can be adjusted, pouch for upper storage, insulated pouch on the bottom. Drink holder and mobile phone pocket on the side pouch. Backpack straps with padding, carry handle made of rubber, towel bar that folds.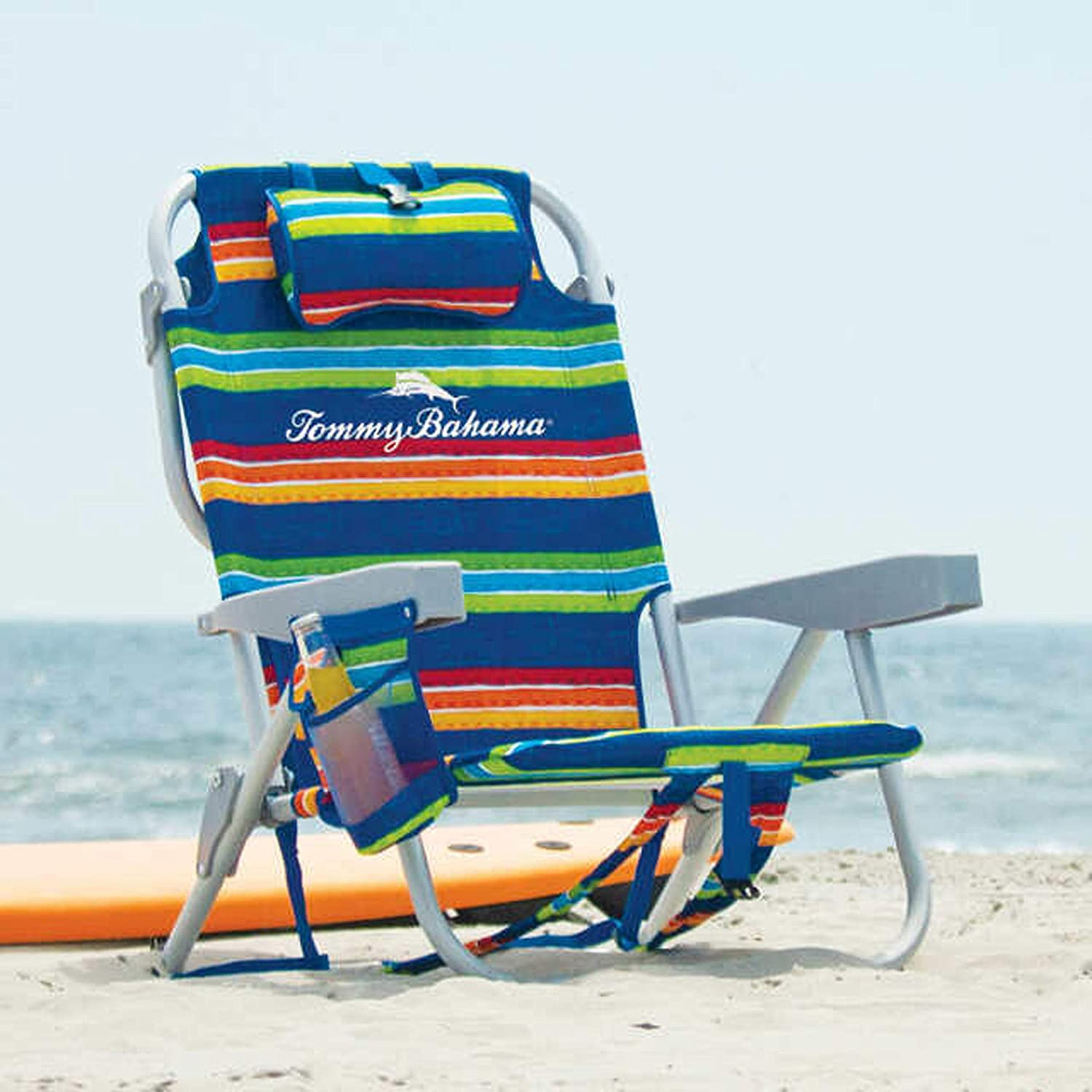 Frame made of aluminum Seat support made of steel 600 durability. Polyester fabric with a denier rating 24.00″ L x 25.00″ W x 30.00″ H when open 4.00″ L x 25.00″ W x 27.25″ H when closed 9″ seat height and 300-pound weight capacity.
Wet towels can even be hung on a unique towel rack on the rear. The tough aluminum frame and thick polyester fabric in this top-rated beach chair ensure it is rust-free and can bear a maximum weight of 300 pounds.
07. Timber Ridge Zero Gravity Chair Oversized Recliner Folding
The Timber Ridge Zero Gravity Chair is built of high-quality fabric and powder-coated aluminum tubes to support up to 350 pounds. A padded pillow and a foldaway side table are included. Thanks to the ergonomic design and fingertip locking technology, you can stay in any position from standing to fully reclining positions.
The lounge chair folds flat for easy transport and storage. The chair can be utilized at the beach or while camping. It's suitable for both indoor and outdoor activities. The seat is oversized and ideal for a variety of body types. 20 x 22 x 29. 9″ when unfolded Height from the ground to the seat: 43.5″ 350-pound weight capacity Weight of the package: 22.65 lbs. Package Dimensions: 31.4″ x 6″ x 38.3″ Aluminum tubes make up the frame.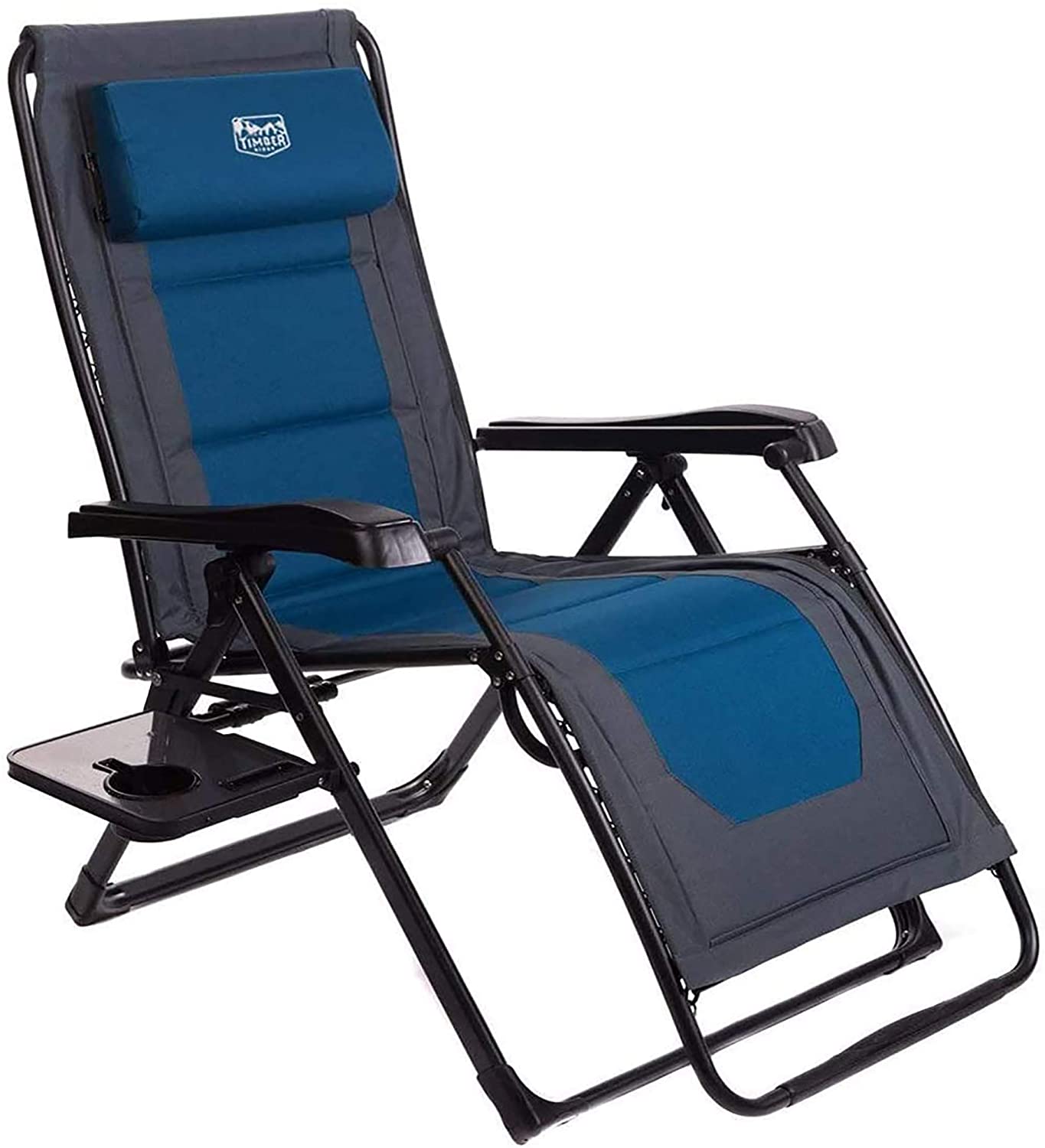 Cleaning tips: Wipe with a moist rag; vigorous scrubbing and detergent cleaning are not recommended. Please do not leave outside in severe rain, snow, or other adverse conditions for extended periods to prevent the wood armrest from fading and the steel frame from rusting. When not in use, stow away after drying. Do not expose the metal pieces to the elements, as they may rust. Review stability regularly. Screws may loosen and require tightening.
08 STRONGBACK Low Gravity Beach Chair
The StrongBack Low Gravity Beach Chair was created to the lack of lumbar support found in many beach chairs. The chair's body-hugging shape, according to the makers, facilitates optimal spinal and hip alignment, resulting in less tension and strain while relaxing on the beach.
For added comfort, it also has lumbar padding. Padded armrests, a backpack-style carrying bag, a cup holder, and a no-sink design that won't get snagged in dirt or damp sand are other highlights.
The innovative lumbar supporting design aligns your body posture to promote spine relaxation and relieve tension throughout your back. Large ergonomic seat with hip and back alignment for maximum comfort and relaxation.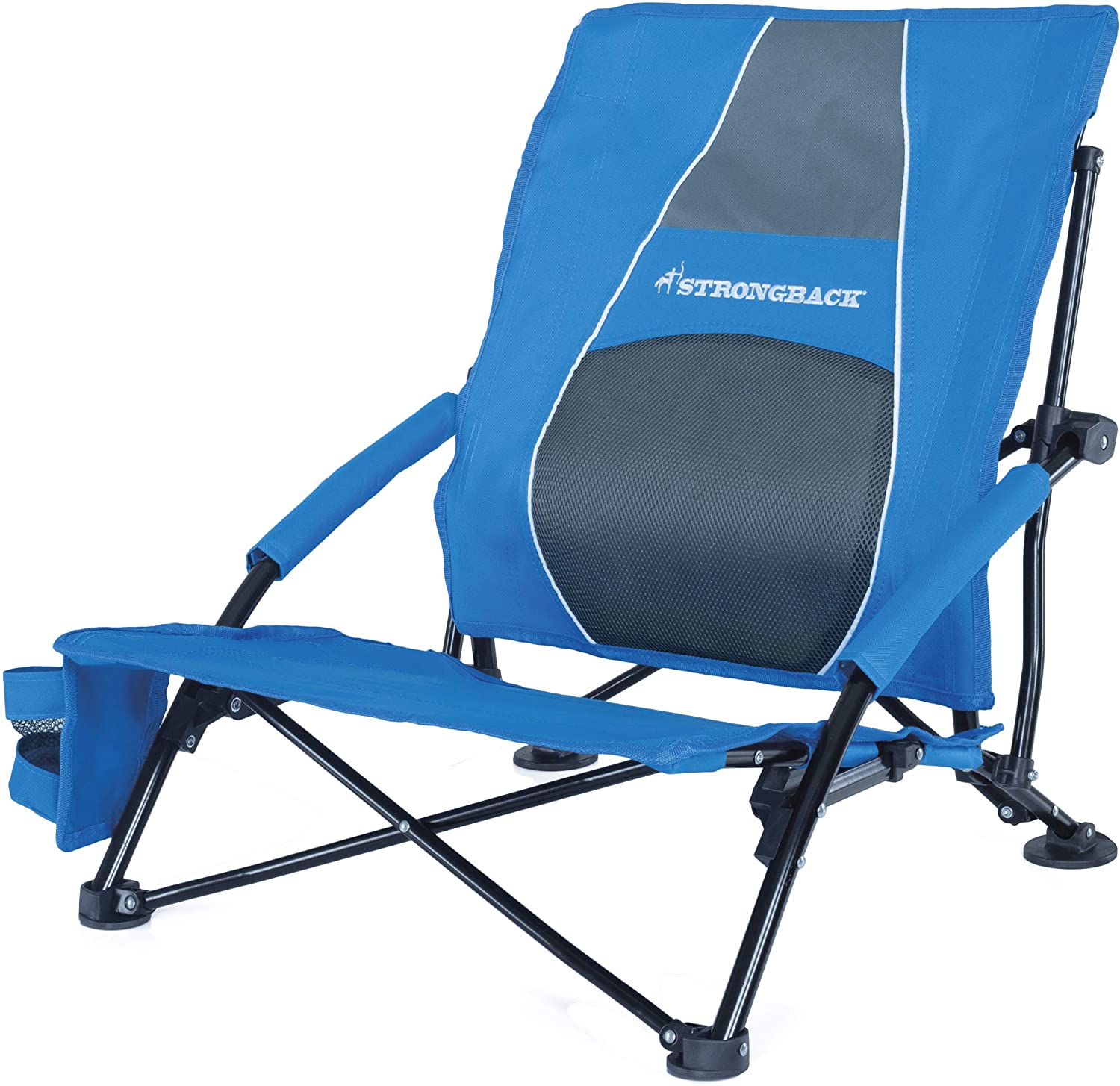 Read Also: 10 Best Beach Chairs For Bad Backs.
The excellent portable chair for camping, travel, picnics, beach vacations, sports, concert events, and other outdoor activities; includes a backpack-style carry bag and cupholder.
The newly revised low gravity 3.0 has an upgraded locking system and enhanced connections; heavy-duty, sturdy construction with a weight capacity of 300 pounds.
One reviewer said, "All I can say is get it; you will adore it." "The most comfortable and small chair on the market, with fantastic lower back support and excellent craftsmanship. When you're through, fold it up into a little bag about the size of a yoga mat in two seconds."
How to choose the right beach chair (Buying Guide):
You may wonder how much a beach chair costs. Well, several factors determine its cost. For example, if you want a durable model, you need to pay attention to the material quality. If you choose a cheap fabric, you might have to replace it sooner than expected. On top of that, you should look out for features such as adjustable armrests, headrests, footrests, and lumbar support. These are some of the things that make a difference when buying a beach chair.
Before purchasing any beach chair, there are some things that you should keep in mind first. These include:
The size of the beach chair:
You must consider the size of the beach chair before making a purchase. If you don't do this, you might get something too small or big for you. This means that you won't feel comfortable using it when sitting down. Also, you shouldn't forget to check whether the beach chair has wheels or not. Wheels allow you to move easily around even though you sit still. It makes it easier for you to carry the beach chair from one place to another without lifting it manually.
Seat Height:
Beach chairs come in a range of seat heights; however, they generally fall into one of three categories: Low (seat height of 8″ or less) – ideal for stretching out and digging their toes into the sand. (9″ -12″) on average.
High (13″ or more) – The main benefit of these chairs is that they are easier to get into and out of and more accommodating to taller users.
Cup Holders:
Surprisingly, it's only found in a small percentage of beach chairs. Most people would prefer a cool, refreshing drink after a few hours in the scorching heat, and you'd assume that most beach chairs would accommodate this. Surprisingly, the majority don't, though there are a few (mainly high-end) models that do.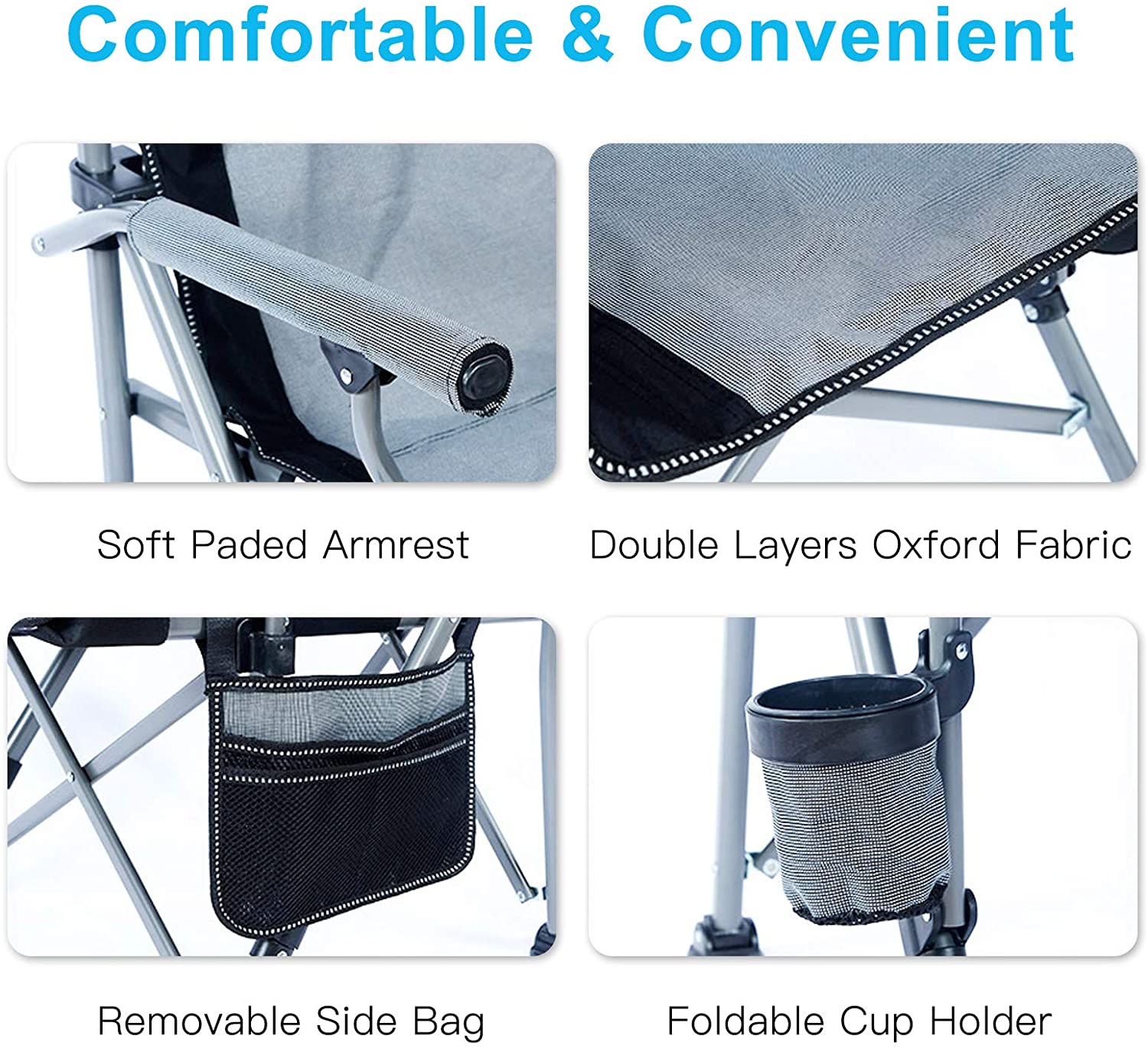 Material used:
When choosing a material, you must look into its durability as well as comfort level. For example, plastic materials such as polypropylene and nylon are cheap and durable. However, these materials tend to break quickly over time. On the other hand, leather-based materials like cowhide and sheepskin are more expensive than others. They provide better quality and long-lasting features. In addition, foam cushions are usually made out of high-density foams that offer great support and comfort levels.
The capacity of Load:
We can simply state that this is one of the most crucial factors to consider while purchasing. That's because if you don't, the lounge chair you buy will almost certainly be unable to hold your weight. The frame will deteriorate as a result of this. And the warranty card will not cover this because you were the one who purchased the incorrectly sized beach chair.
Also, don't worry about being overweight right now. Whatever your weight, there is almost certainly a beach chair out there that is ideal for you. The average weight that beach chairs can support is roughly 250 pounds. Some couches, on the other hand, can handle twice that weight.
And don't imagine that because the beach chair can support greater weight, it will become heavier. If you get an aluminum chair, you will be pleasantly surprised at how light it may be, under 10 lbs.
Canopy Protection from the sun:
Another important factor to consider is the additional accessories. An umbrella or sun canopy is an example of one of them. If you plan to spend the entire day at the beach, this is a must-have function. And if you don't have this, rest assured that no single oil will be able to protect your skin from getting sunburned all day. That is why, in these circumstances, an adjustable sun canopy attached to your beach chair is invaluable.
Price range:
Finally, you should always remember that price ranges vary greatly depending on factors, including brand name, model number, color options, etc. As a result, you should try to find an affordable beach chair that meets your requirements.
Accessories:
After deciding on the main components of the beach chair, you should think about accessories. Most importantly, you should ensure that the beach chair comes with a carrying bag. A carrying bag helps you protect the beach chair during transportation. Moreover, you should also take note of additional items such as sunshades, umbrellas, and towels. All of these add extra value to the overall package.
When it comes to the pillow in your chair, see if it is removable. That's because the pad will become dirty after a few uses, and you don't want your family to sleep on that pillow. Removing the pad allows you to wash it in a washing machine, which you should do regularly.
Warranty period:
Last but not least, you should never overlook warranty periods. Make sure that the manufacturer offers a full warranty period for their products. Otherwise, you risk spending money unnecessarily.
Frequently Asked Questions
What are the different names of the beach chairs?

Perhaps you're looking for a different word for a beach chair. Folding chairs, camp chairs, foldable chairs, lounge chairs, and deck chairs are all terms used to describe beach chairs.

Beach chairs are usually low to the ground; why is that?

There are a few reasons why beach chairs are so low to the ground. The chair is more stable the closer you are to the ground. The other reason is comfort, as the low profile allows you to fully extend your legs.
Beach chairs are designed to be low to the ground in order to provide more stability and comfort. The surface is soft and uneven while seated on top of the sand, making things a little tippy. Your center of gravity moves lower when you're low to the ground, making it more difficult to collapse over. Furthermore, lower seats include less material, making them more portable.

Are zero-gravity chairs suitable for the beach?

Some zero-gravity chairs are suitable for use at the beach, but not all. These chairs are usually built of durable, weather- and water-resistant materials and they're also really comfy. However, some of these chairs can be extremely hefty, limiting their use as beach seats. UV-resistant materials, a lightweight (preferably 12 pounds or less), and a rust-proof coating on any metal parts are all things to look for.

Is Tommy Bahama a good brand of beach chairs?

Tommy Bahama is one of the most popular beach chair brands, and for a good reason. They're high-quality, well-designed, small, and highly comfy, featuring a 5-position recline.

Can I use camping chairs at the beach?

Because they are meant to be lightweight, collapsible, and easy to carry, the best camping chairs are a perfect choice for the beach. But take a good look at them: some camping chairs are too basic, more akin to stools, and your use case is more about comfort and relaxation than lowering the weight of your camping bag.

What is the price of a beach chair?

Beach chairs range in price from $35 for simple models to $150 and over for higher-end brands or full-length lounge chairs.
Final Words
The beach chairs we reviewed are comfortable, portable, and generally great, ranging from foldable chairs to full-size loungers that come with integrated coolers and individual canopy covers. Whether you prefer to read a book in the park or spend the day sunbathing on the beach, there are plenty of options available. When it's time to head back home, a portable folding beach chair will instantly transform your enjoyment of the great outdoors.
Our Top 3 choices are below:
We hope you found this list helpful and that it has provided you with the information you need to choose the best beach chair for your needs.
---